Complete Cisco CCNA Syllabus – Updated 2023
Last Updated :
April 4, 2023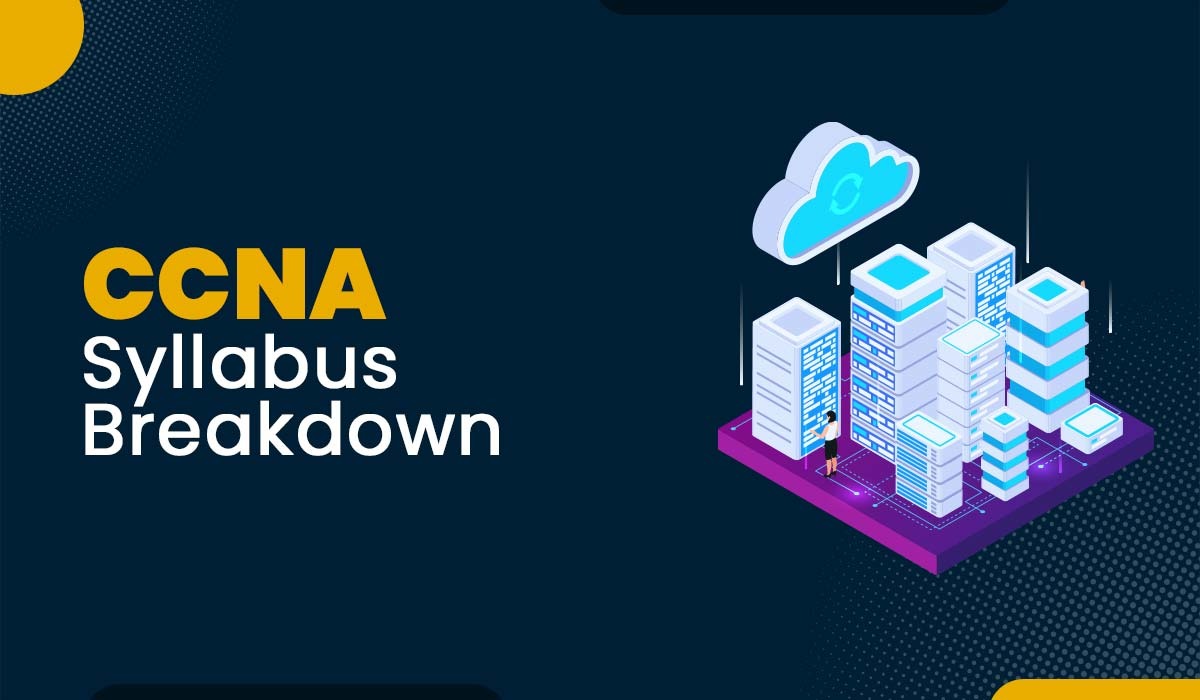 Introduction
Nowadays, the fastest-growing area in IT is networking. Each day brought an ever-increasing number of new users and gadgets. While discussing networking, issues like data transfer rate and safety come up. A higher level of expertise is required to address the present network issue but to start your networking journey, you have to start with CCNA. The goal of the CCNA course is to introduce students to the principles of networking in a way that is accessible to complete beginners. In this blog, we will have a look at CCNA Syllabus 2023 and help you understand its importance for your networking career.
Starting your preparation for the Cisco Certified Network Associate (CCNA) exam by gaining a solid understanding of the CCNA syllabus and study guide for the Cisco 200-301 certification exam is an excellent place to get started. IP connectivity, IP routing, network security, network access, and other networking basics are all covered in the CCNA syllabus.
Applicants may study the CCNA syllabus to choose whether or not they wish to pursue this certification. It will provide them with a clear understanding of what they must study to get certified. This blog is mostly concerned with discussing the syllabus of CCNA. Since new technology emerges on a daily basis, the curriculum for Cisco certifications changes from time to time. Cisco released the new CCNA 200-301 Syllabus on February 24, 2020. The newly revised syllabus requires a thorough understanding of networking principles such as subnetting, IP address setting, and VLAN configuration, among other things.
Before moving to CCNA Syllabus, let's have a quick overview of CCNA.
What is CCNA?
CCNA stands for Cisco certified network associate, which offers candidates an abundance of chances for ambitious individuals as Cisco is a well-known corporation in IT networking. To begin the fantastic technical path, one must first get CCNA training. CCNA training prepares a candidate to manage sophisticated networks efficiently.
The CCNA course syllabus covers and educates students on the basics of networking, automation, IP services, and other related topics. You will also be instructed on the essential security methods and practices required to safeguard the network's integrity.
Why choose CCNA?
One willing to get a firm hold on the Networking fundamentals must choose CCNA. Choosing CCNA will help them to start making their IT networking career more efficient. CCNA offers comprehensive knowledge in networking fundamentals, security, routing, automation, and switching, giving you a solid foundation to work effectively with different network components.
Also, one aiming to become a Network Engineer must join a CCNA training course. By pursuing CCNA, you can stay updated with industry trends and pave the way for advanced certifications, such as CCNP or CCIE.
Important facts about CCNA
Here are some important facts associated with CCNA:
CCNA Prerequisites
There are no prerequisites to join a CCNA Training. However, it is recommended to have some basic idea of computers to understand the CCNA concepts in a better way.
Many people believe that one needs to be from technical background to start CCNA training but that is not true. Anyone from any background, whether Technical or Non-technical, can start CCNA training if they want to become a network engineer.
CCNA Scope in Future
The future scope of CCNA is quite extensive as the demand for network engineers is rapidly growing and CCNA is the first step one takes to become a network engineer. So, CCNA certification can provide a strong foundation for a successful career in the dynamic field of networking.
CCNA Exam Pattern
Firstly, to take the CCNA exam, you need to register through Pearson VUE, an authorized testing provider for Cisco certifications. During the registration one must check the details that is mentioned, after which they can appear on the dates provided to them.
The general CCNA exam pattern consists of 50-60 questions which includes various question types, such as multiple-choice questions, drag-and-drop, simlets (simulated network scenarios with multiple-choice questions), and testlets (network scenarios with multiple questions).
The exam duration is generally 90 minutes. However, Cisco occasionally introduces variations in exam duration, so it's important to verify the specific time allocation when registering for the exam.
The passing score is 800-850 out of 1000 points. Again, the passing score may vary slightly, so it's advisable to check the official Cisco website while applying for the most accurate information.
It's worth noting that Cisco periodically updates its certification tracks and exam formats, so it's essential to refer to the official Cisco website for the most up-to-date and accurate information regarding the CCNA exam pattern.
What skills CCNA Offers?
The following are the abilities you can learn from the Cisco CCNA course:
Basic Routing and Switching
Networking Fundamentals
Network Access
Wireless Access Point
Internet Protocol (IP) Services
Automation and Programmability
Cisco CCNA (200-301) Syllabus
CCNA syllabus is a tool for familiarizing yourself with Cisco's standpoint and the structure of the Cisco CCNA examination. Our team of industry professionals has created the Cisco CCNA 200-301 syllabus to provide an overview of the Cisco exam and ways to interpret the exam objectives. Our goal is to assist you in determining whether or not you are prepared to take the Cisco CCNA exam by identifying prerequisite areas of knowledge.
Discover the best CCNA Interview Questions here.
You will find the complete CCNA Syllabus in the below table –
Section
Weightage
Objectives
Network fundamentals
20%
1. Network components
a. Routers
b. Controllers
c. Servers
d. L2 and L3 switches
e. Endpoints
f. Firewalls and IPS
g. Accent points

2. Network topology architectures
a. WAN
b. Spine-leaf
c. 2-tier
d. 3-tier
e. SOHO
f. On-premises and cloud

3. Physical interface and cabling types comparison
a. Single-mode fiber, Copper, Multimode fiber
b. Connections
c. PoE

4. Interface and cable issues identification
5. TCP to UDP comparison
6. IPv4 addressing and subnetting
7. Need for private IPv4 addressing
8. IPv6 addressing and prefix

9. IPv6 address types comparison
a. Global unicast
b. Anycast
c. Unique local
d. Multicast
e. Link local
f. EUI 64

10. IP parameters for Client OS
11. Wireless principles
a. Non-overlapping WiFi channels

12. Virtualization fundamentals

13. Switching concepts
a. MAC learning and edging
b. Frame switching
c. Frame flooding
d. MAC address table
Network Access
20%
1. VLANs spanning multiple switches
a. Access ports
b. Default VLAN
c. Connectivity

2. Interswitch connectivity
a. Trunk ports
b. Native VLAN
c. 802.1Q

3. Layer 2 discovery protocols
4. Layer2/Layer3 EtherChannel

5. Rapid PVST and Spanning Tree Protocol
a. Port names like Root port and many more
b. Benefits of PortFast
c. Port states

6. AP modes and Wireless architectures comparison
7. WLAN components
8. AP and WLC
9. Components of a wireless LAN access using GUI only such as WLAN creation, QoS profiles, and many more.
IP Connectivity
25%
1. Components of the routing table
a. Prefix
b. Next hop
c. Network Mask
d. Administrative distance
e. Routing protocol code
f. Gateway of last resort
g. Metric

2. Examine how a router decides on default forwarding.
a. Administrative distance
b. Longest match
c. Routing protocol metric

3. IPv4 and IPv6 static routing
a. Host route
b. Floating route
c. Network route
d. Default route

4. Single area OSPFv2
a. Broadcast
b. Point-to-Point
c. Router ID
d. Neighbor adjacencies

5. The objectives of the first hop redundancy protocol
IP Services
10%
1. NAT using static and pools
2. NTP operating
3. Role of DHCP and DNS
4. Function of SNMP
5. Use of Syslog
6. DHCP client and relay
7. Forwarding PHB for QoS
8. Network devices for remote access
9. TFTP/FTP capabilities and network functions
Security Fundamentals
15%
1. Key security concepts (exploit, Vulnerabilities, etc.)
2. Security program elements
3. Device access control
4. Security password policies elements
5. Remote access and site-to-site VPNs
6. Access control lists
7. Layer 2 security features
8. Distinguish between the concepts of authorization, accounting, and authentication
9. Wireless security protocols
10. Configure WLAN using WPA2 PSK using the GUI
Automation & Programmability
10%
1. Impact of automation on network management
2. Controller-based networking and traditional network comparison

3. Controller-based and software-defined architectures
a. Control plane and Data plane separation
b. South-bound and North-bound APIs

4. Cisco DNA Center enabled device management and traditional campus device management comparison
5. Characteristics of REST-based APIs
6. Capabilities of configuration management mechanisms (Puppet, Chef, and Ansible)
7. Interpret JSON encoded data
Everything we've covered on the Cisco CCNA syllabus so far is only general guidelines for what's likely to appear on the test. Of course, each test section might include questions on a wider range of relevant subjects. The guidelines mentioned above may update to reflect the exam's content more accurately and for reasons of clarity.
Check out – How to prepare for CCNA
CCNA Exam Details
| | |
| --- | --- |
| Exam Number | CCNA 200-301 |
| Duration | 120 minutes |
| No. of Question | 50-60 |
| Language | English and Japanese |
| Cost | $300 USD, plus tax |
| Validity | 3 years |
| Pre-requisites | Anyone with the basic networking knowledge can appear for CCNA certification |
Frequently Asked Questions
Q1 – What are the topics under CCNA?
Here is the list of topics that are included under the CCNA syllabus – Networking Fundamentals, Ethernet LANs, IP Routing, Wide Area Networks (WANs), Network Services, Network Security, Network Management, and Wireless LANs.
Q2 – Is 3 months enough for CCNA?
Yes, it is possible to prepare for the CCNA certification in three months, but it may be challenging for beginners. A focused study plan, access to quality resources, and regular practice are crucial for success within this timeframe. Also, it depends upon the interest of the individual if someone highly inclined towards networking they can complete within or before this time frame.
Q3 – Is CCNA a hard course?
The difficulty level of the CCNA course varies depending on prior knowledge and experience. For beginners, it may pose a moderate level of difficulty. However, with proper preparation and study, it is attainable for most individuals.
Q4 – What is CCNA course duration?
The typical duration of a CCNA course is around 8 to 12 weeks. However, the actual duration may vary depending on factors such as the learning format and individual study pace.
Conclusion
As you can see from the information shown above, the CCNA syllabus 2023 provides a complete review of all of the information that is required to get started as a network analyst. CCNA training is the most popular training course that students seek out in order to become network engineers. As a result, this blog provides an explanation of all of the required and essential information about the Cisco CCNA syllabus.