Top 15 Cisco Viptela SD-WAN Interview Questions and Answers
Last Updated :
May 9, 2023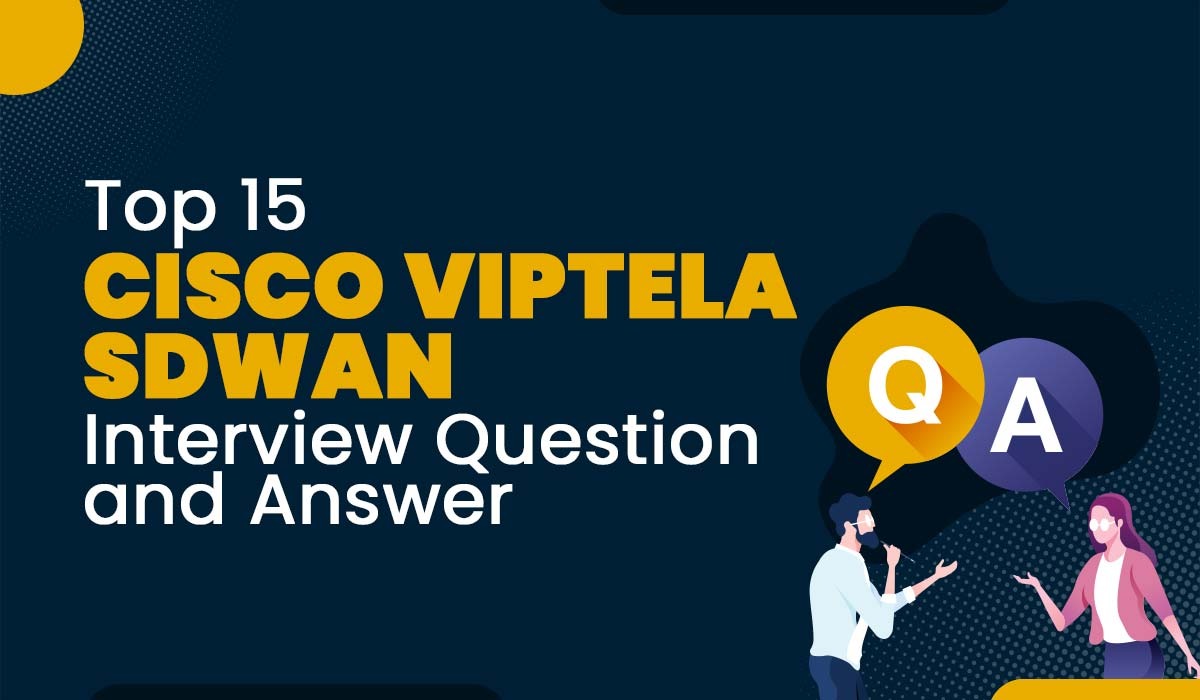 Introduction
Cisco Viptela SD-WAN is the most widely deployed solution within the industry and its increasing demand can only be fulfilled by Network Engineers with SD-WAN designing and deployment skills.
By any chance, if you being a Network Engineer, are going to appear for such a job role then here are the SD-WAN interview questions and answers that should be at your fingertips. These SD-WAN interview questions are curated by the combined efforts of some of the leading recruiters and our SD-WAN training leaders.
SD-WAN Interview Questions and Answers
Here are the top 15 Cisco SD-WAN interview questions that you should be prepared to face in any SD-WAN interview.
1. What is the Cisco SD-WAN solution?
The traditional Wide Area Networks (WAN) were created using MPLS to connect the large proportions of office traffic that is carried within an intranet's boundary of the enterprise. However, New Cloud Applications such as Microsoft Office 365, Salesforce and Public Cloud Services such as Amazon Web Services and Azure are transforming traffic patterns.
Today, the majority of Enterprise Traffic flows to Public Clouds and the Internet. This has created new requirements for all-in-all security, application performance, Cloud connectivity, WAN Management and operations. Cisco SD-WAN provides a brand-new method to manage and operate WAN Infrastructure. Cisco SD-WAN offers a cloud-based solution that offers an efficient, secure and rich service architecture.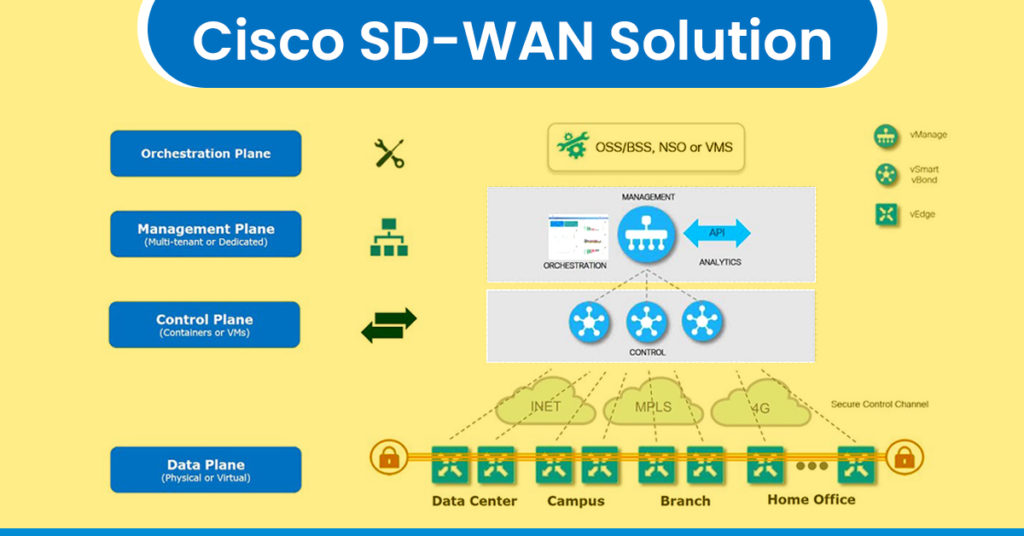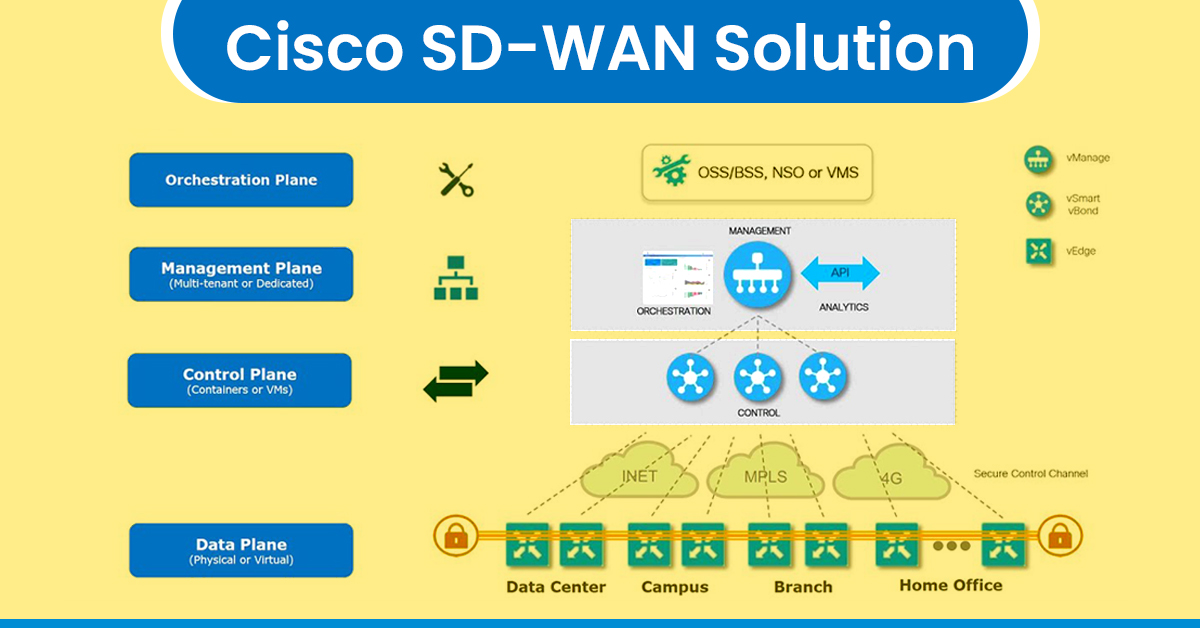 2. What are the key benefits offered by Cisco SD-WAN?
The key benefits offered by Cisco SD-WAN,
More User-Friendly Experience – Develop applications in just a few minutes across all platforms and enjoy an unmatched user experience.
Greater Agility – SD-WAN simplifies the deployment and operation of your WAN and improves performance by using lesser bandwidth. Also, it offers the freedom to set up your WAN using any kind of connection like MPLS, Internet, or 4G LTE.
Secure Connectivity – SD-WAN securely connects users to apps in a matter of minutes and safeguards your WAN Edge data to the cloud.
3. Which problem can a Cisco SD-WAN overcome?
Here are a few issues that Cisco SD-WAN Solutions overcome:
Create a transport-independent WAN for high diversity and low cost
Be in compliance with Service Level Agreements (SLAs) for critical business and real-time applications
Create End-to-End Segmentation in order to safeguard the most critical computing resources of an enterprise
Optimal User Experience for SaaS and IaaS applications.
4. What are vSmart controllers?
vSmart Controllers form the central part of the solution which establishes policies and connections between branches of the SD-WAN. The central policy engine of Cisco vSmart Controllers offers policies that can be used to alter routing information, access control, segmentation as well as extranets and chaining services.
Do Check out – Is SD-WAN Worth it?
5. What are vBond orchetrators?
The vBond orchestrator helps with the initial set-up process by ensuring authentication and authorization for all elements in the network. Cisco vBond Orchestrator additionally gives information about how each component communicates with other elements. Cisco vBond orchestrator plays an essential role in the facilitation of Cisco SD-WAN devices which sit behind the Network Address Translation (NAT) to connect to the network.
6. What is Cisco vManage?
Cisco vManage manages the entire solution. Cisco's GUI is centralized management and provisioning platform that is available for days 0, 1 and day plus for the whole Cisco SD-WAN system. You can log in on the Cisco vManage dashboard to manage and centrally control the WAN. Cisco vManage gives you the capability to manage every aspect of the WAN from setting up, monitoring, and updating routers, to monitoring and troubleshooting applications on the WAN.
7. Is the Cisco SD-WAN solution secure?
Cisco SD-WAN connects security and networking together unlike any other technology. With Cisco SDWAN, we offer extremely efficient and scalable security that's simple to deploy, manage, and maintain, helping companies to take advantage of the latest cloud technology with confidence.
Cisco SD-WAN is built on a zero-trust concept and the multilayer security secures every data stream to ensure security starting from the WAN Edge to Cloud. The entire set of Cisco SD-WAN components are able to mutually authenticate one another and all edge devices have to be authorized prior to be allowed access to the network. Each and every packet across the control plane, data plane and management plane that flows through the network is secured with Secure Socket Layer (SSL) and IP Security (IPsec) technologies. The Cisco SD-WAN Solution offers distinct capabilities that are integrated to create an extensive IPsec network that spans many branches.
8. Does Cisco SD-WAN solution support network segmentation and what are the benefits?
Yes, it is true that the Cisco SD-WAN solution supports the segmentation of the network. Segmentation allows for secure logical isolation in the SD-WAN network in which each segment is identified as a distinct VPN, and is controlled centrally by access control policies.
Some of the Benefits of Segmentation:
1. Security – Increased security – Protect your network from external threats and establish a secure segregation across multiple application segments.
2. Acquisitions can be integrated onto the parent network, but remain separated. Policies determine what applications an acquired company is able to access.
3. Guest Wi-Fi is maintained on a separate low-priority section and then transferred to the Internet at the nearest exit points.
4. Business partners may be defined as a distinct segment or as a group networking segment for business partners.
5. Polices manage access of business partners to data center applications.
9. How did viptela SD-WAN help in architectural transformation?
Viptela SD-WAN separates the service away from the physical networks and creates an overlay over any connectivity options an organization has. This allows for transport independence and is not tied to any particular type of service.
Security At Routing Scale:
Viptela SD-WAN offers security by means of encryption and devices authentication. The founders tapped their experience in routing protocols to create an encryption solution that offers security from any angle. The Viptela router is able to connect any entity and then automatically redirect the traffic among them like they were an identical VPN connection.
Network-Wide Segmentation:
Since Viptela technology allows overlay, businesses can segment the network in a way that is end-to-end. It is possible to segment the network on an end-to-end basis. Viptela SD-WAN lets an organization create multiple logical topologies in any way they like and also, each of these distinct segments of the network may have different encryption strategies.
Enforce Policy and Business Logic Centrally:
Each network location is responsible for the policies of that specific area; however, each location is affected by the centralized controller. If required an organization can have multiple controllers in order to meet the needs for resilience.
Insert Layer 4-7 Services on Demand:
Viptela SD-WAN lets layer 4-7 services on networks be promoted by allowing companies to create any service from a third party on that network to connect with the Viptela overlay. After that, anyone who wishes to make use of these services creates the policy centrally to direct traffic to a specific location.
10. What are the benefits of SD-WAN and routing subscription offers?
The latest licensing deals bring customers these advantages:
Newest Innovations with Simple Subscription Tiers:
It is easy to purchase and simple to use via Cisco DNA Essentials, Advantage, or Premier Software Suite.
Management Flexibility:
Choice of Cloud or On-premises Management.
Availability Across the Routing Stack:
Across the Cisco ASR 1000 Aggregation Series Service Routers,
Cisco 1000 Integration Series Routers (ISR 1000) and
Cisco 4000 Integration Series Routers (ISR 4000),
Cisco Cloud Services Routers 1000 Series (CSR 1000V),
Cisco 5000 Series Enterprise Compute System (ENCS 5000), and
Cisco vEdge Routers
Software License Portability:
Between different generations of hardware as well as among product family (for example, vEdge and ISR and across ISR platforms) Ability to renew and expand what you need whenever you need to.
11. Why should one opt for SDN?
There are multiple advantages of choosing SDN over traditional WAN such as,
Better Application Experience
Predictable SLA on all vital enterprise applications
App-aware policies that have real-time enforcement of network issues
Multiple hybrid active-active links for every scenario
Best in Class Integrated Security
Zero-trust foundation that includes encryption and authentication
Segmentation is used to protect and isolate important assets using the cloud, guest wireless, partner networks, and more.
Enterprise firewall, AMP, IPS, DNS-layer enforcement, URL filtering, A/V and SSL decryption proxy are all integrated into SD-WAN
Cloud Optimization
It is easy to connect your WAN to multiple cloud providers
Real-time optimization in Office365, Salesforce as well as other important SaaS applications.
Improved workflows designed for AWS and Azure
You can find more reasons behind using SDN over traditional WAN in this video,
12. What are the elements of Viptela SD-WAN?
Here are the Components of Viptela SD-WAN:
vSmart Controller – Central control of routing, policies security, segmentation and device authentication.
vManage Controller – A central dashboard for management and configuration
vEdge Routers – Fully-featured IP routers that perform standard functions like BGP, OSPF, ACLs, QoS, and a variety of routing policies, in addition to overlay communication.
vBond Orchestrator – They are responsible for the Initial authentication and authorization of all elements into the network; It also provides information on how each of the components connects to other components.
To understand better, watch this video.
13. What is site-id?
A site is a specific physical area in the Viptela Overlay Network, for example, a branch office or data center or even a campus. The site is identified with a Unicode number, known as the Site-ID. Every Viptela device that is located at a specific site is identified using the same site ID.
In a data center each of the vSmart controllers and vEdge routers are set up using the same site ID. Local sites or branch offices generally have one vEdge router. If another one is in place to ensure redundancy, both routers are set up using the same site ID.
14. What is a Virtual Private Network (VPN)?
In the SD-WAN overlay, Virtual Private Networks (VPNs) provide segmentation, just like Virtual Routing and Forwarding instances (VRFs) which many people are familiar with.
Each VPN is distinct from the others and has its own forwarding table. A sub-interface or interface is configured specifically under one VPN and can't be an element of multiple VPNs. Labels are employed to identify the VPN in OMP route attributes as well as in the packet encapsulation process, which determines which VPN a particular packet is part of.
The VPN numbers are a 4-byte integer that has values ranging from 0 to 65530. The two VPNs that are by default in the vEdge controllers and devices are VPN 0 and VPN 512.
This is the transport VPN. It has interfaces to connect to WAN transports. Secure DTLS/TLS connections to vSmart between vSmart or vBond controllers are established through this VPN.
Moreover, the static or default or a dynamic routing protocol needs to be set up within this VPN for it to obtain proper next-hop information, so that it is possible to establish the control plane and IPSec tunnels could connect to distant sites.
It is the management VPN. It is responsible for carrying the out-of-band management traffic to and from the Cisco SD-WAN devices. This VPN is not carried across the overlay network.
15. What are the specifications to be met for ZTP?
In the case of the hardware-based vEdge appliance, only certain ports are configured by default to be a DHCP client interface and then can be used for ZTP. The following table lists the ports that need to be connected to the network in order for ZTP to function.
The Gateway Router for the vEdge router within the network should be reachable to public DNS servers and should be capable of reaching ztp.viptela.com.
In vManage, it is necessary to have an appropriate device configuration template for the vEdge router connected with the vEdge device.
The system IP address as well as the site ID must be part of this device template in order for ZTP to function. The ZTP process is not successful without this.
So, these were the top 15 Cisco Viptela SD-WAN Interview Questions and Answers.
Cisco SD-WAN Interview Questions and Answers PDF
Now download 100+ Cisco SD-WAN Interview Questions and Answers PDF consisting most asked interview questions with diagrams, examples, and scenario-based solutions curated by SD-WAN experts.
For more help, you can always connect with us on Call, WhatsApp, Telegram, Viber, Signal at +91 9821215002, or write to us at [email protected]. You can also check out our SD-WAN Course page.
You can also check out –