CCNP DevNet – Core
Developing Applications Using Cisco Core Platforms and APIs (350 - 901 DEVCOR) Certification Training by PyNet Labs.
Get Demo
CCNP DevNet (DEVCOR 350-901) Course Details
Instructor-led Online Training
Industry Expert Trainer | Unlimited Lab Access | Study Materials
PyNet Labs Training Certificate
Overview
The Developing Applications using Cisco Core Platforms and APIs - DEVCOR 350-901 training by PyNet Labs helps candidates' master the art of writing code and designing network applications that leverage Cisco platforms. Also, they achieve a broad-based foundation of skills in testing and deploying automation, solving real-world problems using Cisco Application Programming Interfaces (APIs) and modern development tools like Git, FDM, Meraki Platform, RESTCONF, Docker, and Kubernetes.

After Advanced Automation/CCNP DevNet training from PyNet Labs, you gain the skills and confidence to clear the global examination and have Cisco Certified DevNet Specialist certification in your hands. Further, you can go for concentration courses like DEVIOT training from PyNet Labs, and prepare for the global examination, to achieve Cisco Certified DevNet Professional certification.
Course Duration
Total training duration- 40 Hours

On weekdays (Monday to Thursday) it will get completed in 20 days. However, on Weekends (Saturday & Sunday) it will take 1 Month + 1 week to complete the training.
Who Should Enroll

DEVCOR 350-901 Training with PyNet Labs is for the developers, networking professionals, and anyone who seeks to enhance their skills in developing and maintaining applications built on top of Cisco platforms. For instance, Professionals with the following job roles can fully benefit from the program training,
Network Engineer,
Solution Architect,
Developer/Senior software developer,
Infrastructure Developer/Architect,
Senior network automation engineer,
Senior system integration programmer,
Senior network designer
Senior test development engineer
Upcoming Batch Schedule
Batch
Details
Time
Batch 1
Weekends Batch
(Saturday and Sunday)
17th December to 22nd January 2023
CCNP DEVNET (DEVCOR 350-901)
5 PM to 8 PM Indian Time
6: 30 AM to 9: 30 AM Eastern Time
11: 30 AM to 2: 30 PM UTC/GMT00
Course Highlights
Instructor-led training by Mr. Abhijit Bakale
Training Duration - 40 Hours
Complete CCNP DevNet (DEVCOR 350-901) official certification content will be covered during the training
PDF Book will be provided
UNLIMITED Lab Access for individual participants
Learn real-time network automation during the training
Lifetime Access to the class recordings
Lifetime Access in private telegram group for doubts and queries
PyNet Labs course completion certificate with a unique number
Language to be followed in training - English
Language to be followed for Jokes and fun in between - English
Prerequisites
CCNA DevNet/ DevNet Associate knowledge
Basic understanding of Python is required
Course Content
Designing for Maintainability
Designing for Serviceability
Implementing ChatOps Application
Describing Advanced REST API Integration
Securing Application Data
Securing Web and Mobile Applications
Automating Application-Release
Deploying Applications
Understanding Distributed Systems
Orchestrating Network and Infrastructure
Modeling Data with YANG
Using Relational and Non-Relational Databases
Lab Code Reference
Labs to be Covered in Training
Construct Sequence Diagram
Construct Web Sequence Diagram
Use Cisco Webex TeamsTM API to Enable ChatOps
Integrate Cisco MerakiTM API to List Service Set Identifiers (SSIDs) and Retrieve Location Data
Use Paginated REST API Endpoint
Utilize REST API Error Control Flow Techniques
Evaluate Application for Common Open Web Application Security Project
(OWASP) Vulnerabilities
Resolve Merge Conflicts with Git
Diagnose Continuous Integration and Continuous Delivery (CI/CD) Pipeline Failures
Containerize Application Using Docker
Integrate Application into Existing CI/CD Environment
Diagnose Problems Using Application Logs
Configure Network Parameters Using Puppet
Configure Network Parameters Using Ansible
Synchronize Firepower Device Configuration
Utilize RESTCONF for Network Configuration
How will you benefit from DEVCOR 350-901 Training?
Software development and infrastructure are coming together as never before. Today, Developers and IT engineers need skills to empower organizations to embrace the potential of applications, automation, and infrastructure for the network, Internet of Things (IoT), DevOps, and Webex. DEVCOR 350-901 Training is all that they need for scaling the enterprises' network forward.
Some of the key benefits of taking DEVCOR 350-901 Training for IT professionals are,
Developers could have the new opportunity to work for IT infrastructure.
IT Engineers can now take advantage of the flexibility of software.
Passing DEVCOR 350-901 exam, you earn Cisco Certified DevNet Specialist – Core Certification.
Taking DEVCOR training and passing the certification exam qualifies you towards two professional-level certifications, I.e., Cisco Certified DevNet Professional and Cisco Certified DevNet Specialist certification, in your chosen area of focus.
Software development and infrastructure are coming together as never before. Today, Developers and IT engineers need skills to empower organizations to embrace the potential of applications, automation, and infrastructure for the network, Internet of Things (IoT), DevOps, and Webex. DEVCOR 350-901 Training is all that they need for scaling the enterprises' network forward.
Some of the key benefits of taking DEVCOR 350-901 Training for IT professionals are,
Students Review
"Excellent tutor and teaching method. Highly recommend."

"Class was really interactive and content was good . Overall a really good experience All topics are nicely explained."

PyNet labs is the best place to learn new technologies. For better reach in technologies as well as to be feasible in our career growth I recommend PyNet labs. Special thanks to Abhijit and Deepanshu who are there to guide us and help us in each and every part.

I have completed my SDWAN course from PyNet Labs and it was really a great journey, it helped me lot to learn about overlay network. I cleared multiple interviews after completion of SDWAN course as its in demand and future of networking.

It was great learning for me. Abhijit is very helpful & skillful trainer.

I took SD-WAN training from PyNet and I would really like to thank PyNet & Abhijit (Trainer). Abhijit is very knowledgeable and he is very supportive. I would also recommend others for this training.

PyNet introduced me to labs. They are consistent, precise and straight on point. If you haven't tried them, you have missed a lot. Mr Abhijit, Deepansha, Nitish and the rest of the team, continue with that excellent work you are doing. You are the best among the best.

I would like to thanks the complete team of PyNet Labs (Mr. Deepanshu, Mr. Nitish & Mr. Abhijit). It was a great & useful learning on SD-WAN. The trainer Mr. Abhijit Bakale was incredibly knowledgeable & supportive. There way of teaching was very effective. I would definitely recommend this my co-workers as well as my friends.

Hi All, I attended online SD-WAN Training from PyNet Labs and this is awesome. Even a person without having SD-WAN knowledge can easily Implement SD-WAN solution after this training. Labs are very effective and it is step by step procedure with clear explanation. We will be working on SDWAN in real time, but some concepts may not clear. But here u will come to know very basic and this is added value for Network engineer. Thank you, complete team!!!

The trainer and the management at PyNet labs are awesome..... You get assistance even after your batch is over.... You can reach out to them for your doubts any time. Highly recommended!

I will enroll again. I am completely confident configuring SDWAN fabrics. Nice lab environment and experiences.

Abhijit unleash all the concepts to get Devnet associate exam. I am glad that I took this course from PyNet. Looking to connect to PyNet soon for Cisco DEVCOR.

Awesome trainer with up to date content. This really helped me to kick start my automation journey. Python baba ki jai.
Meet Your Trainer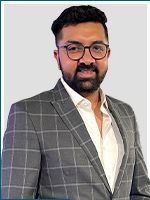 Abhijit Bakale

(CTO & CO-Founder at PyNet Labs)
Abhijit has delivered 12000+ hours of training internationally in past 10 years.
Abhijit has delivered trainings and consulted for various SD-WAN, ACI, Nexus projects for companies like HCL, Cognizant, PepsiCo, Colt, Cisco. Abhijit has been very actively working on technologies like OSPF, EIGRP, BGP, MPLS, Nexus, DevNet, ACI and many more.
Abhijit has also consulted on various SDN solutions for Indian defence clients as well. His student base ranges from Global Offshore Clients, Defense Institutions, International Government Organizations, Top Private Universities, Air Traffic controllers, Networking Professionals working in core production and Engineering students from around the globe.
His Certifications:
Cisco Implementing and Operating Cisco Enterprise Network Core ENCOR 350- 410
Developing Applications using Cisco Core Platforms and APIs DEVCOR 350-901
Cisco ENSDWI - SD-WAN - 300-415
Cisco Implementing Automation for Cisco Enterprise Solutions (ENAUI) ENAUTO 300-435
Cisco DevNet Associate - Developer Certification DEVASC 200-901
Juniper Automation and DevOps, Associate (JNCIA-DevOps) JN0-221
Juniper Cloud Associate (JNCIA-Cloud) JN0-211
Cisco Certified Network Associate CCNA 200-301
Frequently Asked Questions about DEVCOR 350-901 Training
To become CCNP DevNet, you must pass DevNet core certification exam, I.e., DEVCOR 350-901 and a concentration exam that you can choose from DevOps 300-910,
DEVIOT 300-915
, DEVWBX 300-920, ENAUTO 300-435, CLAUTO 300-835, DCAUTO 300-635, SAUTO 300-735, SPAUTO 300-535, as per your area of focus.
Yes, we will provide you with the study materials related to CCNP DevNet (DEVCOR 350-901) in the form of a PDF.
Yes, you will get all the class recordings with lifetime access.
Lab Access will be there with UNLIMITED hours for 30 days, and it will be provided via RDP (Remote Desktop Protocol). Our instructor will guide every participant on how to access the same.
The DEVCOR exam fee is USD 400 + taxes. The tax rate may differ as per country.
We personally don't suggest anyone to directly jump to CCNP DevNet, as in CCNA DevNet, one can clear their basics about Automation and Python.
Yes, it's absolutely fine as training will be online via Microsoft teams, and the good thing is in every training, we get participants from different geographical areas.
You should log in to your Pearson VUE account and click on "Proctored Exams." The site will prompt you to enter the exam code. Use 350-901 for the DEVCOR exam. Make the payment at the end.

We have a telegram group where we keep posting job openings daily with direct HR's email ID; check out here:
https://t.me/nwopenings
Our main focus is on creating quality training at the most affordable prices and prepare our students for Job Interviews.