CCNA 200-301
CCNA 200-301 (Implementing and Administering Cisco Solutions) Certification Training by PyNet Labs.
Get Demo
Cisco CCNA 200-301 Certification Course Detail
Instructor-led Online Training
Industry Expert Trainer | Unlimited Lab Access | Study Materials
PyNet Labs Training Certificate
Overview
With the ever-changing landscape of IT, the demand for highly trained professionals is also on the rise. Whether you are looking forward to a career in the technology field or aiming to climb higher, having foundational knowledge regarding the latest networking technology is essential.

As software, networking, and infrastructure keep growing more interconnected day by day, having a good understanding of security, automation, and programmability calls for a higher value in career-related prospects. So, if you want to carve out a place for yourself in the IT industry, you need to be proficient in all these.

And CCNA is the one that makes it possible for you to have conceptual knowledge of the latest networking technologies, security, automation, and programmability. The globally recognized CCNA certification covers networking from the basics to the intermediate level, consisting of studying network fundamentals, network access, IP connectivity, IP services, security fundamentals, automation, and programmability.
Instructor-Led Training
In instructor-led Online training with PyNet Labs, you get to learn CCNA under the guidance of an industry expert trainer who will clear all your networking doubts and help you have more vital foundational networking skills. Having an instructor on hand to answer questions and demonstrate concepts can significantly enhance your learning experience.

Also, you get to interact with group members getting instructed alongside you. This means that you can share ideas, learn a variety of networking techniques with them and implement them in your further studies.

Instructor-led online training batches at PyNet Labs have middle-sized groups to maintain a quality learning environment.
One-on-One Training

Since the CCNA exam is specifically designed for freshers and professionals, PyNet Labs offers 1-on-1 training to them so they could have the foundation they need to take their career in the desired direction in networking.

In total, 40 hours of thorough one-on-one or on-site (at premises) 200-301 CCNA Training is provided by PyNet Labs at an affordable cost. Our dedicated training program, led by industry experts, allows aspirants to prepare themselves for the CCNA exam through a step-by-step approach. Our modules are crafted, keeping in mind the demands of the ever-changing landscape of networking & IT technologies, and addresses the latest additions in the field.

Our CCNA 200-301 training curriculum is wholly aligned with Cisco's Certification modules and follows Cisco's CCNA training program structure. Our comprehensive training ensures both theoretical as well as practical knowledge relevant to the world of networking technologies. The training will be fully customizable according to the aspirants' need. We also provide CCNA training via the fly-me-a-trainer option.
Upcoming Batches
Batch
Details
Time
Batch 1
Weekdays Batch
(Monday to Thursday)
10th October to 3rd November 2022
8 AM to 11 AM Indian Time
10: 30 PM to 1: 30 AM Eastern Time
2: 30 AM to 5: 30 AM UTC/GMT00
Batch 2
Weekends Batch
(Saturday and Sunday)
29th October to 11th December
1 PM to 4 PM Indian Time
3: 30 AM to 6: 30 AM Eastern Time
7: 30 AM to 10: 30 AM UTC/ GMT00
Why one should start with CCNA training?
Among the associate-level certifications by Cisco, I.e., 200-301 CCNA, 200-901 DEVASC, and 200-201 CBROPS, CCNA is the only one offering network fundamental skills.

You learn about networking devices, how to install, operate, and configure them, various routing protocols, verifying IPv4 and IPv6, and basic security protocols to prevent your network from threats. The newest addition to the CCNA course outline is poised to launch a new generation of IT careers.

The CCNA represents extreme familiarity with conceptual networking – that's why the first half of the certifying exams, and this training, covers the introductory part of internetworking devices, protocols, transmission model, and more.

Anyone seeking to start their career as a Network Engineer, Network Security Engineer, Network Automation Engineer must take CCNA training first. This training will prepare you for the job role in the IT sector and empowers you with all the relevant skills required in a Cisco certified associate.

Moreover, passing Cisco's associate-level certification adds credibility to your IT career.
Prerequisites
Even though CCNA certification does not require any formal prerequisites, it is highly recommended that you have a basic understanding of the topics relevant to the examination. The CCNA 200-301 training ensures that you prepare yourself thoroughly for the study. However, having the following skills makes the CCNA training more efficient:
Fundamental computer proficiency
Fundamental computer operating system skills
Basic knowledge of the internet
Basic understanding of IP addressing
Basic understanding of network fundamentals
Why to Choose PyNet Labs for CCNA Certification Course Training
Alongside helping you to earn your CCNA certification efficiently, the CCNA training program by PyNet Labs has the following advantages that contribute to your CCNA certification success:
PyNet Labs offers 30 hours of 1-on-1 training or 48 hours in Group/Instructor-Led CCNA Certification training that accelerate your CCNA Certification exam preparation.
CCNA training from Industry specialist trainer.
The CCNA Certification training outline at PyNet Labs follows the Cisco's Implementing and Administering Cisco Solutions (CCNA) v1.0 blueprint.
Enables you to master the essential dimensions of IT & networking technologies, including security, automation, and programmability.
Revs up your resume by adding the highly respected associate-level certification in the industry.
Empowers you with future-oriented knowledge and boosts your confidence.
Scope of CCNA in India
Having CCNA certification, it is incredibly likely for you to get placed at a leading company much sooner than expected. The mention of the CCNA certification on your resume considerably adds a competitive edge to your career prospects. It enables your prospective hiring manager to recognize you as a highly trained professional who can add immeasurable value to their enterprise. Possible job opportunities after CCNA training and certification,
Network Engineer
Network Support Engineer
Systems Administrator
Sr. Network Engineer
Network Administrator
Information Technology (IT) Manager
Systems Engineer (Computer Networking / IT)
Network Associate
Gain Device Proficiency
As a trainee, during the CCNA training program at PyNet Labs, you will have opportunities to work on technologically advanced networking devices. The program will thus provide you with informative insights regarding the technologies and enhance your experience.
At the end of PyNet Labs's CCNA training program, you will have the ability to set up, manage, and operate primary enterprise networks using devices like:
Router: 2611 XM, 1841, 1905, 2811
Switches: 2950, 2960, 3750, 3560
Tools: Cisco IOS, Putty, GNS, and Cisco Packet Tracer
Training Objectives
CCNA 200-301 course Training will help you to gain a broader understanding of the various aspects of IT and networking technologies. After completing the associate-level certification training, you will be able to
Identify the components of a computer network and describe their basic characteristics
Describe the features and functions of the Cisco Internetwork Operating System (IOS®) software
Describe LANs and the role of switches within LANs
Describe Ethernet as the network access layer of TCP/IP and describe the operation of switches
Install a switch and perform the initial configuration
Describe the TCP/IP Internet layer, TCP/IP Transport layer and Application layer, IPv4, its addressing scheme, and subnetting
Implementing basic configuration on a Cisco router and explore functions of routing.
Explaining host-to-host communications across switches and routers
Identify and resolve common switched network issues and common problems associated with IPv4 addressing
Describe IPv6 main features and addresses, and configure and verify basic IPv6 connectivity
Describe the operation, benefits, and limitations of static routing
Describe, implement, and verify Virtual Local Area Networks (VLANs) and trunks
Describe the application and configuration of inter-VLAN routing
Explain the basics of dynamic routing protocols and describe components and terms of Open Shortest Path First (OSPF)
Explain how Spanning Tree Protocol (STP) and Rapid Spanning Tree Protocol (RSTP) work
Configure link aggregation using EtherChannel
Describe the purpose of Layer 3 redundancy protocols
Describe basic WAN and VPN concepts
Describe the operation of Access Control Lists (ACLs) and their applications in the network
Configure Internet access using Dynamic Host Configuration Protocol (DHCP) clients and explain and configure Network Address Translation (NAT) on Cisco routers
Describe basic Quality of Service (QoS) concepts
Describe the concepts of wireless networks, which types of wireless networks can be built, and how to use Wireless LAN Controllers (WLCs)
Describe network and device architectures and introduce virtualization
Introduce the concept of network programmability and Software-Defined Networking (SDN) and describe smart network management solutions such as Cisco DNA Center™, Software-Defined Access (SD-Access), and Software-Defined Wide Area Network (SD-WAN)
Configure basic IOS system monitoring tools
Describe the management of Cisco devices
Describe the current security threat landscape
Describe threat defense technologies
Implement a basic security configuration of the device management plane
Implement basic steps to harden network devices
The Learning Outcomes in the CCNA Training Course in India
CCNA 200-301 Training course will help you to gain a broader understanding of the various aspects of IT and networking technologies. After completing the CCNA Training course, you will have a deeper understanding of the following topic:
Networking Fundamentals
Network Access
IP Connectivity
IP Addressing
IP Services
Security Fundamentals
Automation
Programmability
Routing & Switching Technology functions
Installation, Configuration, Operation, Administration, & Troubleshooting Fundamental IPv4 & IPv6 Business Networks
LABS TO BE COVERED
CCNA 200-301 course Training will help you to gain a broader understanding of the various aspects of IT and networking technologies. After completing the associate-level certification training, you will be able to
Get Started with Cisco Command-Line Interface (CLI)
Observe How a Switch Operates
Perform Basic Switch Configuration
Implement the Initial Switch Configuration
Inspect TCP/IP Applications
Configure an Interface on a Cisco Router
Configure and Verify Layer 2 Discovery Protocols
Implement an Initial Router Configuration
Configure Default Gateway
Explore Packet Forwarding
Troubleshoot Switch Media and Port Issues
Troubleshoot Port Duplex Issues
Configure Basic IPv6 Connectivity
Configure and Verify IPv4 Static Routes
Configure IPv6 Static Routes
Implement IPv4 Static Routing
Implement IPv6 Static Routing
Configure VLAN and Trunk
Troubleshoot VLANs and Trunk
Configure a Router on a Stick
Implement Multiple VLANs and Basic Routing Between the VLANs
Configure and Verify Single-Area OSPF
Configure and Verify EtherChannel
Improve Redundant Switched Topologies with EtherChannel
Configure and Verify IPv4 ACLs
Implement Numbered and Named IPv4 ACLs
Configure a Provider-Assigned IPv4 Address
Configure Static NAT
Configure Dynamic NAT and Port Address Translation (PAT)
Implement PAT
Log into the WLC
Monitor the WLC
Configure a Dynamic (VLAN) Interface
Configure a DHCP Scope
Configure a WLAN
Define a Remote Access Dial-In User Service (RADIUS) Server
Explore Management Options
Explore the Cisco DNA™ Center
Configure and Verify NTP
Configure System Message Logging
Create the Cisco IOS Image Backup
Upgrade Cisco IOS Image
Configure WLAN Using Wi-Fi Protected Access 2 (WPA2) Pre-Shared Key (PSK) Using the GUI
Secure Console and Remote Access
Enable and Limit Remote Access Connectivity
Secure Device Administrative Access
Configure and Verify Port Security
Implement Device Hardening
Who should Enroll
Since the CCNA certification opens up a wide variety of career possibilities in the IT field, anyone interested in venturing into the sector or moving forward in the IT career should consider taking the CCNA training and exam. CCNA training before taking the examination makes you well prepared for the certification and the prospective job-roles. Moreover, many organizations have already made CCNA certification a mandatory qualification for certain job-roles. To summarize, the CCNA certification training should be taken by:
Anyone who seeks foundational knowledge of basic installation, operation, and verification of Cisco networks.
Entry-level network engineer, Network administrator, Network support technician, help desk technician can improve their expertise and validate their networking knowledge with the CCNA certification and training.
Meet Your Trainer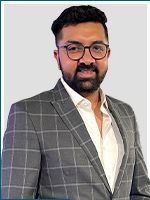 Abhijit Bakale

(CTO & CO-Founder at PyNet Labs)
Abhijit has delivered 12000+ hours of training internationally in past 10 years.
Abhijit has delivered trainings and consulted for various SD-WAN, ACI, Nexus projects for companies like HCL, Cognizant, PepsiCo, Colt, Cisco. Abhijit has been very actively working on technologies like OSPF, EIGRP, BGP, MPLS, Nexus, DevNet, ACI and many more.
Abhijit has also consulted on various SDN solutions for Indian defence clients as well. His student base ranges from Global Offshore Clients, Defense Institutions, International Government Organizations, Top Private Universities, Air Traffic controllers, Networking Professionals working in core production and Engineering students from around the globe.
His Certifications:
Cisco Implementing and Operating Cisco Enterprise Network Core ENCOR 350- 410
Developing Applications using Cisco Core Platforms and APIs DEVCOR 350-901
Cisco ENSDWI - SD-WAN - 300-415
Cisco Implementing Automation for Cisco Enterprise Solutions (ENAUI) ENAUTO 300-435
Cisco DevNet Associate - Developer Certification DEVASC 200-901
Juniper Automation and DevOps, Associate (JNCIA-DevOps) JN0-221
Juniper Cloud Associate (JNCIA-Cloud) JN0-211
Cisco Certified Network Associate CCNA 200-301
FAQs
One-on-one training is the most comfortable and productive way of learning and passing the Cisco Certification exam on the first attempt. In 1-on-1 training from PyNet Labs, you will have personalized attention from our trainer, more learning opportunities, more accountability that makes you push your limits while preparing for the exam. Yes, you can have one-on-one training from PyNet Labs. Contact us now on:
+91 9821215002
. International students can connect with us on WhatsApp, Telegram, Viber, Signal over the same number provided.
The cost of CCNA exam in India is 300 USD + Tax I.e. 21,995.7 INR + 3959.23 (18% GST) = 25,954.93 INR.
CCNA 200-301 Certification Exam consists of MCQs, fill in the blanks, Drag & Drop questions & Simulation Questions.
CCNA 200-301 is a single exam that consists of about 120 questions that you must answer within 120-minutes.
1. Instructor-led Live online Training
2. 1-on-1 Training
3. Fly-me-a-Trainer
4. Corporate/on-site Training
Yes, you can start with CCNA training with PyNet Labs and look for Network Engineer job roles. We have a group for the latest job openings where we will be posting hot jobs with companies' HR contact details; join here -
https://t.me/nwopenings
.
No. There are openings for non-certified candidates as well. But those having a certification might get a preference in various companies. Candidates take CCNA training to become experts in Networking, Routing, Switching, etc., and work as skilled networking professionals.

Students Review
"Excellent tutor and teaching method. Highly recommend."

"Class was really interactive and content was good . Overall a really good experience All topics are nicely explained."

PyNet labs is the best place to learn new technologies. For better reach in technologies as well as to be feasible in our career growth I recommend PyNet labs. Special thanks to Abhijit and Deepanshu who are there to guide us and help us in each and every part.

I have completed my SDWAN course from PyNet Labs and it was really a great journey, it helped me lot to learn about overlay network. I cleared multiple interviews after completion of SDWAN course as its in demand and future of networking.

It was great learning for me. Abhijit is very helpful & skillful trainer.

I took SD-WAN training from PyNet and I would really like to thank PyNet & Abhijit (Trainer). Abhijit is very knowledgeable and he is very supportive. I would also recommend others for this training.

PyNet introduced me to labs. They are consistent, precise and straight on point. If you haven't tried them, you have missed a lot. Mr Abhijit, Deepansha, Nitish and the rest of the team, continue with that excellent work you are doing. You are the best among the best.

I would like to thanks the complete team of PyNet Labs (Mr. Deepanshu, Mr. Nitish & Mr. Abhijit). It was a great & useful learning on SD-WAN. The trainer Mr. Abhijit Bakale was incredibly knowledgeable & supportive. There way of teaching was very effective. I would definitely recommend this my co-workers as well as my friends.

Hi All, I attended online SD-WAN Training from PyNet Labs and this is awesome. Even a person without having SD-WAN knowledge can easily Implement SD-WAN solution after this training. Labs are very effective and it is step by step procedure with clear explanation. We will be working on SDWAN in real time, but some concepts may not clear. But here u will come to know very basic and this is added value for Network engineer. Thank you, complete team!!!

The trainer and the management at PyNet labs are awesome..... You get assistance even after your batch is over.... You can reach out to them for your doubts any time. Highly recommended!

I will enroll again. I am completely confident configuring SDWAN fabrics. Nice lab environment and experiences.

Abhijit unleash all the concepts to get Devnet associate exam. I am glad that I took this course from PyNet. Looking to connect to PyNet soon for Cisco DEVCOR.

Awesome trainer with up to date content. This really helped me to kick start my automation journey. Python baba ki jai.