What is the future scope of CCNA?
Last Updated :
March 3, 2023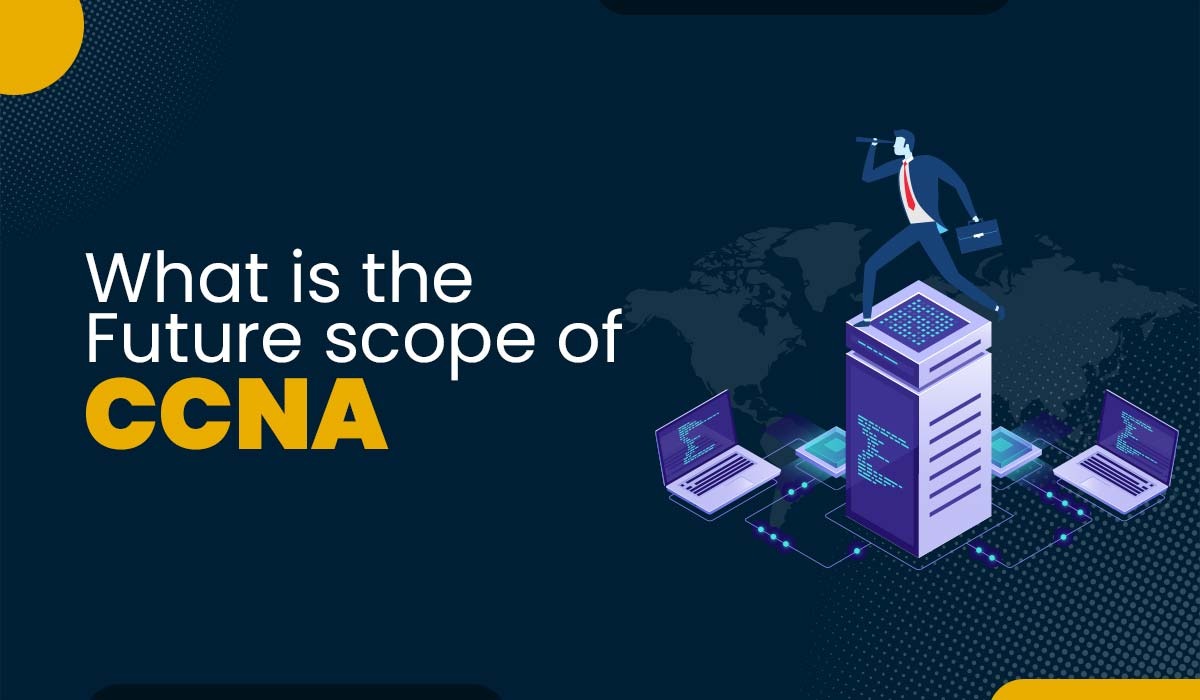 Introduction
With the rise of cloud computing, big data, and the Internet of Things, the networking field has seen unprecedented growth in recent years. As a result of this growth, the demand for skilled networking professionals has also increased. If you are looking for a career in networking, you may have come across CCNA and wondered if it is worth your time and what is the future scope of CCNA.
CCNA stands for Cisco Certified Network Associate and is one of the most popular networking certifications offered by Cisco, which is recognized worldwide. In this article, we will explore the future scope of CCNA and its benefits in your networking career to clear all your doubts so that you can start your networking journey. Before understanding the scope of CCNA, let's take a look at what is CCNA?
You can also check out our – CCNA Course in Gurgaon, which is currently available at a great discount.
What is CCNA?
CCNA is an entry-level networking certification offered by Cisco, the godfather of the networking industry. CCNA validates your skills and knowledge in the following topics –
Networking fundamentals
Network access
IP connectivity
IP services
Security fundamentals
Automation and programmability.
There was a time when CCNA certification was a prerequisite for advanced networking certifications offered by Cisco, such as CCNP (Cisco Certified Network Professional) and CCIE (Cisco Certified Internetwork Expert), but after the 2020 updates, now one can go for any certification they want. CCNA Certification is no longer a prerequisite for moving to advanced certifications, but the knowledge it offers cannot be ignored.
The knowledge you get from CCNA Course will help you throughout your networking journey and will help you advance your career to advanced Cisco courses. Now, let's move on to answer the question, "What is the future Scope of CCNA?"
What is the future scope of CCNA?
The future scope of CCNA is very promising in the networking industry. Here are some of the benefits of pursuing CCNA which will help you understand the scope of CCNA in the future:
High demand for CCNA professionals: With the increasing reliance on technology, there is a high demand for CCNA professionals in various industries, which includes IT, telecommunications, healthcare, finance, government, etc. If we compare the growth in employment of network professionals to other sectors, it is clear that employment in the networking sector is booming.
Career advancement opportunities: CCNA can also help you advance your networking career. While CCNA knowledge is essential for advanced networking courses, such as CCNP and CCIE, it can also open doors to various job roles, such as network engineer, network administrator, and network analyst.
Knowledge and skills enhancement: CCNA provides you with a solid foundation in networking fundamentals, such as routing and switching, network protocols, and network security. It also includes topics on automation and programmability, which are essential skills in modern networking.
Job security: The networking industry has never faced a recession because an enterprise always needs a networking professional, and with the rise of cyber threats, network security has become a top priority for organizations. CCNA also provides you with knowledge of network security fundamentals, which can enhance your job security in the networking industry.
So, the future scope of CCNA is promising because of the growing demand for networking professionals, job security, high earning potential, career advancement opportunities, etc.
How to become CCNA certified?
To become CCNA certified, you need to pass one exam, which is – CCNA 200-301. This is the most popular Cisco exam, and it covers networking fundamentals, network access, IP connectivity, IP services, security fundamentals, and automation and programmability.
You can prepare for CCNA certification by taking the CCNA course in Delhi NCR, studying the official Cisco CCNA certification guide, and practicing with CCNA practice exams. Now that we have decoded the answer to the question, "What is the future scope of CCNA?" it is time to move to the next question, which is, what is next step after CCNA?
You may like – Can I learn CCNA Online?
What is next step after CCNA?
If you're looking to advance in your networking career, pursuing advanced certifications or training can be a great way to increase your skills and value as an employee. However, with so many options out there, it can be overwhelming to decide which training or certification to pursue next. To make an informed decision, consider a few important factors.
Firstly, it's important to research the job market in your area. Check out job portals like Monster or wherever IT jobs are advertised and take note of what kinds of jobs are in demand and what qualifications are required to land those jobs. Keeping an eye on trends can also help you position yourself for future job opportunities.
Another factor to consider is what's relevant to your current job. Pursuing certifications that align with your current job responsibilities can make you more valuable to your employer and improve your future career prospects. They may even be willing to pay for your certification if it's relevant to your work.
Finally, consider what interests you. Pursuing a certification or training that you're genuinely interested in can make studying more enjoyable and help you stay motivated.
With these factors in mind, let's explore a logical next step for those who have just completed the Cisco CCNA training. Continuing down the Cisco path makes sense, and the CCNP Enterprise (ENCOR), which was known as Routing and Switching, is a great option.
While it may seem daunting to tackle two exams to become a CCNP, the CCNP actually covers many of the same topics as the CCNA, just in more detail. Having just completed the CCNA, you're already around 50% of the way to obtaining the CCNP. Pursuing this certification can be a relatively easy next step that builds upon the knowledge you've already acquired.
In conclusion, when deciding on your next certification, consider the job market, its relevance to your current job, and your own interests. Pursuing the CCNP Enterprise after completing the Cisco CCNA can be a logical and beneficial next step. By keeping these factors in mind, you can make an informed decision that will help you advance in your career.
Is CCNA a good career choice?
We have just discussed the future scope of CCNA, so it can be said that the Cisco Certified Network Associate (CCNA) presents a promising career option for those interested in the field of networking and computer systems. This widely recognized IT certification attests to one's proficiency in the installation, configuration, and troubleshooting of network systems.
The CCNA certification offers a gateway to a plethora of career opportunities, including network engineer, network administrator, and system administrator, among others. These designations are available across a diverse range of industries, spanning from healthcare to finance and telecommunications.
Moreover, CCNA training often functions as a precursor to Cisco's higher-level training, such as the Cisco Certified Network Professional (CCNP) and Cisco Certified Internetwork Expert (CCIE), which can lead to more advanced and specialized career paths.
However, it is essential to comprehend that while holding a CCNA certification could prove beneficial, it does not guarantee employment or success in the IT industry. Employers value experience and practical skills, requiring individuals to continually update their knowledge and expertise in networking and computer systems beyond merely acquiring certification.
You can also read – Importance of CCNA
Job Opportunities after CCNA
As we have already discussed, CCNA is an entry-level course in the networking field, so it can get you entry-level jobs. Here are a few job opportunities one can get after CCNA –
L1 Network Engineer – Commonly, an L1 Network Engineer handles first-line support and also looks after the networking hardware.
Network Support Engineer – A network support engineer manages a project and gives customers consulting services. He oversees the operation of the technical network resources for both business and project needs.
Technical Support Associate – A technical support associate is equipped with tasks to manage, maintain and fix technical errors with IT systems.
Technical Support Engineer – A Technical Support Engineer provides technical support assists customers with computer hardware and software. They investigate account-related problems for their business or perform any other ad hoc tasks in the field that are assigned to them by their manager.
Desktop Support Engineer – Desktop support engineers offer assistance to software and computer systems users. They offer in-person or online help with computer setups, upgrades, software use, and maintenance. They also respond to users' immediate questions.
Network Administrators – The daily management of the enterprise networks are the responsibility of the network administrators. They coordinate the setup and maintenance of an organization's computer systems, including LANs, WANs, network segments, intranets, and other data transmission platforms.
These are the major job openings a CCNA person can easily get. One can easily apply for these jobs using any job-finding sites or you can also check out PyNet Labs' Job Support Page where we keep posting latest Network Engineer job postings.
CCNA Job Salary
The CCNA certification has a fairly broad range in terms of pay. You can earn between INR 4 LPA and INR 5 LPA even as a brand-new CCNA. We have many students that are earning more than 4 Lakh with just CCNA Training. After you have networking experience, you can earn up to INR 10 LPA.
With time, this number can increase even further. The networking market is quite competitive, as you can obviously tell. So, beginning your job with professional CCNA training is the finest option.
Check this out – CCNA Interview Questions
Frequently Asked Questions
Q1 – What is the validity of CCNA certification?
CCNA certification is valid for three years, after which you need to renew it by passing a recertification exam or earning a higher-level Cisco certification.
Q2 – What is the exam format for CCNA certification?
The CCNA exam consists of 100-120 multiple-choice questions and has a duration of 120 minutes.
Q3 – Is CCNA certification difficult?
All Cisco exams are considered difficult. If we talk about CCNA certification, it requires dedication and hard work, but it is achievable with proper preparation and practice.
Q4 – Is CCNA in demand 2023?
Yes, CCNA is in very much demand in 2023 and as a matter of fact, it will stay in demand for many upcoming years. The prime reason is that CCNA course or certification provides the knowledge and skills required to start a networking career.
Conclusion
CCNA can be a valuable addition to your networking career, providing you with the knowledge and skills required to excel in the industry. With the growing demand for networking professionals, CCNA certification can open up numerous career opportunities and help you advance your career in networking.
In conclusion, the future scope of CCNA is vast, and pursuing CCNA certification can be a significant investment in your networking career. Whether you are a beginner or an experienced networking professional, CCNA certification can enhance your knowledge and skills, increase your job opportunities, and boost your earning potential.