Versa SD-WAN Professional Certification Training Details
Instructor-led Online Training
Industry Expert Trainer | Unlimited Lab Access | PDF & Lab Workbooks
PyNet Labs Training Completion Certificate
Overview
Versa certifications are industry-recognized and are suitable for engineers who design, optimize, administer, manage, troubleshoot, and support secure SD-WAN services on Versa Networks platforms. Currently, there are 4 Versa certifications that an individual can opt for, 
Versa Certified SD-WAN Associate (VNX100) - (L1) 
Versa Certified SD-WAN Specialist (VNX300) - (L2) 
Versa Certified Security Specialist (VNX325) - (L2) 
Versa Certified SD-WAN Professional (VNX400) - (L3) 
PyNet Labs offers versa certifications training that will help you learn the integration of Versa SD-WAN with your existing networks. We will be covering Versa's official Associate (L1), Specialist (L2) and Professional (L3) course content in the training program. So, participants must have good knowledge of routing and switching before enrolling for the Versa SD-WAN training.  
After Versa SD-WAN Professional Training from PyNet Labs, the candidate will be able to attempt all exams of Versa SD-WAN Portfolio. The total Versa SD-WAN online training duration will be 36 hours and each learner will be given UNLIMITED lab access to building their SD-WAN lab on our servers from scratch. 
Pre-Requisite
Before taking Versa SD-WAN training, you should have the following knowledge:

👉Good knowledge of routing and switching
👉Two or more years of industry experience
Cisco Versa SD-WAN Professional Training Highlights
Instructor-led Online (ILO) training by Mr. Abhijit Bakale
Training Duration - 36 Hours
Lab workbooks will be provided
A custom course outline will be followed covering all the 4 Versa SD-WAN Certifications
UNLIMITED Lab Access for each learner
Learn Versa SD-WAN integration on REAL SD-WAN Labs
Lifetime Access to the class recordings
Lifetime Access to a private telegram group for doubts and queries
Build your SD-WAN Lab on our servers from SCRATCH
We make sure LABS are available for practice during the class/right after class
PyNet Labs course completion certificate with a unique certificate ID
Language to be followed in training - English.
Language to be followed for Jokes and fun in between - English.
What You Will Learn in Versa SD-WAN Training
In-depth knowledge of Underlay and Overlay implementations, with design motivations and key concepts of SD-WAN technologies.
Understanding of components used in the Versa Secure SD-WAN platform
Design and deployment of SD-WAN services using methods to achieve High-Availability (HA), traffic steering, topologies, and QoS.
Implementation strategies to achieve SD-WAN goals include cost control, improving user quality of experience, and integrating cloud technologies.
Knowledge of how to deploy a headend, including Versa Director, Versa Controllers, and Versa Analytics
Knowledge of branch deployment
VOS public cloud options
Knowledge of multi-tenancy in Versa SD-WAN Components
Knowledge of how to configure various SD-WAN topologies
Versa SDWAN Routing policies
Integration of Versa SD-WAN with existing networks
Configuration of the class of service
Configuration of SD-WAN features, including traffic steering, SD-WAN policy
DNS Proxy
Layer 2 Services
Service Chain Capabilities
Configuration and manipulation of templates
CPE High Availability
Service Node Group configuration
Stateful Firewall security services (DDoS)
Management system integration
Cloud management system integration capabilities
Versa Analytics Administration
Troubleshooting VOS platforms
Troubleshooting SD-WAN services
Troubleshooting management services in headend and branch components
LAB Outline
Setting up Versa SDWAN Deployment
Onboarding Headend Controllers
Onboarding Hub and Spoke Branch Sites
Verifying and Understanding Connectivity Status of Branch Sites with Headend
Configuring Branch Sites using Templates
Manipulating Routing using SD-WAN Policies
Implementing Security Features in SD-WAN Fabric
Implementing High Availability in Hub
Establishing & Troubleshooting Site-to-Site Communication
Devices Used in Versa SD-WAN Topology
A complete headend (Versa Director, Versa Analytics, and Versa Controller)
3 CPE nodes (2 branches and 1 hub, which can also be used as a branch CPE)
2 CPEs with a shared LAN for dual-site connectivity (a cross-connect interface is pre-configured between devices)
2 testing hosts for traffic generation and connectivity verification
2 transport domains (MPLS and INET)
Topology to be used in Versa SD-WAN Professional Online Training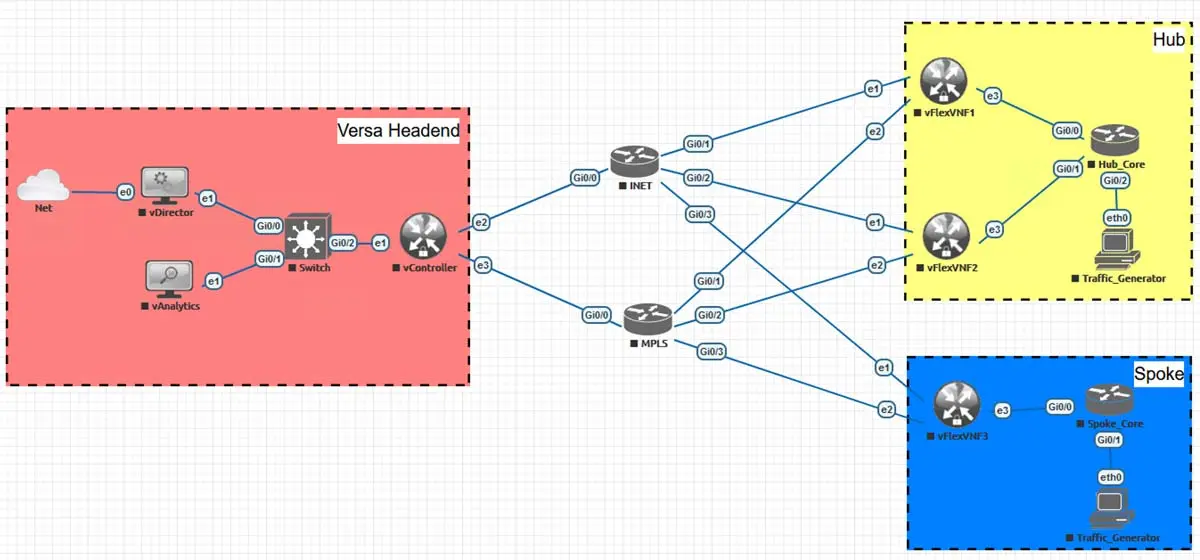 Get Placement Assistance
Placement assistance by PyNet Labs is for our students who take training from us and are looking for better career opportunities. We will guide you through resume writing, applying for unlimited job interviews, and keep you updated about infinite job openings via our official Telegram Channel.
We will also assist you personally to get a good job in India.
Meet Your Trainer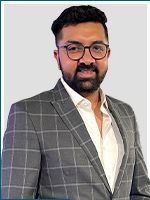 Abhijit Bakale

(CTO & CO-Founder at PyNet Labs)
Abhijit has delivered 12000+ hours of training internationally in past 10 years.

Abhijit has delivered trainings and consulted for various SD-WAN, ACI, Nexus projects for companies like HCL, Cognizant, PepsiCo, Colt, Cisco. Abhijit has been very actively working on technologies like OSPF, EIGRP, BGP, MPLS, Nexus, DevNet, ACI and many more.

Abhijit has also consulted on various SDN solutions for Indian defence clients as well. His student base ranges from Global Offshore Clients, Defense Institutions, International Government Organizations, Top Private Universities, Air Traffic controllers, Networking Professionals working in core production and Engineering students from around the globe.
His Certifications:
Cisco Implementing and Operating Cisco Enterprise Network Core ENCOR 350- 410
Developing Applications using Cisco Core Platforms and APIs DEVCOR 350-901
Cisco ENSDWI - SD-WAN - 300-415
Cisco Implementing Automation for Cisco Enterprise Solutions (ENAUI) ENAUTO 300-435
Cisco DevNet Associate - Developer Certification DEVASC 200-901
Juniper Automation and DevOps, Associate (JNCIA-DevOps) JN0-221
Juniper Cloud Associate (JNCIA-Cloud) JN0-211
Cisco Certified Network Associate CCNA 200-301
Students Review
"Excellent tutor and teaching method. Highly recommend."

"Class was really interactive and content was good . Overall a really good experience All topics are nicely explained."

PyNet labs is the best place to learn new technologies. For better reach in technologies as well as to be feasible in our career growth I recommend PyNet labs. Special thanks to Abhijit and Deepanshu who are there to guide us and help us in each and every part.

I have completed my SDWAN course from PyNet Labs and it was really a great journey, it helped me lot to learn about overlay network. I cleared multiple interviews after completion of SDWAN course as its in demand and future of networking.

It was great learning for me. Abhijit is very helpful & skillful trainer.

I took SD-WAN training from PyNet and I would really like to thank PyNet & Abhijit (Trainer). Abhijit is very knowledgeable and he is very supportive. I would also recommend others for this training.

PyNet introduced me to labs. They are consistent, precise and straight on point. If you haven't tried them, you have missed a lot. Mr Abhijit, Deepansha, Nitish and the rest of the team, continue with that excellent work you are doing. You are the best among the best.

I would like to thanks the complete team of PyNet Labs (Mr. Deepanshu, Mr. Nitish & Mr. Abhijit). It was a great & useful learning on SD-WAN. The trainer Mr. Abhijit Bakale was incredibly knowledgeable & supportive. There way of teaching was very effective. I would definitely recommend this my co-workers as well as my friends.

Hi All, I attended online SD-WAN Training from PyNet Labs and this is awesome. Even a person without having SD-WAN knowledge can easily Implement SD-WAN solution after this training. Labs are very effective and it is step by step procedure with clear explanation. We will be working on SDWAN in real time, but some concepts may not clear. But here u will come to know very basic and this is added value for Network engineer. Thank you, complete team!!!

The trainer and the management at PyNet labs are awesome..... You get assistance even after your batch is over.... You can reach out to them for your doubts any time. Highly recommended!

I will enroll again. I am completely confident configuring SDWAN fabrics. Nice lab environment and experiences.

Abhijit unleash all the concepts to get Devnet associate exam. I am glad that I took this course from PyNet. Looking to connect to PyNet soon for Cisco DEVCOR.

Awesome trainer with up to date content. This really helped me to kick start my automation journey. Python baba ki jai.