Cisco CCNP ENCOR - Enterprise Core
Implementing and Operating Cisco Enterprise Network Core Technologies (350-401 ENCOR) Certification Training by PyNet Labs
Get Demo
Cisco CCNP ENCOR (350-401 ENCOR) Certification Course Details
Instructor-led Online Training
Industry Expert Trainer | Unlimited Lab Access | Study Materials
PyNet Labs Training Certificate
Overview
Cisco CCNP Enterprise - Core (350-401 ENCOR) Certification by Cisco is one of the most in-demand certifications offered as it is associated with four Cisco's certifications, I.e.,
CCNP® Enterprise
CCIE® Enterprise Infrastructure
CCIE (Cisco Certified Internetwork Experts) Enterprise Wireless
Cisco Certified Specialist – Enterprise Core
Taking the certification training and exam, one meets the criteria for the enterprise concentration exam. Similarly, they qualify for the CCIE Enterprise Infrastructure Lab exam. ENCOR certification is also a qualifying exam for the CCIE Enterprise Wireless lab exam, so, passing the ENCOR certification, one can also go for the Cisco Enterprise Wireless track.
The Implementing and Operating Cisco Enterprise Network Core Technologies (ENCOR) v1.1 training offers candidates the knowledge and skills needed to configure, troubleshoot, and manage enterprise wired and wireless networks.
PyNet Labs offer a comprehensive ENCOR 350-401 Training where candidates learn to implement security principles, implement automation and programmability within an enterprise network, and overlay network design using SD-Access and SD-WAN (Software-Defined Wide Area Network) solutions.
Our dedicated training program, led by industry experts, helps aspirants prepare themselves for the ENCOR test through a step-by-step approach. We design our course modules considering the requirements of the ever-changing networking and IT (Information Technology) technology world and discuss the latest innovations in the field.
The training curriculum is entirely consistent with the qualification modules of Cisco and follows the framework of Cisco's ENCOR training program. We offer thorough training that guarantees theoretical and practical knowledge applicable to networking technologies.
Who Should Enroll
ENCOR Certification is offered at a professional level. Thus, people seeking this certification training are employees/learners with foundational networking skills. Here is a list of professionals who can join this course -
Mid-Level Network Engineers
Network Administrators
Network Support Technicians
Helpdesk Technicians
This course grants all the niche skills your potential employers are looking for. So, if you are looking forward to having expertise in the networking sector, this course is just the right thing for you.


Upcoming CCNP ENCOR Batch Schedule
Batch
Details
Time
Batch 1
Weekdays batch
(Monday to Thursday)
28th November to 22nd December 2022
8: 30 PM to 11: 30 PM Indian Time
11 AM to 2 PM Eastern Time
3 PM to 6 PM UTC/ GMT00

Batch 2
Weekends batch
(Saturday and Sunday)
3rd December to 22nd January 2023
5 PM to 8 PM Indian Time
6: 30 AM to 9:30 AM Eastern Time
11: 30 AM to 2: 30 PM UTC/ GMT00
Batch 3
Weekdays batch
(Monday to Thursday)
5th December to 5th January 2023
9 AM to 12 PM Indian Time
10: 30 PM to 1: 30 AM Eastern Time
3: 30 AM to 6: 30 AM UTC/ GMT00
Course Highlights
Instructor-led training for 48 Hours
Complete Cisco CCNP Enterprise - Core certification content will be covered during the training.
It is a virtual live training where students will be allowed to ask their doubts live.
The total training duration is of 48 Hours.
We make sure the candidates do their Practicals during the class/right after class.
Ask your doubts after class in a private telegram group (lifetime access)
Recordings of every class will be made available with lifetime accessibility.
PyNet Labs certificate with a unique certificate number to validate your training
Language to be followed for training - English
Prerequisites
While the following skills are not mandatory, knowing them beforehand will give you an edge to make the best of this course. It is strongly recommended that you have a fundamental understanding of the crucial subjects of the exam.
Implementation of Enterprise LAN networks
Basic understanding of Enterprise routing and wireless connectivity
CCNA Knowledge
How will you benefit from our 350-401 ENCOR Training?
The training program has tons of pros to offer to anyone who chooses to enroll in the program training. The following list summarizes some of them:
You will earn a Specialist certification once you pass the examination.
You will qualify for CCIE Enterprise Infrastructure Lab Exam after passing the ENCOR Exam.
You can register/enroll for other concentration certifications offered by Cisco under the enterprise track.
Learn to combine technical abilities with design skills
Learn to overlay network designs using solutions such as SD-WAN and SD-Access
Configure, troubleshoot, and manage enterprise wired and wireless networks
Implement security principles within an enterprise network
The certification makes you eligible for enterprise networking as well as jobs related to networking and routing. Since it is recognized worldwide, this qualification is essential to the IT applicants and the employees. Depending on the organization, obtaining this credential increases the chances of going up in the hierarchy.
Course Outline
Examining Cisco Enterprise Network Architecture
Understanding Cisco Switching Paths
Implementing Campus LAN Connectivity
Building Redundant Switched Topology
Implementing Layer 2 Port Aggregation
Understanding EIGRP
Implementing OSPF
Optimizing OSPF
Exploring EBGP
Implementing Network Redundancy
Implementing NAT
Introducing Virtualization Protocols and Techniques
Understanding Virtual Private Networks and Interfaces
Understanding Wireless Principles
Examining Wireless Deployment Options
Understanding Wireless Roaming and Location Services
Examining Wireless AP Operation
Understanding Wireless Client Authentication
Troubleshooting Wireless Client Connectivity
Introducing Multicast Protocols
Introducing QoS
Implementing Network Services
Using Network Analysis Tools
Implementing Infrastructure Security
Implementing Secure Access Control
Understanding Enterprise Network Security Architecture
Exploring Automation and Assurance Using Cisco DNA Center
Examining the Cisco SD-Access Solution
Understanding the Working Principles of the Cisco SD-WAN Solution
Understanding the Basics of Python Programming
Introducing Network Programmability Protocols
Introducing APIs in Cisco DNA Center and vManage
Students Review
"Excellent tutor and teaching method. Highly recommend."

"Class was really interactive and content was good . Overall a really good experience All topics are nicely explained."

PyNet labs is the best place to learn new technologies. For better reach in technologies as well as to be feasible in our career growth I recommend PyNet labs. Special thanks to Abhijit and Deepanshu who are there to guide us and help us in each and every part.

I have completed my SDWAN course from PyNet Labs and it was really a great journey, it helped me lot to learn about overlay network. I cleared multiple interviews after completion of SDWAN course as its in demand and future of networking.

It was great learning for me. Abhijit is very helpful & skillful trainer.

I took SD-WAN training from PyNet and I would really like to thank PyNet & Abhijit (Trainer). Abhijit is very knowledgeable and he is very supportive. I would also recommend others for this training.

PyNet introduced me to labs. They are consistent, precise and straight on point. If you haven't tried them, you have missed a lot. Mr Abhijit, Deepansha, Nitish and the rest of the team, continue with that excellent work you are doing. You are the best among the best.

I would like to thanks the complete team of PyNet Labs (Mr. Deepanshu, Mr. Nitish & Mr. Abhijit). It was a great & useful learning on SD-WAN. The trainer Mr. Abhijit Bakale was incredibly knowledgeable & supportive. There way of teaching was very effective. I would definitely recommend this my co-workers as well as my friends.

Hi All, I attended online SD-WAN Training from PyNet Labs and this is awesome. Even a person without having SD-WAN knowledge can easily Implement SD-WAN solution after this training. Labs are very effective and it is step by step procedure with clear explanation. We will be working on SDWAN in real time, but some concepts may not clear. But here u will come to know very basic and this is added value for Network engineer. Thank you, complete team!!!

The trainer and the management at PyNet labs are awesome..... You get assistance even after your batch is over.... You can reach out to them for your doubts any time. Highly recommended!

I will enroll again. I am completely confident configuring SDWAN fabrics. Nice lab environment and experiences.

Abhijit unleash all the concepts to get Devnet associate exam. I am glad that I took this course from PyNet. Looking to connect to PyNet soon for Cisco DEVCOR.

Awesome trainer with up to date content. This really helped me to kick start my automation journey. Python baba ki jai.
Meet Your Trainer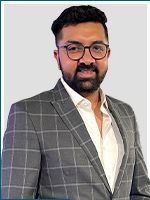 Abhijit Bakale

(CTO & CO-Founder at PyNet Labs)
Abhijit has delivered 12000+ hours of training internationally in past 10 years.
Abhijit has delivered trainings and consulted for various SD-WAN, ACI, Nexus projects for companies like HCL, Cognizant, PepsiCo, Colt, Cisco. Abhijit has been very actively working on technologies like OSPF, EIGRP, BGP, MPLS, Nexus, DevNet, ACI and many more.
Abhijit has also consulted on various SDN solutions for Indian defence clients as well. His student base ranges from Global Offshore Clients, Defense Institutions, International Government Organizations, Top Private Universities, Air Traffic controllers, Networking Professionals working in core production and Engineering students from around the globe.
His Certifications:
Cisco Implementing and Operating Cisco Enterprise Network Core ENCOR 350- 410
Developing Applications using Cisco Core Platforms and APIs DEVCOR 350-901
Cisco ENSDWI - SD-WAN - 300-415
Cisco Implementing Automation for Cisco Enterprise Solutions (ENAUI) ENAUTO 300-435
Cisco DevNet Associate - Developer Certification DEVASC 200-901
Juniper Automation and DevOps, Associate (JNCIA-DevOps) JN0-221
Juniper Cloud Associate (JNCIA-Cloud) JN0-211
Cisco Certified Network Associate CCNA 200-301
Frequently Asked Questions (FAQ's)
The ENCOR 350-401 is a certified examination offered by Cisco Solutions. The exam comprises different topics from the networking subject.
Exams for Associate, Professional, and Expert Level Certifications shall be valid for three years from the date you pass. Specialist certification examinations shall be valid for two years from the date passed.
Yes, you will get the study material or any other extra amenity from PyNet Labs, and there will be no need to pay extra.
To become a CCNP certified in any track, the core is one of the two exams you need to pass. This certification is the first step you take that helps you foundational skills into your focused technology area and earns you a specialist certification, if passed.
The delivery mode of the Cisco CCNP ENCOR course training is Instructor-led Live online training, and the trainer has years of training experience.
We have a telegram group where we keep posting openings daily with direct HR's email ID; check out here:
https://t.me/nwopenings
. Our primary focus is on creating quality training at the most affordable prices and prepare our students for Job Interviews.
Yes, the online training recordings will be provided to the students the next day of the online session.
We have a telegram group where we keep posting job openings daily with direct HR's email ID; check out here:
https://t.me/nwopenings
Our main focus is on creating quality training at the most affordable prices and prepare our students for Job Interviews.