Everything You Need To Know About Security Of Wireless Networks
Last Updated :
June 9, 2022
Security of wireless networks is to protect a wireless network from unauthorized or malicious access and damage to any data or computer using wireless networks. It is a complex process that involves designing and implementing security measures to ensure the security of wireless networks.
It is generally done using wireless devices that encrypt and secure all wireless communication. The standards we use in wireless networks are defined in IEEE as 802.11, like wired ethernet standards are defined as 802.3. Wi-fi is a wireless networking technology that enables network devices to connect and exchange data over the Internet using RF (Radio Frequency).
We have to configure wireless networks keeping a few things in mind, which are:
Configuration of Wireless Network
SSID (Name of Network to get an identification and maximum length for SSID is 32 characters)
If you are configuring a wireless router, you need to define the LAN subnet, which includes:
IP Address of the Router (Default Gateway)
WAN Interface (Execution of Public IP)
Maximum routers support three things on WAN interfaces:
DHCP Client (If your ISP has provided you dynamic IP)
Static IP (if your ISP has given you a static route)
PPPoE (Point to Point Protocol over Ethernet – In this case, your ISP provides you a login credential like ID & Password)
NATTING is pre-enabled by default.
Security of Wireless Networks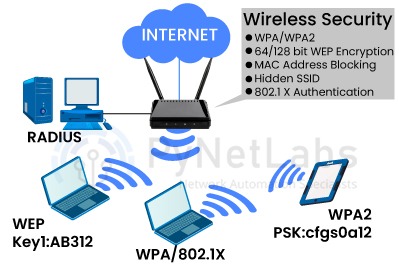 Various encryptions are used for the security of wireless networks like WEP, WPA, and WPA2. These three encryptions protect the data over wireless networks. So, how do these protocols protect the data?
WEP Encryption – Wired Equivalent Privacy is a security protocol (WEP) that was initially designed to offer a level of security for the wireless networks and aims to add a layer of security of wireless networks by providing a strong data encryption.
WPA – WPA stands for Wi-Fi Protected Access. Every hardware with the Wi-Fi-certified seal, gets a WPA encryption built into it. This seal signifies that the product is Wi-Fi Alliance (http://www.wi-fi.org/) authorized. It uses TKIP Protocol.
WPA2 – It's the enhanced version of WPA and WEP as it supports two protocols, TKIP + CCMP, and it also uses a strong encryption method, AES (Advance Encryption Standard).
All these encryption standards use cipher for encryption of data which are as follows -
| | | |
| --- | --- | --- |
| Encryption Protocols | Standards for encryptions | Cipher |
| WEP (Wired Equivalent Privacy) | WEP | RC-4 |
| WPA (Wi-Fi Protected Access) | TKIP Protocol (Temporal Key Integrity Protocol) | RC-4 |
| WPA2 | CCMP + TKIP (Counter Mode Cipher Block Chaining Message Authentication Code) | AES (Advance Encryption Standard) |
Before selecting the encryption method, you must make sure that all the devices must support the authentication method you are applying. As these encryption methods come in two categories or variants –
WPA
WPA-PSK (pre-shared key) - When you are connecting to any new SSID in the network, you'll find that when you click to join the network, it's going to ask you for the password. Once you have entered the correct password, it will authenticate, and give you access to the network that is known as your pre-shared key.
WPA Enterprise - Now here we use a radius server. Where we don't apply pre-shared key, instead of using PSK, we assign usernames and passwords for specific users who are only allowed to get access inside the network.
WPA2
The working is same as discussed above. But advance encryptions will work using some algorithms here in the case of WPA2.
One more parameter needs attention while configuring a network for security of wireless networks. This Parameter is "Signal Range Coverage" area.
Signal Range Coverage
The user applies an alternate current to an antenna to send wireless signals. That's why we use wireless NIC cards in the case of wireless networks, which create electromagnetic waves.
Electromagnetic waves can be measured in many ways like, frequency and amplitude.
Amplitude is the maximum strength of the electric and magnetic signal
Frequency can be measured in Hz(hertz), kHz (Kilohertz), MHz (Megahertz), or GHz (Gigahertz).
Wi-Fi uses two main frequency ranges:
2.4 GHz
5 GHz
Wireless Standards with Maximum Speed and frequencies.
| | | |
| --- | --- | --- |
| Standards | Frequency | Maximum speed |
| 802.11 | 2.4 GHz | 2 Mbps |
| 802.11a | 5GHz | 54 Mbps |
| 802.11b | 2.4 GHz | 11 Mbps |
| 802.11g | 2.4 GHz | 54 Mbps |
| 802.11n | 2.4 GHz, 5GHz | 600 Mbps |
| 802.11ac | 5GHz | 1300 Mbps |
| 802.11ad | 2.4 GHz, 5GHz and 60 GHz | 7 Gbps (Wi-Fi 6) |
Modes of Wi-Fi Connections
Infrastructure - Infrastructure mode is the most common Wi-Fi, In infrastructure mode. All other clients in the network (computer, printer, mobiles and other device).
Wi-Fi Hotspot - The concept of "Wi-Fi hotspot" usually refers to wireless networks placed in public places, like railway stations and airports, to allow people to connect to the internet without having login credentials. As in some are free and some require login credentials.
Ad Hoc - Ad hoc mode is also referred to as P2P mode because it does not involve an access point.
So, this is everything you need to know about Wireless LAN and the Security of Wireless Networks. Also, you can watch this video to understand more of this topic.
If you are curious to learn more about such topics, consider joining PyNet Labs' CCNA 200-301 training program where you are going to have 10X higher Interaction with Industry Expert Trainer and lifetime access to regular class recordings.
To register for our CCNA training program, you can connect with us on Call, WhatsApp, Telegram, Viber, or Signal at +91 9821215002, or write us at [email protected]