The Future of IT Industry in India
Last Updated :
July 8, 2023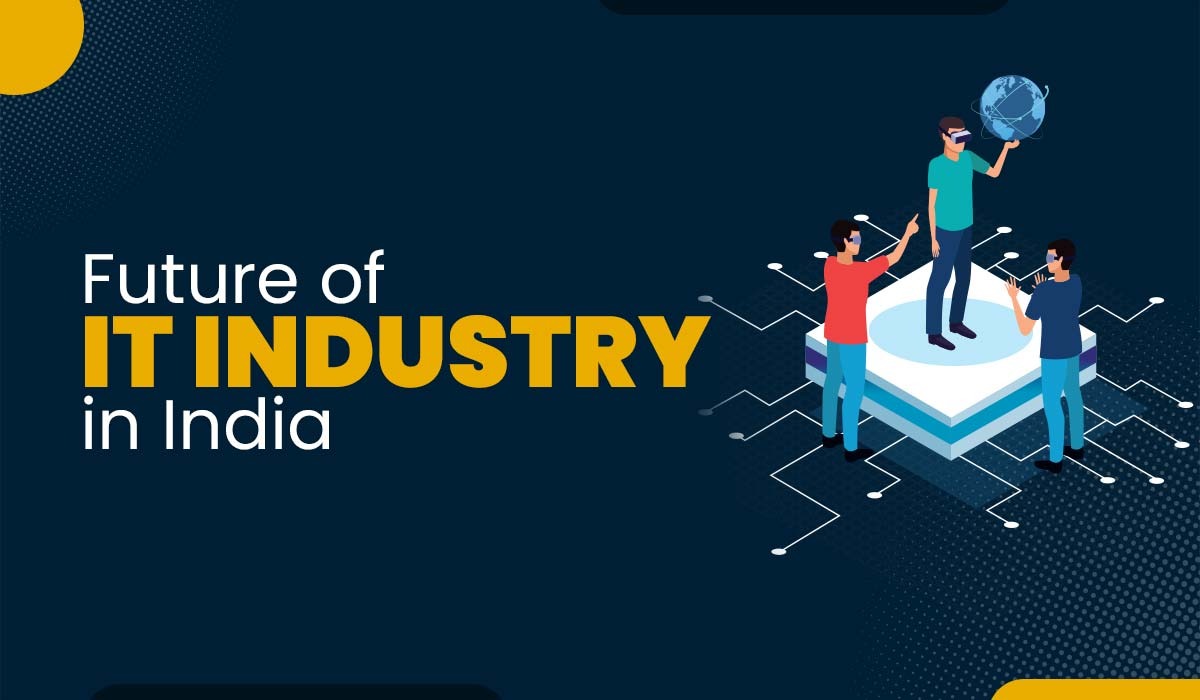 Introduction
If someone thinks India's IT sector has reached its full potential, they are wrong. IT industry not only expands in India and throughout the globe but also will overtake other industries. The future of IT industry in India is bright as there has been a lot going on, such as the introduction and implementation of Developer-Operations (DevOps) and automation that is mostly used in most of the sectors.
The emergence of new technologies like AI, IoT, Machine learning, cloud computing, and many others is also pushing the IT sector forward. There has been a great emphasis on improved educational resources and R&D to support all these technologies. The growth in the IT sector will impact the daily lives of many individuals by creating new job opportunities and providing essential IT services.
Future of IT Industry in India
The future of IT industry is full of potential and creates new opportunities for many businesses, professionals, and consumers. The IT industry covers various sectors, such as software development, hardware manufacturing, cloud computing, cybersecurity, artificial intelligence, the Internet of Things, and more. Nowadays, IT-based services are crucial for every business to operate to its full potential.
The IT industry is a constantly evolving and competitive field that requires constant adaptation and innovation to survive and thrive in the digital era to meet society's changing needs and demands. The IT industry also has a significant impact on the economy, society, environment, and culture of the world. With the global contribution of Indian professionals and the widespread deployment of Indian expertise across various nations, it is right to say that India has the potential to play a significant role in shaping the future of the IT industry.
Major IT Domain that will shape the Future of the IT Industry in India
Following are the major IT domains one can choose that will further enjoy the benefit of the IT industry of India in the coming years:
Networking
Networking is essential for the future of IT in India, as it provides the infrastructure and platform for various sectors such as education, healthcare, e-commerce, banking, agriculture, and governance. It also helps in innovation, collaboration, and digital transformation in India, as it supports developing and deploying new technologies such as cloud computing, artificial intelligence, the Internet of Things, blockchain, and cybersecurity.
The demand for computer networking professionals is expected to grow in the future as India aims to become a global leader in the digital economy. Therefore, it is advisable for students and professionals who want to pursue a career in IT to go for networking courses and contribute to the digital transformation of India.
Cybersecurity
Cybersecurity is essential for ensuring the safety, privacy, and integrity of data and digital assets in the modern world. Cybersecurity also plays a vital role in shaping future of IT in India, enabling innovation, growth, and development in various sectors and domains.
However, with the rapid expansion of the digital ecosystem, India also faces significant cybersecurity challenges and risks. To address these challenges and risks, cybersecurity professionals will be in high demand. Cybersecurity courses are a valuable option for those who want to be future-ready and make a career out of it.
Automation
The emergence of automation has initiated a new era in the manner in which business operations are carried out across various sectors of the economy. It identifies and combines large quantities of data, allowing the automation of entire processes or workflows. One of the benefits of automation is that it can reduce the cost and time of IT projects. Automation can further enhance the skills and capabilities of IT professionals. It can create new opportunities and boost the growth and development of IT professionals in the coming years.
Therefore, automation is not a threat but an opportunity for the Indian IT sector as well as individuals who want to achieve greater heights and success. And becoming part of automation courses can only push you towards the bright future of IT industry in India.
We have already discussed different IT domains that will play a major role in a better IT future in India. Now, let's discuss how one can become part of these domains by choosing different job roles associated with different domains.
Different Job Roles associated with different IT Domains
Below we have hand-picked some of the job roles associated with Networking, Cybersecurity, and Automation.
Networking
Some of the job roles in networking that one can go for to secure their future in the coming year are:
Network administrator: A network administrator is responsible for installing, configuring, maintaining, and troubleshooting the network devices and systems, such as routers, switches, firewalls, servers, and workstations. They also monitor the network performance and security and implement backup and recovery plans.
Network engineer: A network engineer is responsible for designing, planning, testing, and implementing the network infrastructure and architecture, such as LANs, WANs, VPNs, and wireless networks. They also research and evaluate new technologies and standards, and provide technical support and guidance to network administrators and users.
Network analyst: A network analyst is responsible for analyzing the network data and traffic, and identifying and resolving the network issues and bottlenecks. They also perform network audits and assessments and generate reports and recommendations for network improvement and optimization.
Cybersecurity
Like networking, cybersecurity has different job roles that can help one succeed in their career and are highly in demand. Some of these are:
Security analyst: A security analyst monitors and evaluates the security posture of an organization's network, systems, and data. They perform vulnerability assessments, threat analysis, incident response, and risk mitigation.
Security engineer: A security engineer designs, implements, and maintains the security solutions and tools that protect an organization's assets. They may also troubleshoot and resolve security issues, conduct penetration testing, and research new security technologies.
Security Architect: A security architect defines the security architecture and strategy for an organization's IT infrastructure.
When we talk about automation job roles, it can vary from different IT sectors. Automation is part of every IT sector, such as networking, cybersecurity, and many others. So, if one wants to make a career and join the bright future of IT in India, one has to choose as per their interest and goals in mind.
Frequently Asked Questions
Q1 – What is the future growth of the IT industry in India?
The future growth of the IT industry in India will be exponential. Various reports projected as of now 50-58% of the global sourcing is taken care of by India.
Q2 – What is the future of the IT industry in India in 2024?
Every year there is a noticeable growth in the IT industry in India. The coming years will see the same growth and also create new opportunities with ample to learn from.
Q3 – What is the progress of the IT industry in India?
Mainly the IT industry in India comprises IT and business outsourcing services. Till now, we have seen better progress as compared to previous years. In the coming future, the IT industry will see positive growth.
Q4 – Which sector will boom in 2025 in India?
The healthcare sector is set to be at the top, and the IT sector will indirectly benefit from it. IT services will assist the healthcare sector in better functioning and create new job opportunities.
Conclusion
The future of IT industry in India has a bright future ahead. With the rapid growth of digitalization, innovation, and talent, India is set to become a global leader in IT services and solutions. The IT industry in India is not only a source of income and getting a job but also a way to transform your career and learn new skills.