New Cisco CCNP Certifications
Last Updated :
December 10, 2021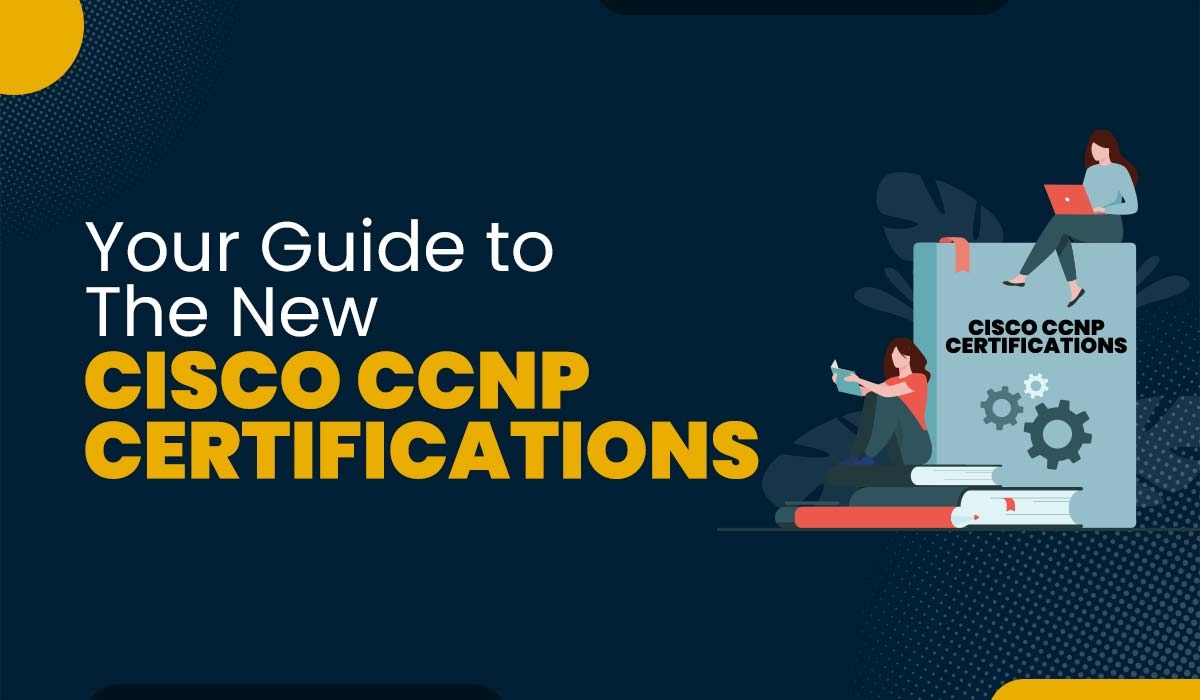 Introduction
Before Cisco updated its certification programs in 2020, owning Cisco CCNP credentials had prerequisites, passing multiple professional-level exams, recertification limits to it.
But after the recent updates, becoming a Cisco Certified Network Professional is a lot easier and more accessible to modern learners with the help of new Cisco CCNP certifications.
In fact, the change has benefitted the aspiring candidates in many ways,
Candidates preparing for the professional-level certification exam now have more choices to customize their certification as per their area of interest.
They have more options to recertify through continuing education.
Multiple certification badges and recognition throughout the learning journey.
Also, obtaining a CCNP certification now has fewer exams to prepare for.
So, what are the major changes that have been made to the Cisco certification path? Let's have a look at new Cisco CCNP certifications.
New Cisco CCNP Certifications
Cisco is considered an industry leader in the field of networking. It has introduced many certifications for network professionals to help them enter the networking field or add to their credentials and progress further in their careers. One such certification that helps networking professionals improve their position considerably is the CCNP.
Having Cisco Certified Network Professional (CCNP) certification under your belt qualifies you for a wide array of job opportunities and the chance to bag higher salaries. And now, with the new Cisco CCNP certifications updates, network professionals/freshers don't even have to be CCNA certified before seeking advance training and certification.
Benefits of CCNP Certification
Here are some of the major benefits that the new Cisco CCNP certifications offer.
Seven Technology Tracks to Choose from:
The new CCNP is offered in seven different tracks, including Enterprise, DevNet, Security, Service Provider, Collaboration, CyberOps and Data Center. These tracks cover the key technologies in the networking industry and let professionals focus on the track they desire to have their career in. Also, all the tracks have their own CCIE exam so that professionals could be an expert in their domain.
Every Track has its One Core Exam:
The core exam of each track covers the foundational and common concepts required for a candidate to be proficient in technology architecture. For example, the enterprise track has 350-401 ENCOR as its core exam, and DEVCOR is the core exam for the DevNet track. Similarly, SCOR, SPCOR, CLCOR, DCCOR are the core exam for the Security, Service Provider, Collaboration, and Data Center tracks.
Passing the core exam is the first step to obtaining the CCNP certification in a respective track, as the new Cisco CCNP certifications requires you to pass only two exams, one core exam and one concentration exam of your choice.
Concentration Exam to Focus on Your Interest:
After candidates pass the core exam of their desired track, they are left with a concentration exam of their respective track of which they can choose anyone and prepare for the global certification exam. Whichever exam candidates choose to appear on depends on their interests and needs rather than any requirement to fulfill.
With new Cisco CCNP certifications, the aspiring candidates have the freedom to choose how they wish to specialize their skills with only one exam to pass and own a CCNP certification.
Associate-level Certification is no longer a prerequisite:
To proceed with the new Cisco CCNP certification journey, professionals don't need to fulfill any formal requirements like CCNA certification. Professionals with foundational networking skills can directly go for the core and concentration exams in the order that works best for them.
Note: If you are interested in the DevNet track, make sure you start with CCNA DevNet training before taking DEVCOR training and certification.
Recertify and Remain Relevant to the Industry:
With recent updates, Cisco has now added new ways to recertify. Out of which, one is either taking exams, earning continuous education credits, or both.
Earn Specialist certification as much as you can:
Add feathers in your cap bypassing any core or concentration exam. With every specialist certification, get recognized along the way to earning the CCNP.
Double Bonus with the Core Exam:
The core exam of each technology track also serves as the qualifying exam for the expert-level examination. That means if you pass the DEVCOR exam, you qualify for the CCNP concentration exams as well as CCIE DevNet. As the DEVCOR certification expires in 3 years, you have this duration to achieve your professional and expert-level certification by passing any concentration and a CCIE lab exam.
Start your New Cisco CCNP Certifications journey with PyNet Labs.
To crack the Cisco CCNP, core, and concentration exam in the first attempt, you should seek training from a reputable institute offering incomparable training benefits.
Like with PyNet Labs, you can learn Python for Network Engineers from scratch along with DEVASC training. Also, we have our DC ACI training (Concentration exam in Data Center track) combined with Cisco Nexus training so professionals who aren't well versed with the Cisco Nexus family of switches could join the training.
Similarly, we offer students unlimited lab access in Cisco SD WAN training to practice at their comfort and have SDWAN deployment skills in open topology.
So, if you seek to start your new Cisco CCNP certifications training journey with PyNet Labs, contact us now for further training details. You can get more information about the CCNA, CCNA DevNet, Cisco SD-WAN, ENCOR, ENARSI, DEVCOR, Cisco Nexus, ACI training on our official website.
Frequently Asked Questions
Q1 – What is the latest CCNP?
The latest CCNP certification is CCNP Enterprise, which focuses on advanced enterprise networking solutions and technologies. It was introduced in 2020 after retiring routing and switching certification.
Q2 – Is CCNP worth it 2023?
Yes, CCNP is definitely worth it in 2023 and many more years to come. CCNP training and certification helps you learn advanced networking technologies to move ahead in your career.
Q3 – Which Cisco CCNP certification is best?
Determining the "best" Cisco CCNP certification depends on an individual's career goals and interests. However, the CCNP Enterprise certification is widely regarded as highly valuable and popular as it covers a broad range of enterprise networking technologies and solutions, preparing professionals for diverse job roles in networking and infrastructure.
Q4 – What is the salary of a CCNP in 2023?
The salary of a CCNP in 2023 can vary based on factors such as location, years of experience, job role, industry, and the overall job market conditions. However, the average salary after CCNP training in India is around 5 to 8 LPA.
Conclusion
In conclusion, the introduction of the new Cisco CCNP certifications marks an exciting development in the field of networking. These certifications are designed to equip professionals with the latest skills and knowledge required to excel in today's dynamic networking landscape.