Cisco ACI training course – All You Need To Know About PyNet Labs' Nexus + DCACI Training
Last Updated :
November 25, 2021

Cisco recently came up with their Nexus 9000 family of switches that are ideal for small-to-midsize data centers providing benefits like price, performance, port-density, programmability, and power efficiency. These switches also offer I/O consolidation, transport freedom, and delivery of advanced networking abilities like ISSU and high availability.
The best thing about the Cisco Nexus 9000 Series switches is that it offers two modes of operation.
Mode 1: Cisco NX-OS Software, the standard Cisco Nexus switch environment.
Mode 2: Cisco Application Centric Infrastructure (ACI), making organizations' hardware infrastructure to take full advantage of an automated, policy-based, systems management approach.
This is what Implementing the Cisco ACI Training course is all about; advancing data center professionals with skills to deploy and manage Cisco Nexus 9000 switches in Application Centric Infrastructure (ACI) mode. Moreover, they learn the connection of ACI fabric to external services & networks and the basics of Virtual Machine Manager (VMM) integration.
But without the knowledge and skills to architect, implement, and manage Cisco Nexus switches in data center environments, no professionals can proceed with the Cisco ACI training course and gain skills to deploy and manage Cisco Nexus 9000 switches in ACI mode.
So, PyNet Labs came up with its Cisco Nexus + Cisco DC ACI, a customized training program covering Cisco's in-demand course DCNX and DCACI certification training together. Cisco DCNX training at PyNet Labs offers professionals with a technical overview of the Cisco Nexus Switches key capabilities such as platforms, architecture, software, management, and features.
After the Cisco Nexus training, candidates will be able to,
Easily identify the platforms that make the Cisco Nexus 7000, 5000, 3000, and 2000 product families
Implement Cisco Nexus
Explore Cisco Nexus basic features
Describe virtual device contexts
Describe port channels and virtual port channels
Configure First Hop Redundancy protocols
And become well versed to start with Cisco DC ACI 300-620 certification training with PyNet Labs.
You can also read –
Why do Network Engineers should learn how to Convert Cisco Nexus 9000 NX-OS Mode to ACI Mode?
ACI is a network type that is deployed, monitored, and managed in a way that supports rapid application change and has become the need of an hour for any organization. Since no other Cisco Nexus series switches like 1000, 2000, 3000, 4000, 5000, 7000 can be deployed in Cisco ACI mode, Data Center Specialists must equip themselves with Nexus 9000 deployment and management skills to remain relevant to their domain.
As Bruno Mercer, the Project Director of Data Center Infrastructure and Cloud, La Poste said, "An application-centric architecture is the only choice to allow the network to be accessible to anyone". No doubt Nexus 9000 series switches running the ACI Network Operating System is going to be networking essential in the future.
Network Professionals skilled to run Cisco Nexus 9000 Switches to NX-OS mode and ACI mode can allow network fabrication for their organization.
They will be able to couple Nexus switches with a centralized controller called the Cisco Application Policy Infrastructure Controller (APIC).
Cisco APIC being the unifying point of automation, telemetry, and management for the Cisco ACI fabric, it enables an application policy model approach to the data center.
DC ACI skilled Network Engineers can introduce a design as small as two Cisco Nexus 9000 Series Switches providing a path to scale out the data center as it grows, highlighting spine-leaf designs.
Cisco Nexus 9000 Series switches' cost-effective design approach coupled with a rich feature set makes it a great fit for commercial data centers and lets Network Engineers have advanced career opportunities.
Topology To Be Used in Cisco Nexus + DCACI Training
The Spine-leaf topology is based on a Clos network architecture, originated from Charles Clos at Bell Laboratories.
This architecture is typically deployed as two layers:
Layer 1: Spines (aggregation layer)
Layer 2: Leaves (access layer)
The Spine-leaf topology provides high-bandwidth, low-latency, nonblocking server-to-server connectivity.
As you can see in the image below, all devices connected to the fabric are an equal number of hops away from one another delivering predictable latency and high bandwidth between servers. Throughout the Cisco ACI lab training, you would learn to connect Cisco ACI fabric to various external services and networks.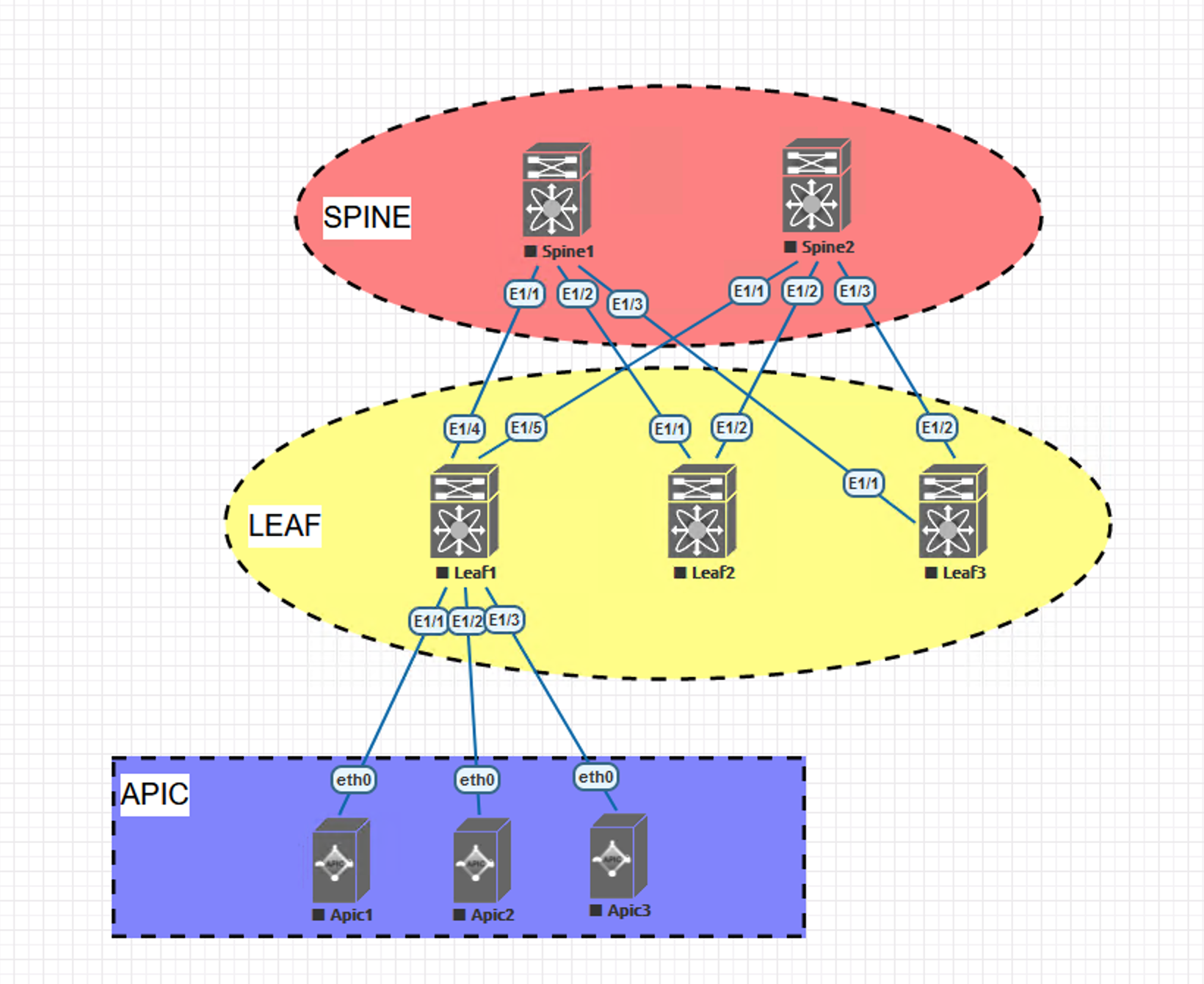 How to learn Cisco ACI
Our Cisco Nexus + DCACI training is a customized training program for network engineers to help them learn how to run Cisco Nexus switches in ACI Mode along with basic Nexus understanding such as its working and implementation. Combining DCNX + Cisco DCACI, the total training duration for this training is 48 hours, with an industry expert trainer to lead you throughout the comprehensive learning processes.
The curriculum of our training program follows Cisco's official certification guideline, and we ensure that you gain both theoretical and practical knowledge relevant to networking technologies.
This training program with PyNet Labs also includes unlimited online lab access to help you study for the 300-620 DCACI exam in a stepwise manner.
The important outcomes of the Cisco Nexus training + ACI training are:
Students will gain skills to manage and configure Cisco Nexus 5000, 7000, 9000 Series Switches in NX-OS mode and Nexus 9000 series in ACI mode.
Skills to connect Cisco ACI fabric to various external services and networks.
Understanding of Virtual Machine Manager (VMM) integration.
Hands-on practice on implementing essential concepts like connectivity, fabric discovery, policies, VMM integration, and much more.
Candidates enrolling with PyNet Labs for Cisco Nexus + Cisco DC ACI training will be provided with lifetime access to training recordings right after every class and a certificate from PyNet Labs with a unique code to validate your training. Note: The only prerequisite for the candidate taking Cisco Nexus + DCACI training at PyNet Labs is CCNA and ENCOR knowledge.
Who can benefit from Cisco Nexus + Cisco DC ACI Training at PyNet Labs
Professionals seeking a career in the IT Data-centric field can significantly benefit from this certification training. Also, people already working as Data-center professionals can improve their expertise by taking this course offered by PyNet Labs.
Moreover, professionals with the following job title/designation can have a significant benefit,
Network Designer
Network Engineers/Administrator
Data Center Engineer
Technical Solutions Architect
Server Administrator
Network Manager
Storage Administrator
Even If you are new to Cisco Nexus switches and don't really have a clue what it means but have advanced routing switching skills, then this customized training by PyNet Labs is for you.
Cisco Nexus 9k Series Switches makes the next generation of data center switching accessible to customers of any size. No doubt you being a data center specialist, will require Cisco Nexus 9000 training to deploy and manage Cisco Nexus® 9000 Series Switches at any point of your professional career to blossom.
Enroll to PyNet Labs Cisco Nexus + Cisco DC ACI online Training course today to learn trending networking skills and make your career shine bright in the networking industry. All you need is a laptop and a stable internet connection to start your journey to become a Cisco certified professional.
So, whether you are looking for Cisco Nexus training in Delhi, Bangalore, Hyderabad, Pune or any part of the country, you can easily access our online Cisco Nexus + DCACI training/Cisco ACI Lab online from across the world at your comfort. We are announcing the dates of the recent batches. Check our online batch schedule on Cisco Nexus + Cisco DC ACI training at PyNet Labs.
So, what are you waiting for? Register Today!!
To register, you can write us at [email protected] or call us on +91 9821215002. Interested candidates for Nexus + DCACI training in India or International students can connect with us on WhatsApp, Telegram, Viber, Signal over the same number provided.
You can watch our training videos by clicking here.