How does Cisco ACI works?
Last Updated :
January 14, 2022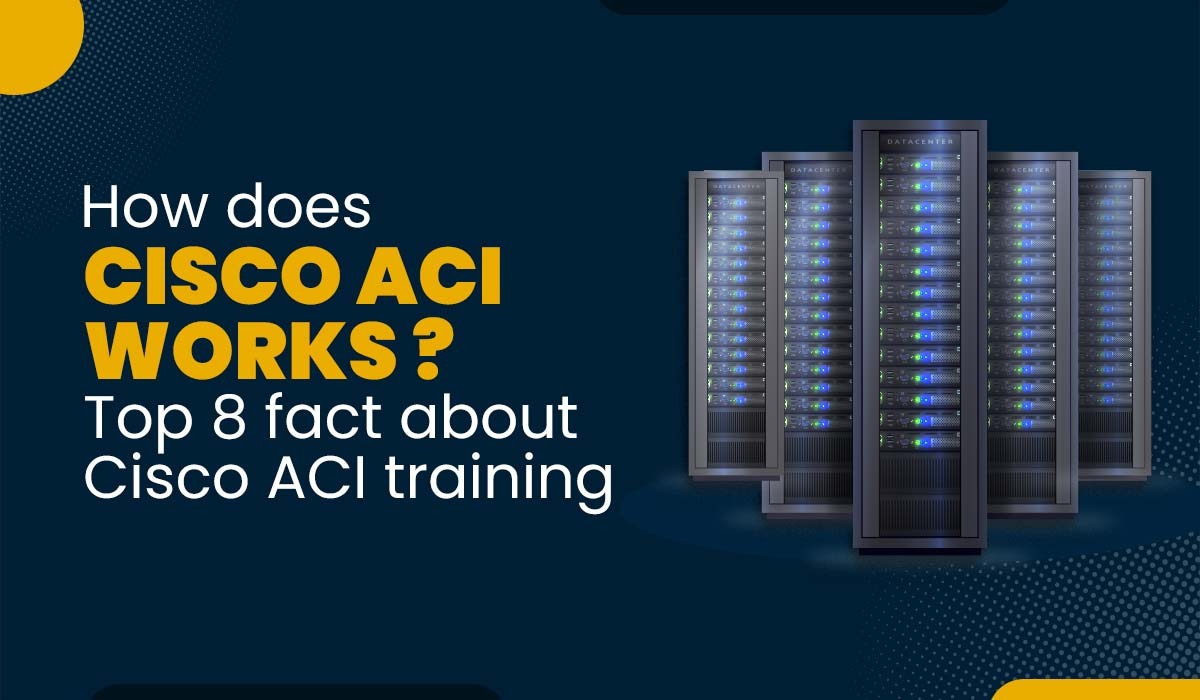 Introduction
How does Cisco ACI work - Introduction to Cisco ACI (Application Centric Infrastructure) was a breakthrough under Software-Defined Networking (SDN) solution for Data Centers.
The application-optimized approach in ACI made data center configuration activity efficient, reliable, and seamless by specifically eliminating the need to configure each router and switch manually.
This effective networking device configuring method was necessary for enterprises because traditional SDN infrastructure was too focused on complex networking modules and, therefore, missing the essential functionality.
So, after 2013 – the year Cisco ACI Solution was introduced- the complete networking landscape changed. Managing networks and adapting to new models became an essential skill for network professionals, and that's why people in the networking field are expected to be well versed with this technology.
Keeping these requirements in focus, there has been a steady rise in the number of courses and training videos about learning ACI. But before you jump to such online resources, you must know some valuable things about Cisco ACI training.
So, today we will explore how does Cisco ACI works, its benefits, and the must-known facts about the ACI training.
But before that, let's start with what is Cisco Application Centric Infrastructure and why it is necessary for exploring SDN solutions.
What Is Cisco ACI (Application Centric Infrastructure)?
Cisco's ACI (Application Centric Infrastructure) is a policy-driven, tightly coupled solution made by the industry leader, integrating hardware and software. Using the latest Cisco Nexus 9000 family of switches as the hardware, ACI's software and integration points comprise Data Center Policy Engine, Additional Data Center Pod, and Non-directly Attached Virtual and Physical Leaf Switches.
ACI (Cisco Application Centric Infrastructure) may seem like something that enterprise data centers have been using for the past few years, but it's pretty different. The things that make it different are its management, policy framework, and protocol. It has become the leading solution in the industry as it offers high software flexibility and scalability of hardware performance.
These benefits have led to an increased demand for experts who know how to navigate and use the ACI (Cisco Application Centric Infrastructure) infrastructure. Due to this, webinars, training videos, and online courses about ACI have become very useful for professionals.
So, if you being a Network Engineer, have ever wondered, is Cisco ACI worth it? Then the answer is definitely YES!
How Does Cisco ACI Work?
Cisco ACI, the industry-leading SDN solution, combines the best software and hardware capabilities elements and facilitates application agility and data center automation.
The hardware for ACI is the Cisco Nexus 9000 family of switches. Similarly, ACI's software and integration points include components like Data Center Pod, Data Center Policy Engine, and Non-Directly Attached Virtual and Physical Leaf Switches. Also, the use of Cisco's Application Virtual Switch (AVS) can push down policies to virtual switches.
In a leaf-spine ACI fabric, Cisco provisions a built-in Layer 3 Internet Protocol (IP) mechanism that supports equal-cost multi-path (ECMP) routing between two endpoints in a network. Also, one of the major features of Cisco ACI is overlay protocols, such as the Virtual Extensible Local Area Network (VXLAN), which allow any workload to exist anywhere in the network.
Overlay protocol allows the data fabric to have machines, either physical or virtual, in the same logical network even when layer two domain and Layer 3 routing is executed that too without causing a conflict between them.
The ACI fabric supports VLAN, VXLAN, and NV-GRE, making it easier for Network Engineers to host a functional network or domain as per their requirements.
Now talking about the management perspective, the central SDN controller for ACI is APIC (Application Policy Infrastructure Controller), which manages and configures the policy on each of the switches in the ACI fabric. They also deploy and re-deploy hardware, as needed, by using a stateless computing model, making network engineers do not have to configure devices manually.
Engineers can integrate third-party services for advanced security, load balancing, and monitoring on ACI fabric.
Vendors and products like SourceFire, Embrane, F5, Cisco ASA, and Citrix can be integrated natively into the ACI fabric.
ACI can also integrate with different types of cloud environments to make them more functional and impactful.
This is how Cisco ACI works and streamlines your crucial components such as,
Managing data security

Balancing workloads, and

Monitoring progress.
Now, you have learnt how does Cisco ACI works but it's also crucial to understand how Network Engineers can benefit from Cisco ACI training.
Facts about Cisco ACI Training
Cisco ACI will help you gain valuable skills that are much needed in the current era of networking. Professionals should seek ACI training as it will help them gain skills and practical experience in integrating the advanced, automated abilities of Cisco Nexus 9000 Series Switches in the ACI mode for fast application deployment.
After taking the ACI training, Data Center professionals will be able to describe the basic Cisco ACI concepts along with,
Cisco ACI fabric infrastructure

ACI policy model logical constructs

ACI basic packet forwarding

external network connectivity

VMM integration

Layer 4 to 7 integrations, and

ACI management features.
The Cisco DC ACI certification included the above-listed topics to its course curriculum and let aspirants gain knowledge of solutions, protocols, and designs to land themselves on professional and expert level data center jobs with a handsome pay package.
This is because Cisco ACI is becoming increasingly popular in the networking industry, and many hiring managers are looking for professionals with ACI skills to manage the data center operations.
While gaining the DCACI certification can be expensive for some people, enrolling in Cisco ACI training is affordable and valuable for most network specialists. Here is a list of facts about the ACI training that you should know about.
1. ACI training will make you understand the Network Design
As you manage a company's network, you get a general idea of its working and the parts of the data center that don't keep up with the current needs. But do you know why such parts behave in this way? After proper training, you will understand varied network designs to better implement changes according to the business needs.
2. ACI Training will help you to Upgrade your Network
Knowing how networking works doesn't naturally mean that you know how to incorporate improvements and implement them properly. After taking Cisco ACI training, you will learn how to make essential updates quickly to reduce downtime and prevent the organization from overspending on its operating budget.
3. Cisco ACI course will teach you how to Identify Issues on the spot.
It can be frustrating to call an IT consultant to troubleshoot issues every time they pop up, and it takes you away from your existing work and halts the entire company's productivity. By learning ACI and gaining certification in it, you will be able to detect common issues on your own in real-time.
4. ACI Training will help you master Cloud-Based Computing Implementation
The future of networking is cloud-based computing. When you know how to implement new systems with ACI, you will be able to keep up with the technological innovations for years to come.
5. Your resume will Get Stronger
Unless you're an entrepreneur, you are most likely to search for a new job at some point in time. Completing ACI online training will help add in-demand skills to your resume, making you more marketable and opening the door to better opportunities in the future.
6. You will become more Competitive in your Office.
Standing out from the rest of the employees is the only assured way of getting appraisals every year. When you have skills in demand, you'll be able to prove your worth every time. The more skills you have, the more you will become eligible to get raises, promotions, and leadership opportunities in the workplace.
7. ACI Training will take your skills to a new level
The training courses for Cisco ACI aren't just for people new to the networking field but are designed for people of all skill levels. So, professionals such as Network Designer/Administrator, Data Center Engineer, Technical Solutions Architect, Server Administrator, Network Manager, Storage Administrator, who wish to improve business agility and learn the art of network design and implementation can proceed with ACI training.
8. You will get helpful hands-on experience.
Through an ACI training institute, you will access labs that will enable you to practice what you learn. This will aid in active learning and ensure that you become well-versed in theoretical and practical concepts.
You should also read -
For Cisco ACI training in India, one must consider joining PyNet Labs. WHY?
PyNet Labs is the only networking institute to offer Cisco ACI training with DCINX (Cisco Nexus) course.
The reason behind this is Cisco DCACI training demands professionals with knowledge and skills to architect, implement, and manage Cisco Nexus switches in data center environments.
And as we have been in touch with 1000s of students to this date, we are familiar with the fact that most Network Engineers don't know how Nexus switches are used in NX-OS mode. They were jumping directly into learning how to run Cisco Nexus switches in ACI mode.
And it's a crystal-clear fact that without the knowledge of Cisco Nexus switches, it will be tough for professionals to proceed with Cisco DCACI training.
So, we came up with a customized training program where we take Nexus from scratch and then jump to the official Cisco DC ACI training curriculum. This way, we cover both the DCINX9k training and the DCACI course by Cisco one after another and improve the learning experience of our students.
Want more information on Cisco ACI training, career-related guidance, or Cisco ACI interview questions? Our experts can help you, inquiry with us on Call/WhatsApp/Telegram us at +91 – 9821215002 or mail us at [email protected].
Frequently Asked Questions
Q1 -

What is Cisco ACI and how does it work?
Cisco ACI (Application Centric Infrastructure) is a software-defined networking solution that centralizes network management and automation. It abstracts the physical network components and uses policies to govern application communication and delivery.
Q2 - What are the three main components of Cisco ACI?
The three main components of Cisco ACI are the Application Policy Infrastructure Controller (APIC), the Spine switches, and the Leaf switches. APIC serves as the central management and policy enforcement point, while the Spine and Leaf switches form the network fabric for connectivity and policy enforcement.
Q3 - Which two main features does Cisco ACI provide?
Cisco ACI provides two main features: centralized management and automation of network infrastructure through the Application Policy Infrastructure Controller (APIC), and a policy-based approach that simplifies network provisioning and governs application communication and delivery.
Q4 - What protocol does Cisco ACI use?
Cisco ACI uses the Open Shortest Path First (OSPF) protocol for the exchange of routing information and the establishment of communication between the ACI fabric and external networks. Additionally, it utilizes the Border Gateway Protocol (BGP) for external connectivity and the communication between ACI fabrics in a multi-pod or multi-site deployment.
Conclusion
In this blog, we have covered what is Cisco ACI, how does cisco ACI works and various other aspects. In conclusion, Cisco ACI revolutionizes network infrastructure with its software-defined approach and policy-based management. By abstracting physical components, centralizing control, and automating network provisioning, ACI simplifies operations, enhances agility, and enables efficient application delivery. With its powerful features and flexibility, Cisco ACI is a game-changer in modern networking, empowering organizations to meet the dynamic demands of today's digital landscape.