Top Networking Companies In India
Last Updated :
July 10, 2023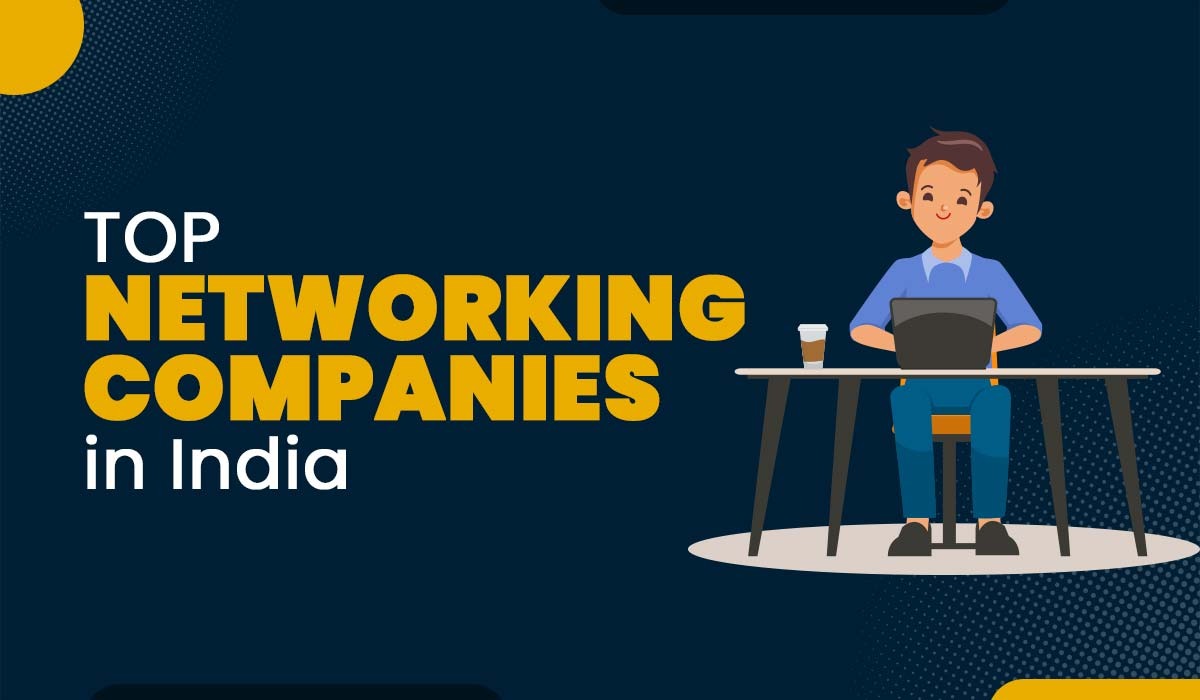 Introduction
The scope of IT companies has been expanded due to networking. Networking is the backbone of any modern business, enabling communication, collaboration, and data sharing among employees, customers, and partners. Innovations in the networking industry have brought about a revolution in business practices. Almost all networking companies in India are reacting quickly and effectively in providing their services or products to clients. Due to the increasing demand for digital transformation, there is an urgent need for networking companies.
In this blog post, we will look at some of the top networking companies in India that are leading the way in providing innovative and reliable solutions for various sectors and industries.
Below we have provided a list of the best networking companies in India.
Cisco
TCS (Tata Consultancy Services)
L&T (Larsen and Turbo)
Infosys Technologies
IBM India Pvt Ltd
Wipro
Verizon Communications
AT&T (American Telephone and Telegraph)
Bharti Airtel
Let's further get into the details of the above mentioned networking companies in India. It will help candidates know more about these companies and further aim as per their interest and job role.
Top Networking Companies in India
Here is a list of best networking companies in India –
1. CISCO
Cisco is often considered the best networking company in India that offers networking solutions to various big as well as small companies. Cisco has a strong foothold in the Indian market, with approx. 10,000 employees and multiple offices across the country.
Cisco has also invested heavily in India's digital transformation, with initiatives like Cisco LaunchPad, Cisco Networking Academy, Cisco Capital, and Cisco Smart City projects. Cisco has various customers, some of which are Reliance Jio, Bharti Airtel, Vodafone Idea, SBI, and many others. Cisco aims to help businesses succeed by addressing their unique networking needs and delivering customized solutions.
Many network enthusiasts dreamed of working in a big company like Cisco. Cisco Networking Academy offers various programs on modern technologies such as automation, SDN, and many others to make candidate future ready.
2. TCS (TATA Consulting Services)
TCS is one of the largest IT services companies and provides its services all over the globe. TCS also has strong expertise in networking services, including network design and architecture, network integration and deployment, network optimization and management, network security and compliance, and network automation and orchestration. TCS serves clients across various industries and geographies, with a presence in 46 countries.
With services all over the globe come opportunities; hence if someone is thinking of joining TCS, it's a smart move as it covers various domains. Some of these are network engineers, network architects, and many others.
3. L&T (Larsen and Toubro)
Larsen & Toubro Infotech (LTI) is a sub-division of Larsen & Toubro that provides digital solutions and technology consulting in more than 25 different countries. LTI employs various technologies in its operations, including digital platforms, cloud IoT platforms, analytics and information management strategy, mobile services, and corporate integration.
Some of the career paths available at L&T who want to make a career in the networking field are network engineer, network architect, network administrator, network technician, network supervisor, and many others.
4. Infosys Technologies
Infosys is an industry leader in providing consultancy and digital services for the future generation. They support businesses in more than 50 different nations as they undergo digital transformation. They expertly lead clients through the digital transformation process, drawing on their combined four decades of experience managing worldwide business systems and operations.
Their innovation ecosystem encourages the development and distribution of digital skills and expertise and, in return, creates new opportunities for the one who dreams of working in Infosys.
5. IBM India Pvt Ltd
IBM is a multinational technology company that provides its clients with software, hardware, cloud, and cognitive solutions. IBM offers a range of network technology solutions, such as cloud networking, software-defined networking (SDN), network function virtualization (NFV), edge computing, network analytics, network security, and network automation. IBM also provides its customers with network consulting, integration, optimization, and support services.
It deals with a wide array of technologies, and hence becoming a part of such a big company will help candidates to enhance their careers.
6. Wipro
Wipro Limited is a multinational corporation specializing in technology services and consulting, with a primary objective of developing innovative strategies to address its customers' complex digital transformation requirements. The organization employs its extensive range of consulting, design, engineering, operations, and new technology capabilities to assist clients in achieving their most ambitious objectives and establishing strong businesses that are prepared for the future.
7. Verizon Communications
Verizon is one of the world's largest telecommunications and technology companies that delivers wireless, broadband, video, and media solutions to its customers. Verizon provides specialized services that enhance users' ability to reduce cyber threats and ensure seamless protection effectively. Companies distribute resources to develop and enhance their networks with the aim of meeting the expected demands and requirements of potential clients.
For anyone wanting to make a career in networking or cybersecurity, Verizon is a good option.
8. AT&T (American Telephone and Telegraph)
AT&T employs its infrastructure (network, labs, products, services, and people) to create a world where they all blend to make people's lives easier and better in the future. AT&T unites voice calls with the teamwork features you need. AT&T Business Internet provides a reliable Internet connection to help your organization stay operational. They provide their skills whenever they are needed, helping to maintain operations organized.
9. Bharti Airtel
Bharti Airtel Limited is an Indian telecommunications enterprise that maintains operations across approximately 16 nations covering the regions of Asia and Africa. The corporate headquarters of Bharti Airtel Limited is located in Delhi, India. Bharti Airtel provides connectivity, communication, and collaboration solutions to businesses and governmental entities, along with customer support tailored to business needs.
We have discussed some of the major networking companies in India that work on different technologies and towards the betterment of businesses. With so many reputed companies around, it creates new opportunities for candidates and helps them to enhance their skills.
Frequently Asked Questions
Q1 – Which is best networking company in India?
Cisco is the best networking company in India regarding the networking services they provide and the opportunity they create for network enthusiasts.
Q2 – Which is the biggest business network in India?
BNI (Business Network International) is one of the biggest business networks in India.
Q3 – What is the company name of CCNA?
Cisco is the name of the company that provides CCNA certifications. The full form of CCNA is Cisco Certified Network Associate, which is an associate level Cisco Certification.
Q4 – Which company provides network in India?
There are many companies that provide network services in India, such as Reliance Jio, Airtel, Vodafone Idea, and BSNL. These companies offer different plans and features for their customers across the country.
Conclusion
Top networking companies in India offer a range of services and solutions to meet the growing demand for connectivity and security. Whether you are looking for cloud computing, data center, IoT, or cybersecurity, these companies can help you achieve your goals and stay ahead of the competition.
It totally depends on you which is the best networking company in India. If it aligns with your goals, then it's best suitable for you. If you want to learn more about these companies or their products, you can visit their websites or use online platforms such as Naukri, Glassdoor, and others.