What are Cisco Certifications?
Last Updated :
December 7, 2021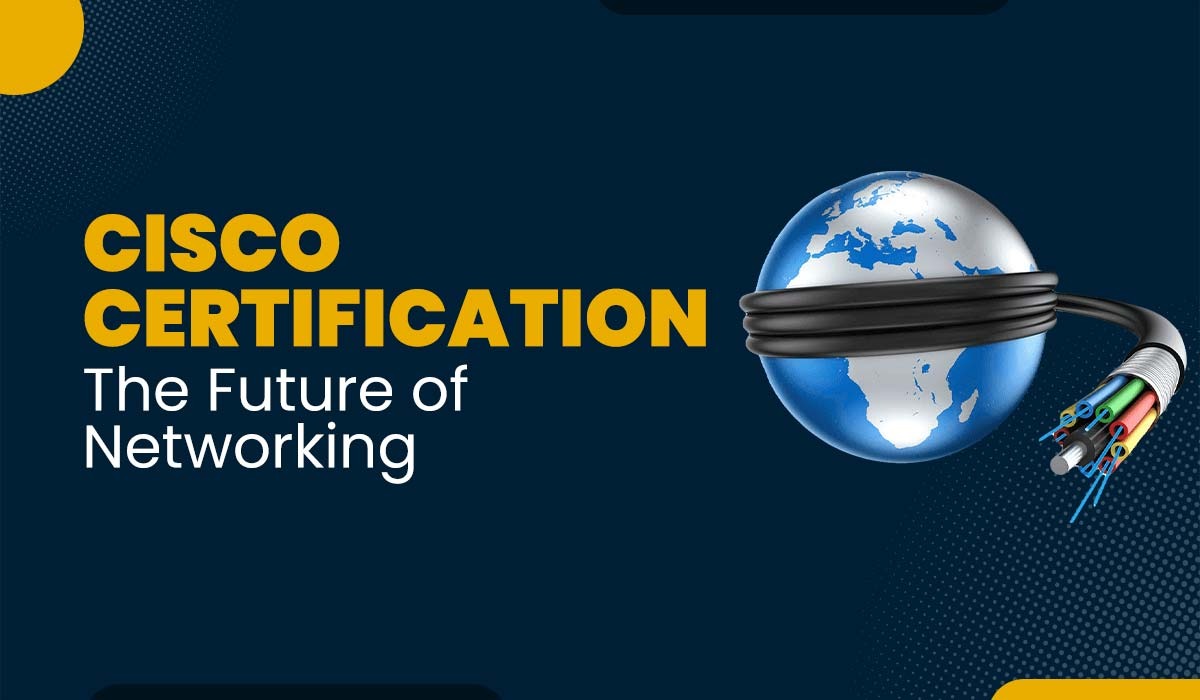 Introduction
The demand for qualified IT experts continues to rise in today's fast-paced, technology-driven environment. Employers in a variety of industries are actively looking for people with the ability and understanding to develop, implement, and manage complex networking systems. Among the various IT certifications available, Cisco certifications stand out as the best for individual's in the networking technologies.
Whether you're an IT professional trying to launch your career or an experienced network engineer looking to keep ahead of the curve, Cisco certifications provide a systematic path to earning the skills and credentials required for success in the ever-changing IT industry. These certifications demonstrate your knowledge of Cisco products, solutions, and technologies, making you a great asset to any organisation looking to build and manage a strong network infrastructure. In this blog, we will learn about Cisco Certifications.
What are Cisco Certifications?
Cisco certifications have been the most respected credentials in the networking industry for a long time and still have high value and will most likely be around for years to come.
There are a few reasons why the networking giant Cisco and its certifications are in-demand among networking professionals, enterprises and are taken as an intelligent investment.
Cisco keeps pace with all the latest technology changes and holds its certifications current.
These certifications bridge the gap between the traditional and future demands of the networking industry.
Multiple tracks fulfil the learning demands of a wide range of professionals/freshers.
There's more than one way to learn for passing the Cisco certification exam, either via enrolling in instructor-led training, a virtual classroom experience, hands-on labs, or Cisco Press.
IT professionals can recertify their status whenever they want and keep themselves up to date in the training that they have worked hard for.
Cisco offers access to a vibrant learning and career development community called the Cisco Learning Network, where professionals can learn from their peers.
The overwhelming majority of enterprises use Cisco infrastructure products, and professionals with skills to work on Cisco products are more marketable and more in demand.
So, for IT professionals, their Cisco certifications are the foundation upon which their networking careers are built.
Are Cisco Certifications worth it?
Yes, Cisco Certifications are definitely worth it. They are the present and the future of networking.
All around the world, Cisco certifications from its multiple tracks have been coveted by network engineers and employers. In fact, according to recent research, Cisco skills are the most included skills, like 97 percent in hiring requirements.
Also, professionals with an intimate and latest understanding of network infrastructure and protocols and how they work together will always be relevant to the industry.
Do take a look at the recent updates in Cisco Certifications.
Which Cisco Certifications are the future of Networking?
Network evolution in the digital era is for real. The manual process of operating traditional networks will be replaced by programmable network architecture that depends on virtualization, automation, analytics, cloud service management, openness, and extensibility.
For such transformation, network engineers and architects are the most important future IT roles in helping support these changes. But professionals with their limited traditional networking skills can't contribute to these changes and must seek to embrace their skills.
As networking infrastructure and software keep getting more interconnected, understanding automation, security, and programmability will lead to better career prospects. So, if you want to create your place for yourself in the IT industry, you need to have proficiency in your area of focus.
Some of the Cisco Certifications leveraging the power of today's network and helping IT professionals prepare themselves for Network Evolution in the Digital Era are listed below. You should also checkout Cisco Certification types.
Cisco Entry-level Certifications
In 2020, Cisco introduced changes to its certifications and retired the Cisco entry-level certifications making Associate-level certifications, the basic exam to take. There are basically 2 entry/associate-level certifications Cisco, that is:
CCNA (Cisco Certified Network Associate):
CCNA is the one certification that makes it possible for freshers to have knowledge of the latest networking technologies, programmability, security, and automation from scratch. It is the most basic out of Cisco Certifications.
It's not just a certification where aspiring candidates are required to learn how to connect a few monitors to CPUs or servers but need to create and maintain a robust network infrastructure that needs constant monitoring.
Also, the CCNA exam is designed in such a way that only a candidate with in-depth networking knowledge and skills can pass it. For the best CCNA training in India, you can consider joining PyNet Labs and gaining extensive knowledge of the subject. From CCNA live training, PDFs, official study material, and expert trainer guidance, all your training requirements are fulfilled by PyNet Labs on priority.
CCNA DevNet (DEVASC 200-901):
Automation has become a highly in-demand skill in the market. Applications in the current times are not just hosted on a network; they are becoming an integrated part of it. The future of Networking requires you to be familiar with software applications, and showcasing the ability to work with them will add immense value to your resume.
Also, the advent of network automation has changed the entire landscape of the networking industry. Many hiring managers of big corporations are looking to hire network automation engineers to automate their existing manual processes. And this is where DevNet comes to network engineers' rescue.
Through associate-level training, you can hone your skills in networking fundamentals, network access, IP connectivity, IP services, security fundamentals, automation and programmability.
The CCNA DevNet training and certification can land network automation engineers, system integration programmers or software developer job roles to IT professionals.
Also, one of the good things about the CCNA DevNet is the lack of any formal prerequisites. All you need is a knowledge of Python programming language and networking fundamentals skills to start with DEVASC 200-901 certification course training.
Since not many network engineers are well versed with Python, this can be a roadblock for them in achieving DevNet credentials. But not to worry! PyNet Labs has come up with a unique combination of Python for Network Engineers + CCNA DevNet program, which covers Python from scratch along with the official DEVASC content.
Cisco Professional-level Certifications
CCNP Enterprise Core (ENCOR 350-401):
Enterprise: The most in-demand track by Cisco has a single-core exam and a list of concentration exams. Passing the core and a single concentration exam of your choice can land you a CCNP certification (One of best Cisco certifications) in the Enterprise track.
If we talk about the core exam (ENCOR 350-401), then it validates one's core knowledge about enterprise infrastructure, including IPv6 and IPv4 architecture, network assurance, virtualization, automation and security.
Passing the ENCOR exam hands you a specialist certification and leads you to advanced certification opportunities like the CCIE Enterprise Infrastructure lab exam, CCIE Enterprise Wireless lab exam, and CCNP concentration exams.
PyNet Labs' CCNP ENCOR training curriculum is entirely consistent with the qualification modules of Cisco and follows the framework of Cisco's ENCOR training program.
Cisco CCNP Enterprise (ENARSI 300-410):
ENARSI training is all about installing, configuring, operating, and troubleshooting an enterprise network.
Also, if you are looking for a replacement for the old CCNP Routing and Switching exam, then ENARSI is the way to go. After passing ENARSI 300-410 exam, you can become a network engineer or a senior network administrator.
They are also known as Implementing Cisco Enterprise Advanced Routing and Services, which focuses on advanced routing services and technologies. This includes topics like VPN services, Layer 3 routing, Infrastructure Security, Infrastructure Services, and infrastructure automation.
Cisco SD WAN (ENSDWI 300-415):
This exam is known by its more popular name Cisco SD-WAN or Implementing Cisco SD-WAN solutions. Edge routing and SD-WAN technology are growing in popularity. This exam will help you cover the skills you need to update yourself with the industry demands. ENSDWI 300-415 goes into depth on topics such as Zero Touch Provisioning (ZTP), how SD-WAN overlay works, and SD-WAN management and monitoring.
Its area of focus makes SD-WAN a good choice of exam for WAN Engineers and Solution designers focused on edge and SD-WAN technologies.
You should seek professional guidance from a reputable training institute to gain this valuable certification. At PyNet Labs, we offer SD-WAN training with unlimited lab access for 60 days. Along with this, you will also get access to daily class recordings. Our 40 hours of SD-WAN training by industry experts will help you at each step of the global exam preparation and hands-on lab experience. It is one of the most in-demand Cisco Certifications.
CCNP DevNet Core (DEVCOR 350-901):
Under the professional level of DevNet track, I.e., DEVCOR training, you will gain knowledge of software design and development, including Cisco platforms, APIs, infrastructure, automation, application deployment and security. On successfully passing the DevNet professional exam, you could get a high-paying job as a senior network automation engineer, senior software developer, or senior system integration programmer.
When you have cleared the 350-901 DEVCOR exam and wish to significantly improve your chances of getting a coveted job in the field of Networking, you can go for the CCIE DevNet – the expert-level of DevNet track. Under this, you need to give an 8-hour lab exam that requires you to design, plan, develop, deploy, test and maintain automation solutions in software-driven network environments.
CCNP Security Core (SCOR 350-701):
The security track by Cisco is most demanded of all tracks as it allows professionals to master the skills, they need to implement core Cisco security solutions and provide networks with advanced threat protection against cybersecurity attacks.
Taking SCOR training can help individuals prepare for their CCNP Security and CCIE Security Certification as well as for senior-level security job roles. The training lets professionals learn security technologies, network security, cloud security, content security, endpoint protection & detection, secure network access, visibility and enforcement.
CCNP Data Center (DC ACI 300-620):
Implementing Cisco Application Centric Infrastructure (DCACI 300-620) certification by Cisco validates your skills to manage and deploy the Cisco Nexus 9000 series of switches in Application Centric Infrastructure (ACI) mode.
Due to the increase in popularity of software-defined Networking (SDN) within various industries, managing networks and adapting to new models have become important for network professionals. And, with the advent of Cisco's Application Centric Infrastructure (ACI), the complete landscape of Networking has changed. That's why people in the networking field are expected to be well versed with this technology.
Cisco Nexus switches provide various solutions that make it easier to manage and connect the data center resources with software-defined Networking (SDN). And skills to managing and deploying Cisco Nexus 9000 series of switches in NX-OS and ACI mode can lead Data Center professionals with significant benefits like,
Skills to connect the Cisco ACI fabric to external networks and services,
Fundamental understanding of VMM integration.
Hands-on skills to fabric discovery, policies, connectivity and more.
Due to its numerous benefits and widespread use, knowledge of Cisco Nexus switches running in ACI mode is in high demand in the data center branch of Networking.
These were the main Cisco Certifications that are huge in demand among the networking domain professionals.
Cisco Certification Training
At PyNet Labs, professionals can have Cisco Nexus and DCACI certification training together in 48 hours of the customized training program. So that, professionals with no technical skills about Cisco Nexus Switches' platforms, architecture, software, management, and features could start the ACI training without thinking twice.
So, these are a few Cisco certifications that can help IT professionals/Network Engineers/freshers either start or make their careers reach a certain level to withstand the Network Evolution in the Digital Era.
Frequently Asked Questions
Q1 - What are the levels of Cisco certification?
Cisco certifications are divided into Associate, Professional, Expert, and Architect levels, offering a progressive learning path. Each level represents different skill sets and expertise, empowering individuals to advance their careers in networking.
Q2 - What is Cisco certification for?
Cisco certifications validate and demonstrate an individual's expertise in Cisco networking technologies, making them highly sought-after professionals in the IT industry, and opening up opportunities for career advancement and enhanced job prospects.
Q3 - Is CCNP higher than CCNA?
Yes, CCNP is considered a higher level of certification compared to CCNA. CCNA focuses on foundational networking knowledge, while CCNP delves deeper into advanced networking concepts and requires a broader skill set.
Q4 - What Cisco certification is most in demand?
Among the various Cisco certifications, the CCNA (Cisco Certified Network Associate) and CCNP (Cisco Certified Network Professional) certifications are consistently in high demand, as they validate fundamental and advanced networking skills respectively, and are sought after by employers across industries.
Conclusion
In this blog, we have discussed most facts about Cisco Certifications including what are cisco certification, are they in demand and much more. In conclusion, Cisco certifications are an invaluable asset for IT professionals seeking to advance their careers in networking and technology. These certifications not only validate one's knowledge and expertise but also provide opportunities for personal and professional growth. From entry-level certifications like CCNA to advanced ones like CCIE, Cisco offers a comprehensive range of certifications to cater to diverse skill levels and career goals.