What Cisco Certification is most in demand?
Last Updated :
January 4, 2022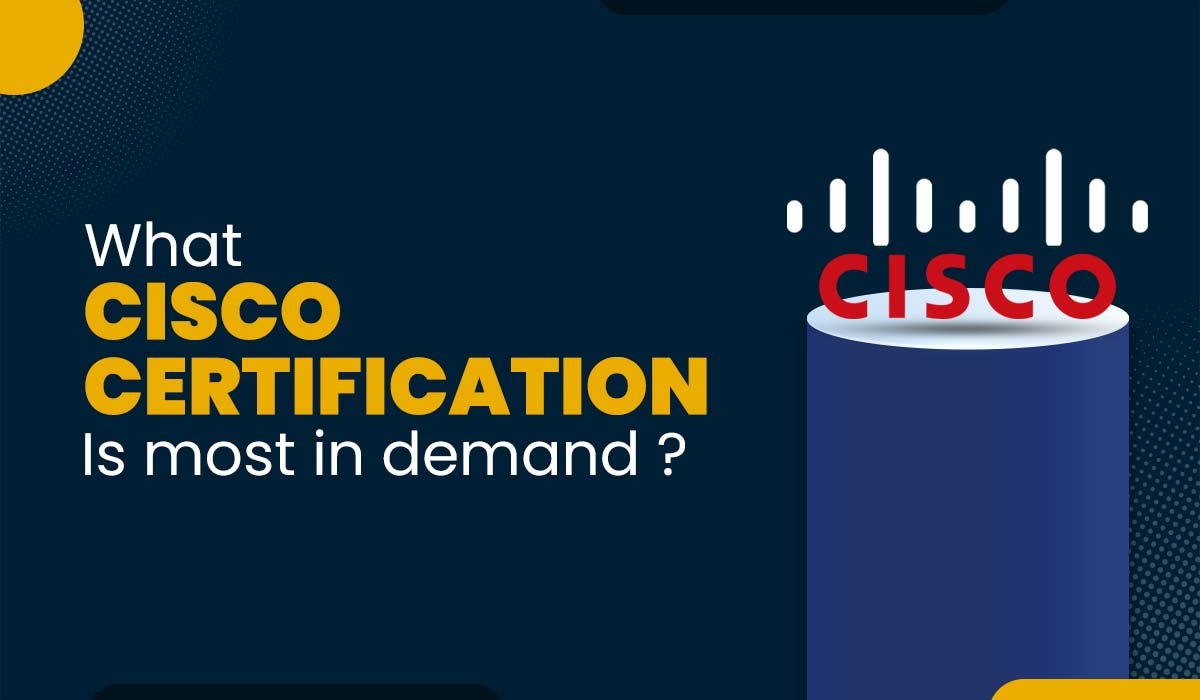 Introduction
In the rapidly evolving world of IT, certifications play a crucial role in demonstrating expertise and keeping professionals competitive in the job market. Among the wide array of certifications available, Cisco certifications are highly regarded and sought after by networking professionals. But what Cisco certification is most in demand?
Cisco, the networking giant, has three certification levels - associate, professional, and expert under multiple technological areas such as Enterprise, Security, Data Center, DevNet, Service Provider, and Collaboration.
When we talk about the most demanded Cisco certifications, the names that come to our mind are CCNA, CCNP Routing & Switching, CCNP Security, CCIE Routing & Switching, CCIE Security, CCNP and CCIE Data Center.
The difference that we can spot here is the most demanded certifications by Cisco are now retired, and they are no longer available for IT professionals to appear. Moreover, the in-demand technological area such as Routing & Switching is now Enterprise with addition to cutting edge technologies like wireless LAN, security architectures, automation and programmability.
Even if the names are changed, the demand for these evergreen certifications is still the same. Moreover, Cisco has updated its certification path by removing its associate and professional level certification prerequisites, making it more accessible to aspiring candidates.
So, the Cisco certifications that are still in demand as they were before 24th Feb 2020 are listed here for your read.
Evergreen Cisco Certifications in demand
The certifications by Cisco that will never lose its demand or we can say will remain evergreen in the networking domain are -
CCNA 200-301:
Cisco Certified Network Associate is the go-to credential for networking professionals and is ranked the most popular certification worldwide. Freshers start their networking journey with CCNA training and kick off their career as networking administrators with CCNA certification in their hands.
CCNP Enterprise:
Cisco Certified Network Professional Enterprise is the next logical step after gaining the expertise that comes with the CCNA certification. Cisco updated its certifications recently, and the most popular CCNP Routing and Switching got replaced with CCNP enterprise with only two exams to pass. Passing enterprise core and anyone from the given options available in the concentration exams, one will receive CCNP Certification from Cisco along with CCNP Enterprise core and specialist certification.
The most demanded Cisco certifications under enterprise track are:
CCIE Enterprise Infrastructure Lab Exam
CCNP Security:
All organizations need robust and scalable security across their network, and as software and networking become more and more interconnected every day, it's the foremost need now. Also, the addition of automation and programmability to CCNP Security helps professionals scale their security infrastructure.  
So, the demand for Network Security Engineers and security professionals with a broader range of skills and more profound focus in strategic technology areas is increasing with every passing day. So, CCNP Security certification programs that prepare you for today's professional to expert level job roles in security technologies are:
SCOR 350-701

CCIE Security Lab Exam
What Cisco Certification is most in demand for 2021 to 2025?
With every step towards digitization, the networking industry across the globe faces skill gaps and is widening with the introduction to every latest technology.
Apparently, the only solution for Enterprise and IT professionals is certifications that include most of the information they need and can rely on it for daily networking services. Certification in the desired domain is a valuable tool for IT personnel for validating their skills and matching the job requirements of specific jobs they seek.
And when we talk about networking certifications, Cisco – the global leading certification provider, is on the top list. They cover the latest technologies into their certifications that are most demanding in organizations, such as software-defined networking (SDN).
SDN focuses on network infrastructure from hardware and configurations to software and policies, allowing for more programmability, making a network more flexible and easier to manage. Depending on the principle of SDN, i.e., centralizing management by abstracting the control plane from the data plane, there are technologies like ACI, SD-Access, SD-WAN, and DevNet on which Datacenter managers and network managers must focus.
If you are wondering what SDN is about and exactly how it impacts the work of network engineers, then keep reading.
As an IT professional, you want to break into Cisco technology and own a trending Cisco certification credential. Here are the most in-demand certifications by Cisco that one must pursue in the year 2022.
SD-Access:
Software-Defined Access offers solutions to todays' Network development, Network Security, wireless & wired networks, and Network operations challenges. It's built on the principle of intent-based networking and helps organizations enable policy-based automation from the edge to the cloud.
With SD-Access, organizations can have automated end-to-end services like segmentation, quality of service, and analytics. Depending on SDN, sd-access offers a single network fabric to automate user and device policy for any application in a wireless and wired network.
Also, all the developmental challenges, like taking several weeks to deploy a batch of switches, are improved with SD-Access. It allows building and managing networks faster and more efficiently.
Professionals with SD-Access training in 2023 can help organizations set network access in minutes for any user, device, or application without compromising security.
Cisco SD-WAN:
Software-Defined Wide Area Network (SD-WAN) is a requirement for organizations as WANs designed for a different era are not ready for cloud adoption's WAN traffic. Business is adopting SaaS, IaaS and is facing poor user application experience as the abundant cloud traffic causes management complexity, application-performance unpredictability, and data vulnerability.
SD-WAN offers bandwidth that network administrators can use and ensure high-performance levels for critical applications without sacrificing security or data privacy.
But first, network administrators must learn and become familiar with the technology to help organizations to this transformation. So, Cisco introduced a certification exam for network managers to help learn SD-WAN technology and validate their skills to design, deploy, configure, and manage Cisco SD-WAN solutions in a large-scale live network. The Cisco SD-WAN training also helps network engineers learn to help enterprises migrate from WAN to SD-WAN.
Cisco SD-WAN certification details:
Exam Name: ENSDWI 300-415

Exam cost: 300 USD + Taxes (tax varies from country to country)

Recommended training: Implementing Cisco SD-WAN Solutions (ENSDWI)
DevNet
Also known as Development Network by Cisco is the first-of-its-kind. The certification track fills IT professionals with the skills and knowledge to embrace the potential of applications with automation, IoT, DevOps, and Webex. The DevNet track by Cisco offers four levels of certification – Associate, Specialist, Professional, and Expert.
CCNA DevNet (DEVASC 200-901)
Cisco Certified DevNet Associate certification and training validates ones' basic network applications skills as the exam covers the topics like fundamentals of software development and design for Cisco platforms. The CCNA DevNet training is for software developers who want to expand their skill base and validate their programmability, software, and automation skills.
But because Network Engineers have a better understanding of the network, the DEVASC training can help engineers kickstart their automation journey.
CCNP DevNet
Cisco Certified DevNet Professional (CCDP) Certification validates NetDevOps skills and technological knowledge to scale and secure infrastructure efficiently. Professionals can own CCNP DevNet credentials by clearing the core (DEVCOR 350-901) and a concentration exam of their choice. Under the DevNet track, professionals have the opportunity to choose from industry-specific topics such as,
Enterprise automation

Collaboration automation

Data Center automation

Service Provider automation

Security automation

IoT, and

Cloud
DevNet Specialist
The new certification path by Cisco introduced a specialist level in each track, making the certification process as simple as it was never before. By just passing a certification exam of your choice, you become certified.
Each certification connects development, operations, security, and network operations, in environments focused on Cisco platforms. Passing more than one exam according to your job role, interest and career, you get recognition in each step with a new specialist badge.
CCIE DevNet:
Recently introduced the expert-level certification by Cisco under DevNet track is DevNet expert-level lab that will validate advanced skills in designing, developing, and maintaining complex automation-driven networks. Candidates preparing for the expert-level certification exam can take a test on 02nd May 2022 and later.
ACI (Application-Centric Infrastructure)
ACI is the framework that brings agility and resiliency to the data center by simplifying, optimizing, and expediting the application deployment lifecycle.
The best part about ACI is that it can capture higher-level business and user intent in the form of a policy and translate it into the network constructs. Data Center engineers can enable unique business value to modern data centers by using Cisco Application-Specific Integrated Circuits (ASICs) built on top of the Cisco Nexus platform.
Today, network professionals are learning to broker, connect, build, and govern their networks across a vast multi-cloud landscape to meet the increased demands on the network for speed and agility.
Hence, Cisco ACI business benefits lead Network professionals towards the certification training and exam.
Recommended training to learn Cisco ACI - industry's most secure, open, and comprehensive Software-Defined Networking (SDN) solution,
Exam Name: DCACI 300-620

Exam cost: 300 USD + Taxes (tax varies from country to country)

Recommended training: Implementing Cisco Application Centric Infrastructure (DCACI)
 We can understand that as application usage gets more common across the enterprise network, organizations and IT professionals are looking to build a consistent solution. And these solutions are offered by Cisco SD-Access /Cisco DNA Center, Cisco SD-WAN, Cisco ACI that allows automation and extend policy, security, assurance, and insights across their entire networking ecosystem.
Frequently Asked Questions
Q1 -

Which CCNA certification is in demand?
Among the CCNA (Cisco Certified Network Associate) certifications, the CCNA Routing and Switching (R&S) has historically been in high demand. However, it's important to note that Cisco has recently revamped its certification program, and the CCNA R&S has been replaced with the new CCNA certification, simply known as CCNA.
Q2 -

Is CCNP still worth IT 2023?
Yes, CCNP (Cisco Certified Network Professional) is still worth it in 2023 as it is a respected and recognized certification that validates advanced networking skills, demonstrating expertise in designing, implementing, and managing complex network solutions, which continues to be in demand by employers.
Q3 -

Which Cisco certification is best for beginners?
For beginners, the CCNA (Cisco Certified Network Associate) certification is the best option as it provides a solid foundation in networking concepts and technologies, allowing individuals to start their networking career journey and pursue more advanced certifications in the future.
Q4 -

Should I go for CCNA or CCNP?
If you are new to networking or have limited experience, starting with CCNA is recommended to build a strong foundation. However, if you already have networking experience and seek more advanced knowledge and expertise, pursuing CCNP would be a suitable choice.
Conclusion
In this blog, we have discussed what Cisco certification is most in demand. In conclusion, Cisco certifications continue to hold significant value in the IT industry, with different certifications catering to specific skill levels and areas of expertise. While the demand for specific Cisco certifications may fluctuate based on industry trends, the CCNA certification, with its comprehensive networking knowledge, remains a solid choice for beginners.
For professionals seeking more advanced skills and career progression, pursuing CCNP or other specialized Cisco certifications aligning with their interests and goals can open doors to exciting opportunities in networking and demonstrate their expertise to employers. Ultimately, staying updated with the latest industry demands and choosing the right Cisco certification can enhance one's marketability, job prospects, and overall career growth in the dynamic field of networking.
These technologies are the future, and professionals well versed with them would only help enterprises adopt SDN. Maybe some network engineers have already sailed out to meet the future demands But, it's not too late.
Start your Cisco SD-WAN, Cisco DC ACI, CCNA DevNet, CCNP DevNet, CCNP Enterprise, and CCNA training today with PyNet Labs and stand out from the crowd. These are the Cisco certifications in demand in 2023 and will not lose their demand until other better technologies are introduced.