Is CCNP Worth it in 2023?
Last Updated :
April 10, 2023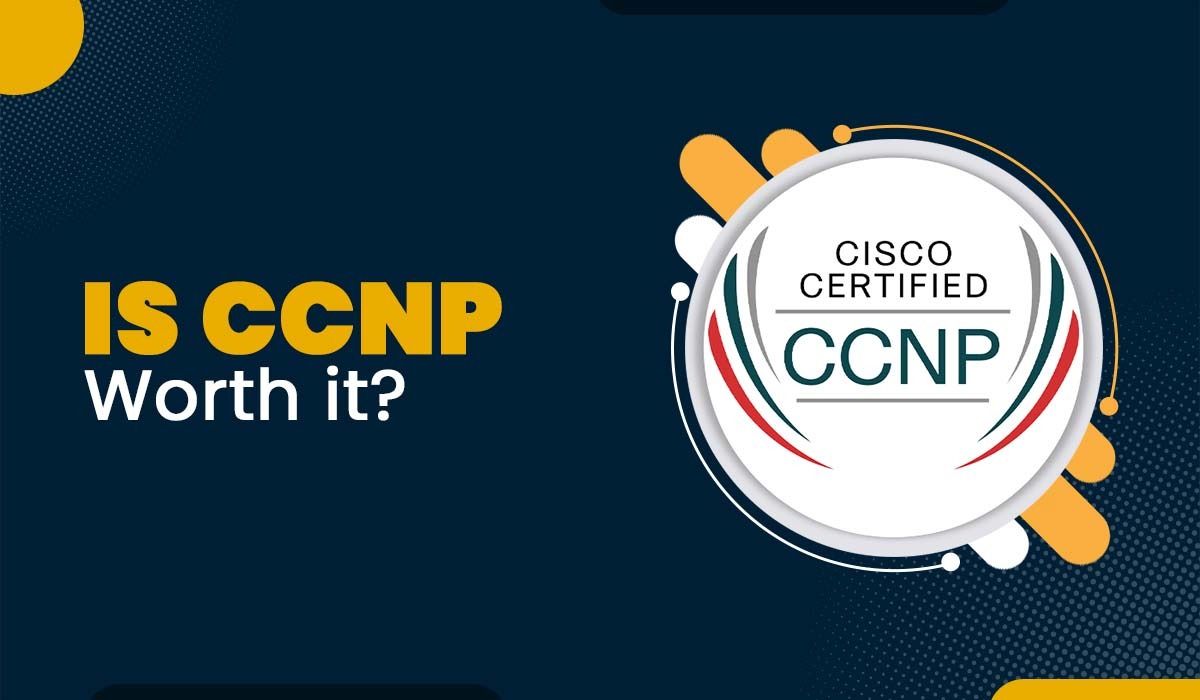 Introduction
Do you also feel stuck after CCNA?
Are you planning to move ahead in your networking career after CCNA?
If you are saying "Yes" to these questions, then you are at the right stop. In this blog, we will take a look at the next step after CCNA and answer one of the most prevailing questions, "Is CCNP worth it in 2023?"
With continuous technological advancement, the need for IT professionals also continues to rise and people who are evolving themselves with this advancement are getting recognition, better salaries, and growth in their respective fields. If we talk about network engineers, those who are learning and grinding to work on the newest technologies are the ones reaping the most rewards in this competitive field.
Before moving forward, you should check out PyNet Labs' CCNP ENCOR.
If you are also CCNA trained individual who wants to move ahead in their career with CCNP training and certification but are unsure if is worth it or not in 2023, this blog will help you clear your doubts. The Cisco Certified Network Professional (CCNP) certification has gained significant recognition in the last few years because of the salary hikes, recognition, and Cisco certification updates. Before we move ahead to answer the question, "Is CCNP worth it in 2023?" Let's have an overview of CCNP Certification.
Overview of CCNP Certification
The CCNP certification is a professional-level certification offered by Cisco which is also known as the next step after CCNA Training or certification. However, one should keep in mind that CCNA Certification is no more necessary to go for CCNP training or certification.
The CCNP demonstrates the knowledge and skills required to manage, configure and troubleshoot LAN, WAN, and security networks. To get CCNP certified, a person has to pass two exams: one core exam (every track has its core exam) and one of the concentration exams.
Let's take a look at the different tracks available for CCNP Certification. There are currently seven tracks available for CCNP Certification:
Enterprise
Security
Data Center
Service Provider
Collaboration
DevNet
CyberOps
Each track covers different aspects of networking technologies and is designed to cater to the specific needs of different IT professionals. For example, the enterprise track emphasizes advanced routing and switching, whereas the Security track is all about the security of various networking devices and enterprise networks.
The Cisco certifications are globally recognized, making it an excellent option for IT professionals looking to expand their career opportunities internationally. Now moving on to the main question, if CCNP is worth it or not.
Is CCNP Worth it in 2023?
Considering the current market trends, job security, the scope of growth, and various other factors, it is clear that CCNP is definitely worth every minute and every dime spent on it. So, investing your time and money in CCNP Training and Certification is for sure a smart career move. Therefore, it can be said that CCNP is worth it in 2023 and for more years to come. To understand it in depth, let's discuss various aspects related to it –
Current Market Trends in 2023
The IT industry is constantly evolving, and for continuous career growth, it is important to stay up-to-date with the latest trends and technologies. As we are quarter in 2023, there is an increased demand for IT professionals who can demonstrate their knowledge and skills in various CCNP Tracks such as cloud computing, cybersecurity, and automation.
Current job market trends
IT professionals with CCNP Training are in high demand due to their ability to manage and configure networks effectively. According to our research, there is an estimated 25% increase in demand for CCNP professionals in 2023 as compared to 2022 and we are predicting that the numbers are not going down any time soon.
Analysis of how CCNP can impact job opportunities
CCNP Training or certification can help IT professionals stand out in a crowded job market by demonstrating their skills and knowledge. The networking domain is very competitive and only CCNA Training or certification is no more enough to stand out of the crowd. That is why, CCNP training is required as it can open up job opportunities in several areas, including network engineering, network security, and network architecture.
As we have already discussed, CCNP provides valuable skills and knowledge that are in high demand in the current market. As the need for network automation, cloud computing, and cybersecurity is increasing every day, CCNP training can provide professionals with a competitive advantage in their career growth.
Therefore, it is clear that there is only one answer to the question, "Is CCNP worth it in 2023?" And that is Yes, CCNP is worth it in 2023 and many more years to come. Lets' move on and understand the advantages of CCNP Training.
Here is the answer to another question that many asks, Is CCNP harder than CCNA?
Advantages of CCNP Training or Certification
There are various benefits of taking CCNP training or getting CCNP certified. Some of these benefits are as follows –
Increased job opportunities
Recognition of expertise and knowledge
Potential salary increases
High Market Demand
Better knowledge of the changing Technology
There are many researches in the market that clearly show that professionals with CCNP training or certification earn higher salaries than those without any CCNP knowledge. A CCNP professional can easily expect an average salary of around INR 5,00,000 to INR 13,00,000 per year in India and the numbers are even higher for somebody in western countries.
When we talk about Job security and career growth opportunities associated with CCNP, it is clear that both these aspects are covered with CCNP as it demonstrates the IT professional's knowledge and expertise in managing and configuring networks, which is a requirement for all enterprises.
Even during the recession, CCNP professionals are in high demand in the IT industry, and their jobs are some of the most lucrative jobs in the whole IT domain.
As every coin have two faces, so does everything and we are not here to force someone to do CCNP. You should evaluate everything before you choose to move ahead with CCNP training. So, here are a few disadvantages of CCNP.
Disadvantages of CCNP Training or Certification
While there are certainly many benefits to achieving CCNP Certification, there are also some potential disadvantages to consider. On the other hand, you can not say the same thing about CCNP Training. There are no drawbacks of training. So, here are a few disadvantages of CCNP Certifications:
Cost – The cost of achieving CCNP Certification is quite high, and if we include the cost of study materials, training courses, and the exams themselves, the cost get even higher. In addition to this, you might also need to take time off from your job in order to prepare for the CCNP certification, which can result in lost income.
Maintenance – CCNP is not a one-and-done process. Some professionals think once they are done with CCNP, they are set for life but that is not true. One needs to constantly update themselves to stay relevant in the networking field. Even CCNP certification must be maintained by passing periodic exams or passing any higher certification exam. It can be a time-consuming and costly process.
Difficulty – The difficulty associated with CCNP Training and certification is quite high as it requires a deep understanding of complex networking concepts which might not be easy to learn for everyone. Many professionals take multiple attempts to pass the exams, which can be discouraging for some IT professionals.
These are the major disadvantages associated with CCNP. However, there is one way to mitigate these challenges associated with CCNP, which is to stay actively involved in the IT community. This can include attending networking events, participating in online forums, and engaging in professional development opportunities.
You can stay ahead of the training requirements to move ahead in your career by staying connected to the latest trends and best practices in the field. At the same time, it will also help you in building your professional network and enhancing your career prospects.
You can also watch this video to understand what you can do after CCNA?
Frequently Asked Questions
Q1 – Is CCNP worth getting?
Yes, obtaining a CCNP certification can be worthwhile as it demonstrates a higher level of networking expertise and can enhance career prospects. CCNP is widely recognized in the industry and can open doors to advanced roles and higher salaries. It also ensures knowledge of current networking technologies and keeps professionals up to date with industry trends.
Q2 – Is CCNP enough to get a job?
After taking CCNP, one gets much exposure to practical experience therefore professionals become more efficient in installing, configuring, implementing and deploying any complex network. So, yes, CCNP (Cisco Certified Network Professional) is enough to get you a job in networking industry.
Q3 – What is the salary after CCNP? 
Salary is a factor that depends on various conditions such as location, your in-depth knowledge, your company and much more. But we can say the average salary of a CCNP holder in India would range from 5-8 LPA.
Q4 – Is CCNP easy or difficult?
We can never determine what is the difficulty level of any of the Certifications, it totally depends on your interest. Yes, it is difficult that the CCNA concepts but if you find Networking interesting then you can easily grasp all the concepts.
Conclusion
In conclusion, the answer to the question "is CCNP worth it in 2023?" is yes but the worth of CCNP for each person is determined by a variety of factors, including an individual's career goals, job prospects, and financial position. CCNP may be a worthwhile investment in one's future for those who are devoted to pursuing a career in networking and are willing to invest the time and effort necessary to achieve their goals.
Despite that, CCNP training can be a valuable asset for networking professionals who want to improve their career prospects and establish a professional network. If we talk about certification, obtaining the CCNP Certification necessitates a thorough grasp of complex networking concepts and can lead to a range of job opportunities with better pay and job security. However, attaining and maintaining CCNP Certification can be a challenging and costly process that necessitates continuous effort and commitment.
Numerous resources are available to assist those contemplating CCNP Certification in preparing for the certification process and staying up to date on the most recent networking technologies, including training courses, study materials, professional development opportunities, online forums, and networking events. Here is the updated CCNP ENCOR Syllabus to help you evaluate your preparation.
PyNet Labs is devoted to providing top-notch networking training and resources to professionals who seek to advance their careers. As one of the leading CCNP ENCOR Training providers, we offer a variety of courses and resources to help professionals achieve their certification objectives and thrive in the networking field.