How To Start Your Network Automation Journey?
Last Updated :
April 28, 2022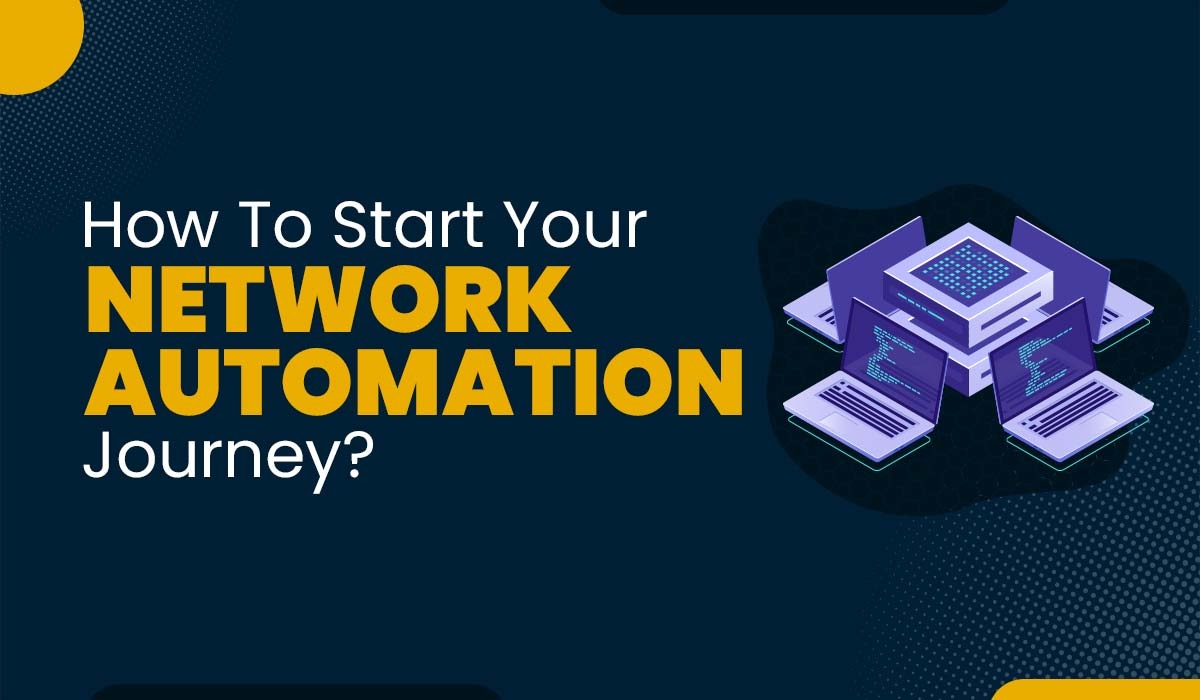 Introduction
Hey Folks, glad that you finally thought of upgrading your existing networking skills to a whole new armoury level. Welcome to the fresh new blog on Why & How to start your Network Automation journey with a very fresh perspective.
Even though it has been more than two years since Cisco announced their new DevNet Certifications, which entirely focus on "Network Automation," It isn't very late to start your Network Automation journey. And on top of that, if you already have an essential to intermediate level of Routing & Switching (Enterprise) administration and configuration knowledge, you've already hit a Home Run!
So, we will break it into some parts to give you a decent view of How to start your Network Automation Journey below.
How to start Network Automation Journey?
In order to understand how to start your network automation journey, you need to know why you should prefer network automation over traditional Networking.
Why Network Automation?
Most people/network engineers find it hard to identify whether they should upgrade to Network Automation or not?
But once they are made familiar with the benefits of automating a network, they will surely be impressed with the benefits that it brings along with it.
Automating networks started its trend around the early 2020s when technologies like SDN (Software-Defined Networking) started to pick a pace. Then, companies like Cisco, Juniper, Palo Alto, Huawei, Ciena, etc., which hold a strong share of the equipment used to make the Internet today, started to introduce solutions based on SDN.
Since SDN had the approach of:
Centralizing the Control Plane of your end device
Provide a management ability to centralized nodes so that Network Engineers could do the network's Configuration, Verification, and Troubleshooting from a single pane of glass.
But since the decade was turning out to emphasize the unprecedented importance of Mobile and Web Applications due to the evolving market of Smartphones, Tablets, and Notebooks, every organization started to create their own applications that were being stored in the Data Center.
Due to the same, Network Engineers were required to keep the Applications available and accessible all the time. That led to the communication and mutual gap between the Developers/Coders and Network Engineers. And with the rapidly increasing demand of Application Centric Businesses, the complexity of the Internet also started to increase heavily.
That is where network operations were lagging because this isn't how the traditional Networks have been managed for almost 30 years.
Companies like Cisco started to take the initiative.
They announced programmability abilities on network devices where routers, Switches, and Firewalls could be configured, managed, and troubleshot via automated scripts and codes.
The change gave network engineers massive exposure to stop repetitive configurations and verifications on devices and start scripting their tasks so that a human hand doesn't need to go on every device and configure, manage, and verify it.
This ability brought and still brings excellent possibilities in Network Operations and simplifying daily jobs that a Network Engineer must do!
Improve your Programming Skillset
The fruit seemed very sweet so far, but the primary question that was striking in front of companies was who would take up this job of automating networks. Are they going to be Developers who are already very familiar with skills like Coding or Network Engineers who are very friendly with Networking?
And the answer to that turned out to be Network Engineers. However, most Network Engineers still find it challenging to learn Coding from scratch. After all, nutritional and healthy fruits are a bit bitter and sour sometimes, and this fruit of automation indeed was going to be beneficial for the nutrition and health of our Internet.
Network Engineers are very much aware of the limitations of traditional networks. They know what tasks/jobs/operations to be automated, so learning scripting and Coding was the best choice a network engineer could make to learn automation and start their network automation journey.
So, Python, which was already identified as the best programming language out there so far, became the perfect fit to learn automation.
When you dream of wearing those sexy shoes of a Network Engineer, oops, I mean Network Automation Engineer, you need to make some efforts to learn Python Programming from scratch. And believe us, the more time you spend time on Coding Practices, the better you become at automating the networks!
So, while picking up your study material or enrolling for training that focuses on Network Automation or Cisco's newly announced DevNet Certifications, which focuses on automation, We strongly suggest you pick the training that covers and prepares you for programming basics as well!
Make proper use of simulations and virtual labs
Lastly, since you will work on automating the Internet, your job has strong potential to optimize and take your network performance to a whole new peak on the graph or bring your entire network to a standstill.
So while preparing for your skills, it is crucial to perform hands-on lab practices while learning your coding and automation skills. There are so many tools and simulation software available that provide you with the ability to use virtualized devices like:
Routers
Switches
Firewalls, etc.
On these devices, you can test the scripts and codes you will be working with and create industry-based scenarios optimizing, which will help you take your network to the next level.
That's precisely what we are planning to highlight in this blog, so you can make a decent decision for starting your journey of becoming a Network Automation Engineer!
How to learn Network Automation?
Now, you have understood why network automation is needed but do you know how to learn network automation to start your network automation journey.
The best way to start your network automation journey is with PyNet Labs. The benefits of taking Network automation training with PyNet Labs are not limited to just learning Network Automation; we have a customized course that will train you perfectly for the Network Automation Engineer roles.
In today's ever-competitive world, enterprises are inclined to hire professionals with a hybrid skillset. So, we came up with this custom course that follows official Cisco course guidelines but at the same time improvises to provide you with a better chance of learning and understanding automation.
This course is "Python for Network Engineers + CCNA DevNet + Ansible Basics," where you learn Python from scratch. In addition to that, you also get to know Ansible, which is an essential tool for network automation.
Through this training, you will have hands-on practical knowledge and skills to manage and automate Cisco networking devices through Python and APIs.
You can also read –
Network Automation with DevOps
Following are the benefits of taking Network automation training from PyNet Labs:
Python will be taught from scratch by industry experienced trainer.
You will have PDF and Python Scripts to learn/practice better.
Lifetime access to class recordings
Local lab set-up with lifetime access
Training delivered by India's leading network automation trainer, Mr Abhijit Bakale
Lifetime access to a private Telegram channel for chat support
PyNet team will provide job support.
These are the major benefits of choosing PyNet Labs to start your network automation journey. To know about the upcoming batch schedules, go to our official DevNet Associate Page.
Frequently Asked Questions
Q1 – What is Network Automation?
Network automation is the process of using programming or software to automate the planning, deployment, operations, and optimization of networks and networking devices.
Q2 – Is Network Automation in demand?
Yes, network automation is one of the most demanded courses in the networking domain. Network automation has become an integral part of all Cisco certifications, and its demand is increasing day by day.
Q3 – Do network engineers need to code?
Yes, network engineers need to code as Coding has become an essential part of Networking. The demand for network engineers is high, and companies prefer network engineers who can automate their networks.
Q4 – How do I become an automation engineer?
To become an automation engineer, you should get CCNA DevNet training, an introductory course to start your network automation journey. This course will introduce you to the basics of automation and prepares you for the automation engineer jobs.
Conclusion
Embarking on your networking automation journey is a significant step towards embracing the future of network management and unleashing the power of efficiency, scalability, and agility. Throughout this blog, we have provided you with a comprehensive guide on how to start your networking automation journey and how to learn network automation.
So, take the first step, start exploring automation possibilities, and experience the transformative power of networking automation firsthand. Embrace the future, empower yourself, and revolutionize your network management through automation.