DevNet vs CCNA - Which is better?
Last Updated :
April 24, 2023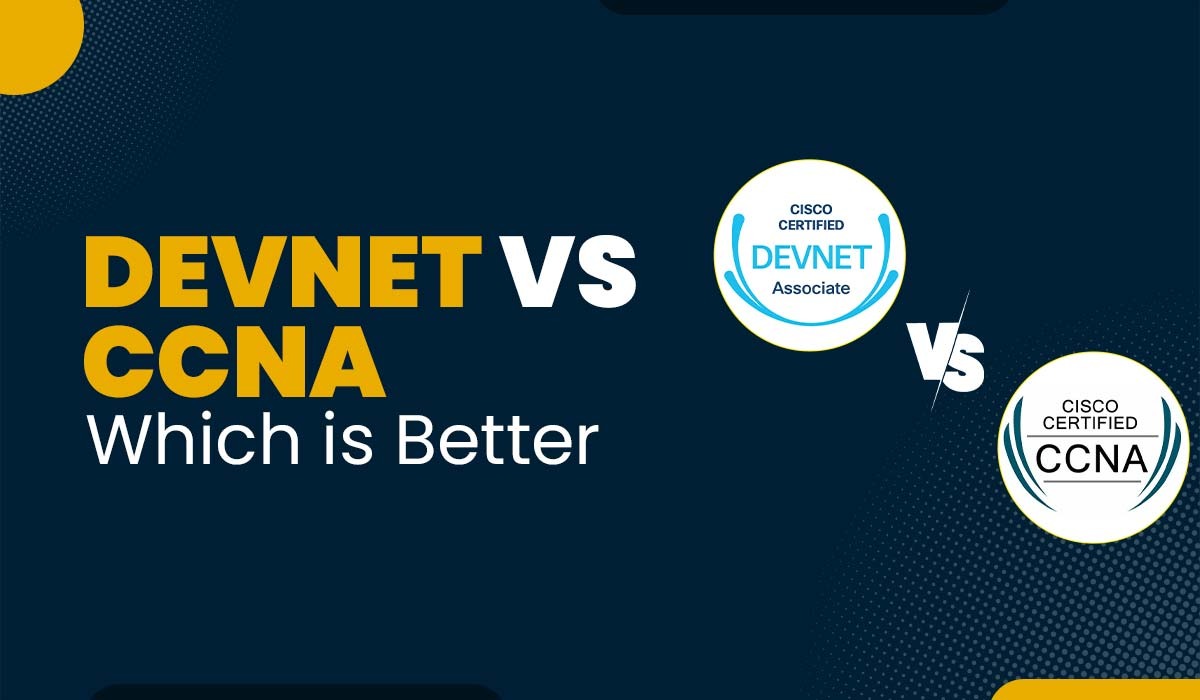 Introduction
Are you torn between pursuing DevNet or CCNA? Comparing DevNet vs CCNA can help you make an informed decision about which path is right for you.
Individuals who aspire to pursue a profession in networking may have come across two prominent courses offered by Cisco, namely CCNA Course and DevNet. Both of these courses are intended to validate an individual's proficiency and comprehension in various networking domains, including routing and switching, security, automation, and software development.
What are the main differences between them? Which option would be most suitable for an individual based on their objectives and areas of interest? This blog aims to provide an overview of the DevNet vs CCNA in terms of the exam, job prospects, salary, certifications, benefits, and career paths. By the end of this post, you should have a better knowledge of what each program comprises and how to choose the best one for you.
Before moving forward to the main topic, let's see a brief description of both CCNA and DevNet.
What is CCNA?
CCNA stands for Cisco Certified Network Associate. It is a certification program that covers networking fundamentals, such as routing, automation, security, switching, and wireless. CCNA is designed for network engineers who want to install, configure, operate, and troubleshoot network devices and services. CCNA also prepares you for more advanced networking certifications, such as CCNP and CCIE.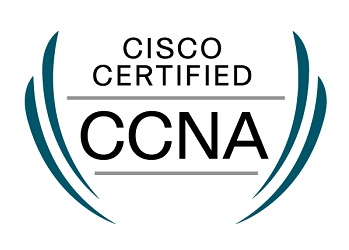 Check out the scope of CCNA in coming years for more detailed insights.
What is DevNet?
DevNet is a Cisco certification program that focuses on developing skills in software development, automation, and network programmability. It is designed for software developers, network engineers, and IT professionals who are interested in using software to automate and optimize network processes. DevNet certification covers topics such as Python programming, network automation, APIs, and software development.
The first course in DevNet track is DevNet Associate 200-901, which stands for Cisco Certified DevNet Associate. This course will teach you the basics of creating and designing software for Cisco hardware. Application, and integration developers or even network engineers that are interested in working with Cisco APIs, SDKs, and platforms are the target audience for DevNet Associate. The DevNet Associate course may also serve as preparation for the more advanced DevNet Professional and DevNet Specialist courses.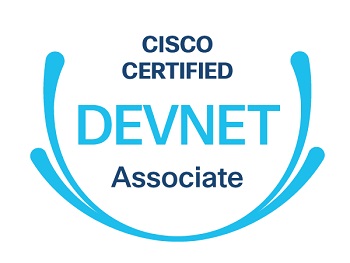 Before you move forward, check out if DevNet is worth it?
DevNet vs CCNA
CCNA is the best course to start your networking career while course like DevNet is a great way to advance your profession and increase your salary. However, you cannot replace one with the other. Which one is better for you depends on your specific needs, priorities, and background.
Let's compare DevNet vs CCNA on basis of various factors. It will help you make an informed decision.
DevNet vs CCNA for Networking Career
CCNA is a good option if you want to work in the networking industry or if you want to specialize in a subfield of networking. It will provide you with a firm grounding in networking fundamentals, opening the way for future certification and professional development.
However, DevNet track might be a better fit for networking professionals who want to build a career in the network automation field. It will provide you with a firm grasp on software development, automation, and network programmability.
DevNet vs CCNA Job Prospects
Both DevNet and CCNA can open doors to many career opportunities in the networking industry. However, the career paths for each differ slightly. This difference between CCNA and DevNet Associate regarding job prospects in India is a topic that many aspiring network engineers may wonder about.
CCNA is ideal for people who want to start their networking career from scratch. CCNA can get your job roles such as network engineer, network support, network admin, etc. It is useful since it displays a foundational understanding of network engineering. If you're searching for a job that requires you to configure, diagnose, and maintain network devices and protocols, CCNA training could be a better fit.
With DevNet, you can work as a software developer, network automation engineer, or network programmability engineer. DevNet is ideal for those who are interested in building software-based solutions to automate network processes.
Because of the shift from manual to automated processes in networking, DevNet represents the direction of the profession going forward. While DevNet goes through the basics of networks, it focuses more on the abilities and resources required to automate and optimize network operations. Employers seeking network engineers who can improve their network's performance and security via software and cloud technologies may find the DevNet more enticing.
You can get more insights on Why Network Automation is the future?
DevNet vs CCNA Salary
Salary for CCNA and DevNet in India is based on a number of factors, including experience, skills, industry, and location. Various sources claim that the average salary for a CCNA network engineer in India is between 4 and 6 LPA, whereas the salary for a DevNet associate is between 7 and 9 LPA. According to the specific job role and responsibilities, these numbers, however, may differ significantly. So, comparing DevNet vs CCNA on salary basis, it is clear that DevNet is a winner.
DevNet vs CCNA Certification Comparison
You need to pass the CCNA 200-301 test to get certified. You'll get 120 minutes to answer all of the questions on the test. The complete Cisco CCNA syllabus is as follows:
IP connectivity
Security fundamentals
Network fundamentals
Network access
Automation and programmability
IP services
The CCNA exam costs $300 USD + taxes and can be taken online or at a testing center.
In order to obtain a DevNet Associate certification, one must pass a single examination, namely the 200-901 DEVASC. The examination comprises a total of 102 questions and has a duration of 120 minutes. The examination comprises the subsequent topics:
Understanding and using APIs
Infrastructure and automation
Software development and design
Application deployment and security
Cisco platforms and development
Network fundamentals
You may take the test either in a testing center or online for a total fee of $300 USD plus tax.
DevNet vs CCNA Difficulty Level
DevNet certification is considered more difficult than CCNA certification. DevNet certification requires a good understanding of programming concepts and software development practices.
CCNA certification, on the other hand, covers the fundamentals of networking and is a good starting point for those who are new to the networking industry. CCNA certification requires a good understanding of networking concepts, routing and switching, and network security. Now, that we have compared DevNet vs CCNA on various factors, let's discuss the pros and cons of each.
Pros and cons of CCNA and DevNet
When we are comparing DevNet vs CCNA, it is important to understand the Pros and Cons of both.
Pros of CCNA -
Networking essentials such as routing, switching, security, wireless, and automation are covered in detail throughout the CCNA program. This lays the foundation for understanding more complex concepts as well as technology down the road.
By laying the groundwork for more advanced certifications like CCNP and CCIE, CCNA can increase their earning potential and position in their chosen field.
Pros of DevNet -
The aim is to speed up the creation and implementation of software applications that utilize the network infrastructure and capabilities of Cisco.
It enables certification paths for validating the skills and knowledge of DevNet professionals at different levels of expertise and specialization.
Cons of CCNA -
As such, there are no disadvantages to either CCNA or DevNet, but individual preferences for CCNA over DevNet or vice versa make one preferable to the other.
CCNA is not vendor-neutral: If you hope to work with tools and products from suppliers other than Cisco, you could find your options constrained by the CCNA. It's possible that you'll need to get further certifications to demonstrate your mastery of various aspects of network administration.
CCNA is not enough for advanced roles: The CCNA course focuses on the foundations of networking concepts and does not go further into more specialized areas like wireless, voice, or data center. Higher-level certifications, such as CCNP or CCIE, may be necessary to develop in your profession and take on more challenging assignments.
Cons of DevNet -
It is a relatively new certification, so it may not be widely recognized or valued by employers yet. Compared to other Cisco certifications, such as CCNA or CCNP, DevNet Associate may not have the same level of prestige or demand in the market.
The test costs $300 USD plus taxes, which is expensive for some individuals. You may need to invest in training resources such as books, classes, or practice examinations to prepare for the test. Depending on your learning style and budget, you may need to invest more time and money than you anticipated.
We have discussed the Pros and Cons of both CCNA and DevNet, let's move on to under the prerequisites for both.
Prerequisites
There are no formal prerequisites to pursue CCNA, but it is recommended that you have at least knowledge of computer and other peripherals.
To pursue DevNet associate, you should have a good understanding of basics of networking. It is also recommended that you have at least one year of experience in network engineering.
DevNet vs CCNA - Which Certification is Right for You?
The answer to this question depends on your career goals and interests. If you are new to networking, you should focus on learning the basics of networking first. So, CCNA should be your first choice. However, if you are a professional who have some experience in networking and is interested in software development, network automation, and network programmability, then DevNet might be the right choice for you.
Frequently Asked Questions
Q1 - Is a DevNet better than a CCNA?
A DevNet certification focuses on software development and automation in the context of networking, while CCNA focuses on networking fundamentals and operations. The choice between the two depends on your career goals and interests. Both certifications have value, and it's important to consider which aligns better with your desired career path.
Q2 - Is DevNet worth IT?
Yes, DevNet is worth it for all IT professionals who are interested in software development, network automation, and programmability. DevNet equips individuals with the skills and knowledge to leverage programming languages and tools to automate and optimize network operations.
Q3 - Does Cisco DevNet renew CCNA?
Yes, if you take Cisco DevNet certification, your CCNA certification gets renewed automatically. All Cisco certifications expire in 3 years but Cisco's continuing education program enables recertification of your last certification if you go for any advanced certification.
Q4 - What is CCNA DevNet?
CCNA DevNet, also known as the Cisco Certified DevNet Associate, is a certification offered by Cisco that combines networking fundamentals with software development and automation skills. It is designed for individuals who want to specialize in network automation, programmability, and software-defined networking.
Conclusion
Both the CCNA and the DevNet are useful for starting or advancing your career in networking, network automation or software development. They are not, however, the same. They each have distinct focus areas, objectives, requirements, and outcomes. As a result, before selecting one over the other, examine your present job and experience, future objectives and interests, and learning style and preference. Hope you get the basic idea about DevNet vs CCNA training through this blog.