Cisco SD WAN Lab Setup Guide
Last Updated :
June 9, 2022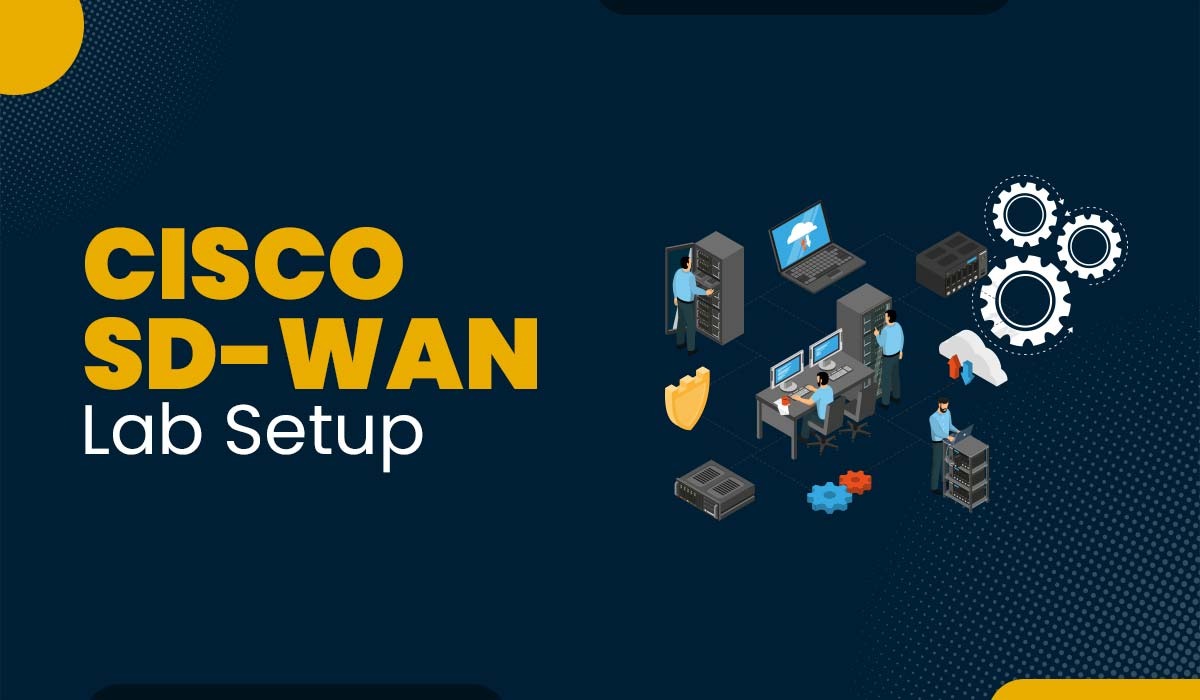 Introduction
Are you looking to explore the world of Cisco SD-WAN and create a comprehensive lab setup? Look no further! In this blog, we provide a concise and practical guide to Cisco SD WAN lab setup.
PyNet Labs has been delivering Cisco SD-WAN Training for more than 2 years now and the most frequently asked question has always been "How to Setup Cisco SD WAN Lab Locally" by almost every candidate. The wait is finally over, and, in this article, we'll be decoding a step-by-step approach to set up your personal SD WAN Lab on your local machine.
Whether you're an IT professional, network engineer, or an aspiring networking enthusiast, this guide will help you understand the essentials of building a functional SD-WAN lab using Cisco technologies.
How to setup Cisco SD WAN Lab?
Let's get started!
So, first of all, SD-WAN controllers are a significant part of what you will require to setup the SD-WAN lab. When deployed in a simulated lab environment, these controllers demand a huge chunk of resources from your Computers. This is a major reason why the Lab Setup is inefficient for deploying on your Personal Computer (PC) / Notebook. Although if your Machine has the below resources available, you've pretty much got the green flag!
Resource Requirement:
1. RAM: 32GB DDR3 / DDR4 (Physically Installed on the Machine)
2. CPU: 9 – 12 Core Processor
3. Storage: 100GB HDD/SSD (Only for the Lab Purpose)
4. OS (Operating System): Windows (Since the SD-WAN Images require Nested Virtualization, MAC doesn't work well with this since the introduction of Apple Silicon Chip, and VMWare is still working on this)
Looking at the huge resource requirement having a Tower Server or small Server will help you and would be our top recommendation as well.
Apart from Physical Resources, you need a Virtualization Engine to install the SD-WAN Images directly or a Network Simulator, which will graphically allow you to create your topology with multiple devices. Although VMWare Workstation / ESXi is the choice of Virtualization Engine, other vendors are also available but our experience with testing them hasn't always been good.
When it comes to Network Simulations, GNS3 and EVE-NG have been competing a lot together for who works the best for simulating Network Infrastructure labs, and EVE-NG wins over GNS3 in various factors.
You can download these tools from below:
Another important thing you'd require to set up the SD-WAN Lab Environment is the Images. Since, Cisco is not the only vendor dealing in SD-WAN, you'd require the images of the following controllers to get your Lab working:
1. Viptela vManager
2. Viptela vBond
3. Viptela vSmart
4. Viptela vEdge
5. Cisco vEdge
You can download these images from Cisco's Official Website, but for those don't have a Service Contract with Cisco, we've got you covered. We at PyNet Labs provide Lab Installation and Hosting Setup Services in which we can help you set up your own lab with the required images and tools on your physical resource.
You can download the images by filling out this form,
Cisco SD WAN Lab Setup
This service can be opted by Individual Learners, Corporates for doing Proof of Concepts, or even Training Companies who are looking forward to training individuals on technologies like SD-WAN and many others…
We have three paid consulting models:
SD-WAN Lab EVE-NG setup for Individuals
We provide SD-WAN lab EVE-NG set up for individuals who want to practice SD-WAN labs at home. We have already fulfilled the needs of several of our past SD-WAN students who wished to have a personal SD-WAN lab set up on their systems.
We have now started the Cisco SD WAN lab set up as a service for our non-students who want to build their own labs. All you need is a good system as per the above requirements. We will also provide you additional 2 hours of the lab setup help above the lab setup time.
For prices and procedures, you can fill out the form below or get in touch via WhatsApp/Call/Telegram.
SD-WAN Lab setup for Corporates for doing Proof of Concepts
PyNet Labs have supported various system integrators, solution providers, and consultants in doing their POC of SD-WAN for their clients. We also help them set up labs for simulating the environment to create their case studies before meeting their clients. If you want to get that done for your company, we are happy to do it at a consultation fee.
For prices and procedures, you can fill out the form below or get in touch via WhatsApp/Call/Telegram.
SD WAN Lab setup for Training companies
Training companies looking for personal Lab setups to sell it further to individuals can also contact us.
We are also helping training companies to set up their SD WAN labs on-premises or on the cloud, which can be accessed by their students and can be further shared with their students and learners.
In the past 18 months, we have helped over 200+ clients in setting up their labs.
We are offering the industry's most competitive pricing. Get in touch for more details.
Frequently Asked Questions
Q1 – How to configure SD-WAN?
To configure SD-WAN, you need to prepare the environment, configure network interfaces, establish control plane connectivity, define the overlay network, create policies for traffic steering and security, implement security measures, and monitor and optimize the deployment.
Q2 – What are the lab requirements for vManage?
The lab requirements for vManage include a server or virtual machine with suitable hardware specifications, a Linux-based operating system, network connectivity to SD-WAN devices, assigned IP addresses, compatibility with other components, and the necessary licensing.
Q3 – What is main components of Cisco SD-WAN?
The main components of Cisco SD-WAN include vEdge routers, vSmart controllers, vBond orchestrator, vManage, transport network, and the connectivity between controllers and orchestrator.
Q4 – What is Cisco SD-WAN software?
Cisco SD-WAN software is a comprehensive solution that provides software-defined networking capabilities for wide area networks (WANs). It includes a suite of software components, such as vEdge routers, vSmart controllers, vBond orchestrator, and vManage, that work together to enable centralized management, intelligent traffic routing, and secure connectivity across distributed locations.
Conclusion
In conclusion, setting up a Cisco SD-WAN lab environment can be an exciting and rewarding experience for IT professionals, network enthusiasts, and organizations looking to explore the possibilities of modern networking. Throughout this blog, we have explored the essential steps and considerations involved in creating a comprehensive SD-WAN lab using Cisco technologies.
Now, armed with the insights and practical knowledge from this guide, it's time to take the leap and embark on your Cisco SD WAN lab setup journey.
You may also like –
Cisco SD-WAN Certification Cost