SD-WAN Technology - Is it a Passing Trend or a Long-Term Technology?
Last Updated :
November 12, 2021

Some might say that SD-WAN technology is over-hyped, but its benefits are real in the current market scenario, and the technology is ready for use. Talking about fads, they quickly burst into our lives and quickly fade out as well, but technology stays with us always and keeps evolving. Would we downgrade to devices used in earlier times? The answer is no. And we should think about network technology in the same way. SD-WAN is an evolution of the network that provides advanced services and decreases costs while at the same time setting the stage for more advanced capabilities in the future. That is why most Network Engineers are investing in Cisco SD-WAN Viptela Training.
What is SD-WAN Technology?
SD-WAN stands for software-defined wide area network. It is an entirely new approach to managing wide area networks. WANs are connections between several local area networks (LAN) with large geographic distances between them. They connect remote offices or campuses to a centralized network, data centers, share data, access applications, and perform various business functions. You can learn more about it here - What is SD-WAN?
Disadvantages of WAN
There are various disadvantages associated with WAN. Some of these are:
Conventional WANs are usually an expensive mix of private and public data lines that use fixed circuits and technologies such as LTE, MPLS, and 4G along with proprietary hardware to create a virtual private network (VPN).
When companies expand their network infrastructure to new locations and over long distances, the data may travel from multiple carriers. This can lead to network congestion, dropped calls, data packet loss, and possible service outages.
Also, as WAN configuration is distributed, every single router and server must be locally updated each time there is a change in provisioning or policy, which is a time-consuming and tedious process.
When data-intensive applications with low latency requirements such as virtual reality (VR), HD video streaming, and video conferencing are used, it's only a matter of time before WAN starts harming the user experience.
Business Benefits of SD-WAN
SD-WAN has brought a significant shift in the way WANs are implemented. It makes the management and operation of WAN simpler by distancing the control mechanisms from the physical network hardware. SD-WAN helps companies become free from proprietary hardware and leasing costly T-1 data lines or fixed point-to-point DSL. In place of that, data is routed safely to branch sites using low-cost, widely available broadband Internet and cloud services
As the name states, SD-WAN is a software-based network technology. It doesn't replace the WAN and acts more like an overlay to existing network topology.
Apart from lowering the cost, the most important benefit of SD-WAN for businesses is centralized control. This technology maintains operational rules and data traffic policy for the entire network through a single portal. It greatly helps the large-scale enterprises which have global networks. It eliminates the need to carry out the individual gateway and router provisioning.
Some other Business benefits of SD-WAN are as follows:
Clear Network Visibility and Management
The administrators can easily view the status of the different appliances connected to the network and deploy, design, and manage new equipment from a centralized location to improve the quality of service.
Access to the Cloud
You can get closer to user traffic to achieve low latency and store recently accessed data to retrieve it faster.
Virtualization
SD-WAN allows users to gain access to applications from those devices that are not loaded with the licensed software.
Advanced Security
Virus detection, IPsec, firewall management, and encrypted network traffic are in-built into most SD-WAN solutions for data security in the cloud when not using MPLS.
Scalability
It expands as your network grows in size.
Resilience
There is reduced downtime using technology that detects outages in milliseconds.
Orchestration
It can coordinate with multiple pieces of software and hardware to complete a bigger task.
Optimization
SD-WAN can dynamically decrease or increase network bandwidth as required and direct the low priority traffic to Internet links to replace leased lines.
Above, we have discussed the benefits of SD-WAN technology over conventional WANs. Now let's explore the benefits of SD-WAN Technology for Network Engineers.
How can Network Engineers Benefit from SD-WAN Technology?
SD-WAN offers benefits like simplification, lower costs, bandwidth efficiency, and other advantages; it has become the new industry favourite. Also, organizations are looking for skilled Network Engineers who can upgrade their network infrastructure in line with the current market trends.
So, this highly popular technology can help networking individuals get exciting job opportunities and reach newer heights in their careers.
Some of the benefits are here listed for you:
You being a Network Engineer/Developer, can take the Cisco ENSDWI 300 – 415 Certification exam through sd wan online training and get a global certificate named Cisco Certified Specialist Enterprise SD-WAN Implementation Certification.
After doing ENSDWI, you can go for the ENCOR exam and become a Cisco Certified Network Professional (CCNP) in the Enterprise track.
You can link the certification badge to your social media profile to attract potential employers to hire you in their organization at a handsome salary.
Even if you aren't planning to take the SD-WAN certification exam, you can still go for SD WAN training online to make your networking skills relevant for the upcoming shift in how organizations manage networks.
But before you choose a training institute here are some things to look out for:
The institute you choose should give you sd wan training courses from the very basics to its advanced concepts.
The trainers/instructors should have adequate industry experience and hold several Cisco certifications.
You should get access to an open topology for designing the SD-WAN fabric.
Doubt clearance should be quick during live training.
The institute you choose should provide unlimited lab access to help you practice sufficiently.
Community support should be made available to enable you to interact with other students and clear your queries
All these benefits, as mentioned above, are provided to aspirants by PyNet Labs in the SD-WAN training programs. Here are some more reasons to choose PyNet Labs for SD-WAN training needs.
Why choose PyNet Labs for Cisco SD-WAN training?
You should seriously consider taking Cisco SD-WAN training from PyNet Labs as we provide: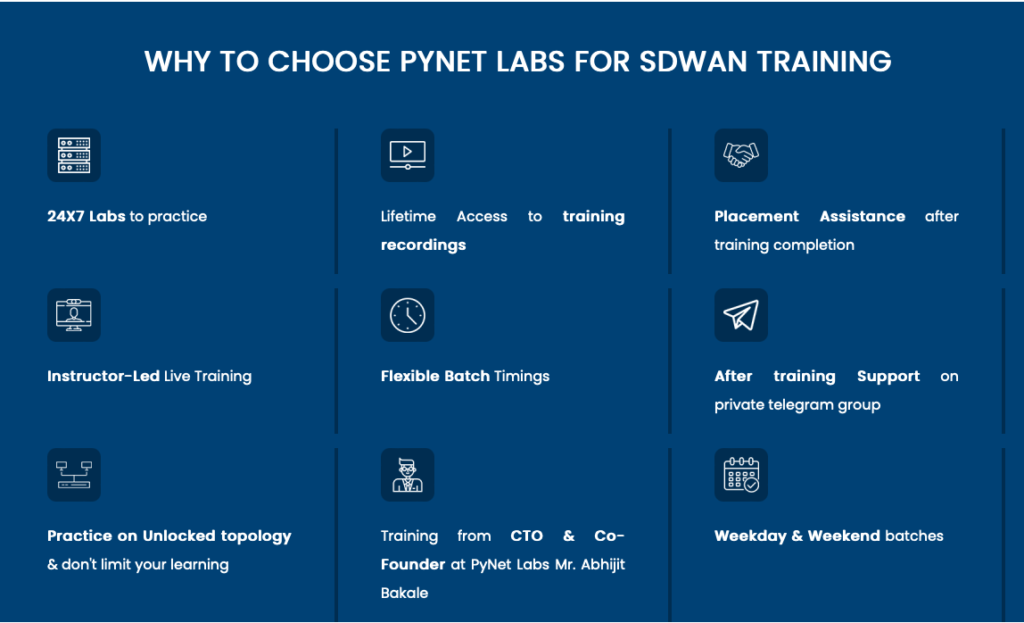 Instructor-led training from our experienced trainer Mr. Abhijit Bakale who has more than eight years of industrial experience
Cisco SDA training from basic to advanced level, covering all the topics from the official Cisco blueprint
Students will get to work on an open topology to design their SD-WAN fabric.
Chance to configure any network from scratch, including managing switches, configuring edge routers, or designing controllers
We don't lock you up in predesigned topologies with just 30 to 40 hours of lab access, but provide unlimited hours of labs so you can learn at your own comfort.
On the spot doubt clearance in live online training
Freedom to access labs and SD-WAN training videos/ recordings as per preference.
Doubt solving after class in our private Telegram group
Lifetime access to recordings of daily class videos
So, as you can see, SD-WAN is not a fad and is a technology that offers significant benefits and is here to stay for sure. The best thing you can do to capitalize on this new market trend is to gain sd wan cisco certification and upgrade your skills as per the current networking industry. For this, PyNet Labs' online training facilities are most suitable as you can learn from the comfort of your home. All you need is an Internet connection and a laptop to learn this invaluable skill and lead your networking career in a new direction.
Connect with us at [email protected] or WhatsApp/ Call us on +91-9821215002 for more details on our offerings.
You should also read -
Difference between Traditional WAN and SD-WAN