Cisco SD-WAN Certification, its Scope, Eligibility, and Cost
Last Updated :
May 31, 2023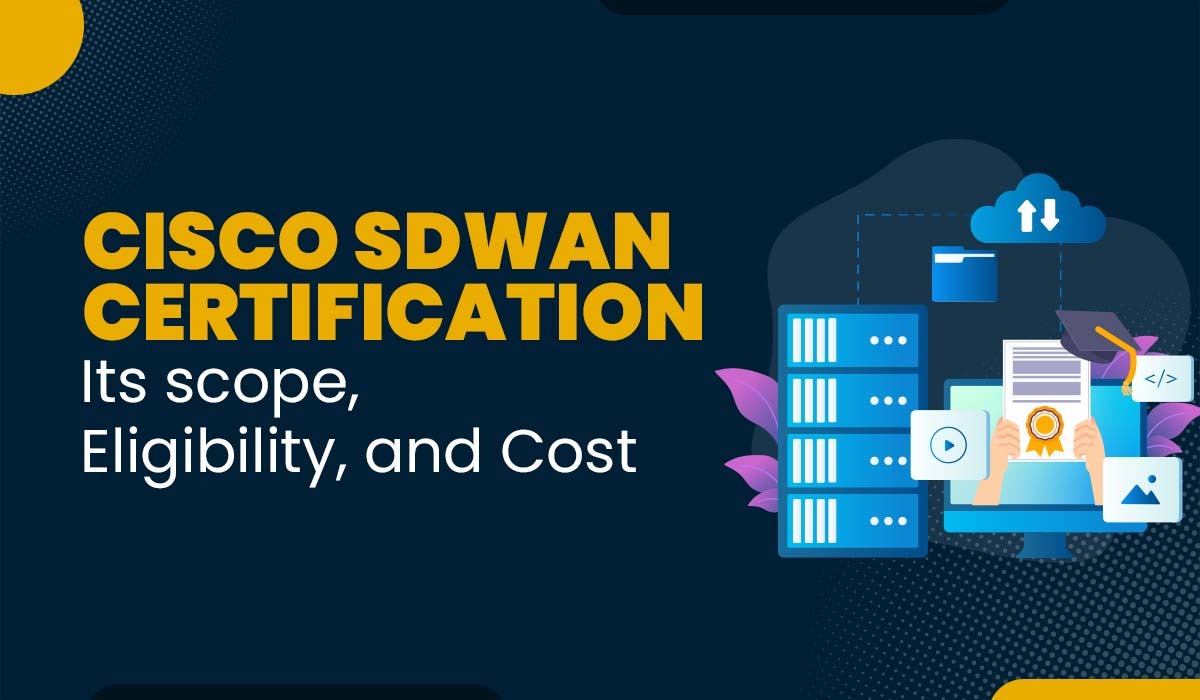 Introduction
Why network professionals must take Cisco SD-WAN training (300-415 ENSDWI), is a bigger question today? Find all the answer you need to know about Cisco SD-WAN Certification with PyNet Labs.
To acquire increased business productivity, agility, and reduced costs for IT, Enterprises today are using Cisco SD-WAN (formerly Viptela) technology. In 2020, Cisco brought 300-415 ENSDWI (Implementing Cisco SD-WAN Solutions) as one of its concentration exams to achieve professional-level certification. Achieving this Cisco certified specialist certification, the aspirant validates his/her skills to offer enterprise with Cisco SD-WAN solutions. In this blog, we will explore Cisco SD-WAN Certification, its scope in the upcoming future, SD-WAN Certification Cost, and answer most questions associated with it.
What is SD-WAN?
Software-Defined Wide Area Network (SD-WAN) is an extended branch of SDN that simplifies WAN management and allows enterprises and Data Centers to have a faster implementation of policy and configuration changes with cost-efficiency.
Today, enterprises move from MPLS towards SD-WAN application for their networks to build higher-performance WANs using lower-cost and commercially available Internet access. So, what are you waiting for? Become a Networking Professional having skills to elevate enterprises' application performance and deliver a high-quality user experience. Learn more about it here – What is SD-WAN?
How to become a Cisco SD-WAN Certified Professional?
To become a Cisco SD-WAN Certified Professional, you must pass the 300-415 ENSDWI certification, also known as Cisco SD-WAN Certification which takes the "Implementing Cisco SD-WAN Solutions (SDWAN300) v1.0" course as its study material. It's a 90-minute-long exam available in English and Japanese Language consisting of topics like,
Designing, deploying, configuring, and managing Cisco® Software-Defined WAN (SD-WAN) solution in a large-scale live network.
Migrating legacy WAN to SD-WAN.
Understanding the practices for configuring routing protocols in the Data Center and the branch.
Implementing advanced control, data, and application-aware policies.
Deployment and replacement of edge devices, placement of controllers, and more to the desired Network.
Once you take the Cisco SD-WAN (ENSDWI) training and pass the certification exam, you have your hands on the Cisco Certified Specialist – Enterprise SD-WAN Implementation certification.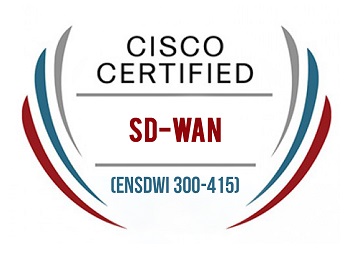 Also, if you have already passed the 350-401 ENCOR certification exam or are willing to attempt it then along with earning the two specialist certifications, you receive the professional-level certification in the Enterprise track too from Cisco.
Scope of Cisco SD-WAN Certification in India
Ever since enterprises have an inclination towards clouds and subscribing to software-as-a-service (SaaS), the traditional WAN is no longer a suitable option. The simplification, lower costs, bandwidth efficiency, and a seamless on-ramp to the cloud offered by SD-WAN are now new favorites. For instance, organizations are looking for skilled professionals who could upgrade their Network according to current market trends.
So, these fastest-growing segments of the network infrastructure market can help network professionals enter the realm of exciting job opportunities and career height.
Also, obtaining the Cisco SD-WAN certification can offer you a few fantastic benefits like,
You earn a global certificate named Cisco Certified Specialist – Enterprise SD-WAN Implementation Certification.
After ENSDWI, you can attempt the ENCOR exam and become Cisco Certified Network Professional (CCNP) in the Enterprise track.
You can link your certification badges to your social media profiles and attract hiring managers to employ you to their organizations at a handsome package.
Job roles after Cisco SD-WAN Certification Course training
If you have the following job roles, then Cisco SD-WAN certification training is for you. If you are a Network Engineer and looking for SD-WAN jobs, you can upgrade your job roles to the following after this training.
System integrator
System administrators
Network administrators
Solutions designers
Enterprise network system installers
What are the prerequisites for taking Cisco SD-WAN certification Course Training?
Anyone with knowledge of,
Enterprise WAN design.
Routing protocol operation, interior and exterior.
Transport Layer Security (TLS) and IP Security (IPsec).
can take Cisco SD-WAN Viptela Certification (ENSDWI) training.
Note: These prerequisites are satisfied by CCNA Training (Cisco Associate-level Certification) and CCNP ENCOR Training (CCNP Enterprise – Core certification) training so if you are looking for one to get the best out of ENSDWI training then reach PyNet Labs today! Now you can learn CCNA for Free with PyNet Labs by subscribing to our YouTube Channel.
What does the Cisco SD-WAN certification cost?
The Cisco SD-WAN certification cost mentioned by Cisco is USD 300, excluding taxes. The tax may differ from country to country.
For example,
Cisco SD-WAN Certification exam cost in India is USD 300 + Tax ,i.e, 18% GST = USD 354 or INR 29,267 in May, 2023.
Also, with PyNet Labs, you can grab SD-WAN exam vouchers at less price. So, if you are planning to take the 300-415 ENSDWI exam any time of the year, reach out to the PyNet Labs team to get SD-WAN exam vouchers at a discounted cost.
Why to choose PyNet Labs for Cisco SD WAN training?
One must take Cisco SD-WAN training from PyNet Labs as we offer,
Instructor-led training by Mr. Abhijit Bakale, who has 10+ years of training experience.
We follow official course outline by Cisco from scratch to advanced-level.
Every participants can work on open topology and design their own SD-WAN fabric from scratch.
Participants will learn how to create, manage, and operate a secure extensible network using Cisco SD-WAN products.
We don't restrict our participants in predesigned topologies, they can create their own topology with UNLIMITED 24X7 lab access.
Participants can clear their doubts and queries anytime in class. Also, they can ask their query after the class in a private telegram group.
Every participants will get individual/seperate pod number for 1/2 month respectively according to their enrollment.
Lifetime access to the class recordings.
Weekend batch participants can access their labs on weekdays as well.
Training completion certificate will be provided.

Language to be followed for training – English
So, stop looking for SD-WAN training in the desired city/country and switch to online SD-WAN training facilities that any working professional can have at their home. All they need for Cisco SD-WAN training from PyNet Labs is an Internet connection and a laptop to learn trending networking skills and elevate their career in the desired direction.
For online SD-WAN training/ENSDWI training at PyNet Labs, we are announcing the dates of the new batch. To learn more about our upcoming training batches, visit Cisco SD-WAN Certification Training.
Also, early registrations in this course can avail fabulous discounts like, fee for ENSDWI training reduced with special offers for groups and UPIs transactions.
So, what are you waiting for? Register Today!!
To register, you can write us at [email protected] or call us on +91 9821215002. International students can connect with us on WhatsApp, Telegram, Viber, Signal over the same number provided.
Frequently Asked Questions
Q1 – What is SD-WAN certification?
SD-WAN Certification is a formal recognition or validation of skills, knowledge and capabilities of a person in the field of Software-Defined Wide Area Networking. It also increases a persons credibility and marketability in the market as it demonstrates their ability to deploy and maintain SD-WAN networks, which are specifically designed to optimize and secure wide area network connections.
Q2 – Is SD-WAN hard to learn?
SD-WAN is considered relatively easy to understand as compared to complex WAN architectures. The difficulty level, however depends on person's prior knowledge and experience in networking. So, with dedication and a systematic approach to learning, it is possible to gain proficiency in SD-WAN and leverage its benefits.
Q3 – Does Cisco have SD-WAN?
Yes, Cisco offers SD-WAN Solutions. In fact, Cisco is a prominent vendor in the SD-WAN market space and with their expertise in networking equipment, it is consider among the best SD-WAN Vendors.
Q4 – What is the salary of Cisco SD-WAN in India?
A Cisco SD-WAN professional's Salary in India varies depending on various criterias such as job experience, geography, job type, and company size. An SD-WAN engineer or administrator in India may expect to earn between 600,000 and 1,500,000 rupees per year on average.
Conclusion
To summarise, the Cisco SD-WAN certification is extremely valuable in today's quickly changing networking market. The demand for dependable and efficient software-defined wide area networks has increased as organisations continue to embrace digital transformation and cloud-based services. Cisco's SD-WAN certification provides networking professionals with the skills and expertise required to effectively design, deploy, and maintain these advanced networks.
We have discussed everything related to Cisco SD-WAN Certification, from its future scope to its cost and how you can also become a SD-WAN Professional.
You may also like –
Reasons to join SD-WAN Training
Viptela SD-WAN Interview Questions
Interested in Demo video? Here you go!