What is Cisco Packet Tracer and Its Features?
Last Updated :
January 13, 2022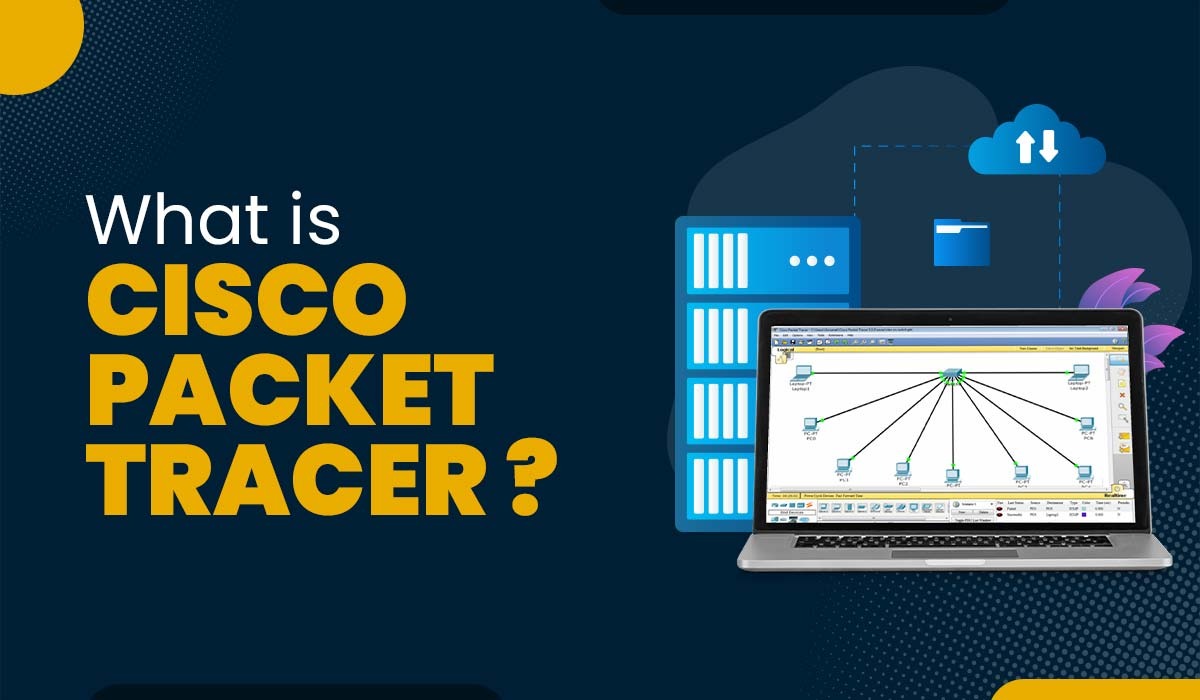 Introduction
If you are a networking enthusiast or beginner, you must have heard the term Cisco Packet Tracer and how network engineers need it to practice everything. Have you also wondered What is this technology and why it is so important? For starters, computer networking is all about practical application of the things you learn in the theoretical training. To practice it, you need a tool like Cisco Packet Tracer. That didn't clear much, right?
Don't Worry! In this blog, we will discuss everything related to Cisco Packet Tracer, its features, how you can download and use it, and everything else. Let's start with a brief description of Cisco Packet Tracer.
What is Cisco Packet Tracer?
Cisco Packet Tracer is a powerful network simulation and visualization tool by Cisco to practice networking, IoT, and cybersecurity skills. The virtual learning environment comes in handy to learn courses, professional training, work planning, and so on.
As the name says, this software is built by Cisco and can be used to practice Networking related labs virtually. Packet tracer is an excellent tool for having hands-on experience on devices like Cisco Routers, Switches, HUB, and end devices like PC, Laptop, Server, and many more.
Students or working professionals who look forward to getting CCNA training or certification or study networking should definitely look into this amazing software.
Freshers, who are new to networking can follow the steps in this article and learn how to download, install and use Cisco Packet Tracer.
So, let's start with installing the Cisco Packet Tracer first.
Cisco Packet Tracer Download
You can download the Cisco Packet Tracer tool directly from Cisco's official website Skill For All. Click here to visit the page for Cisco Packet Tracer free download. There, you'll see an option to Get Started for the course called Getting Started with Cisco Packet Tracer. Click get started and fill in details to enrol in the course.
If you already have an account, log in to the account and enroll in the course; else, use the steps shown below to create the account and get registered.

Click on the Sign up button to get your Skill for All account.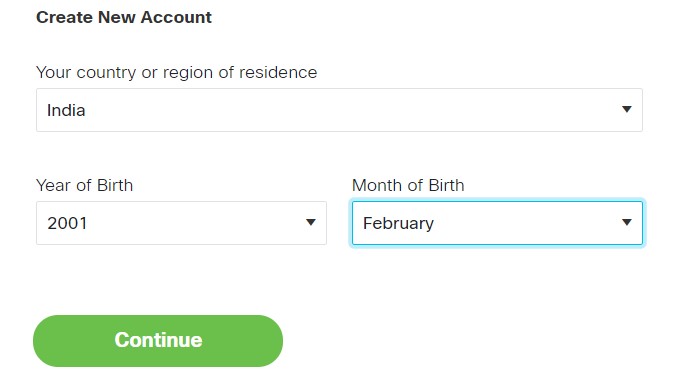 Click Continue and fill up the rest of the details required to proceed, as shown below.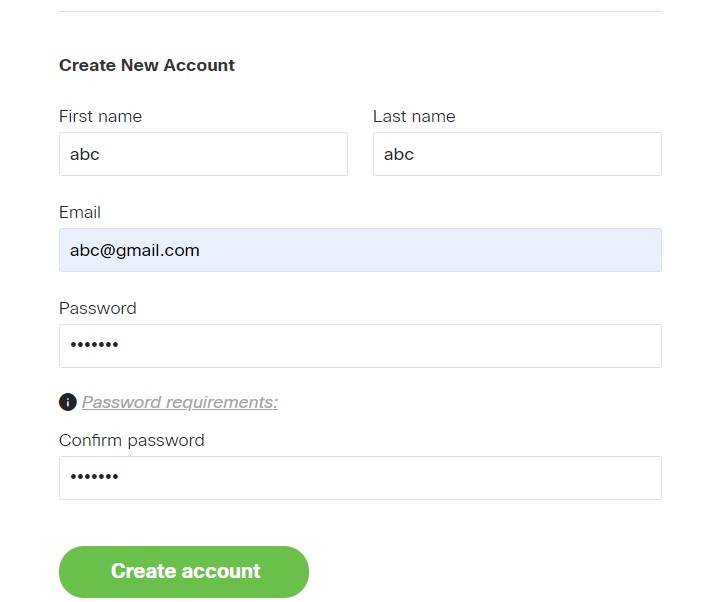 Click on Create Account, and accept the Terms & Conditions.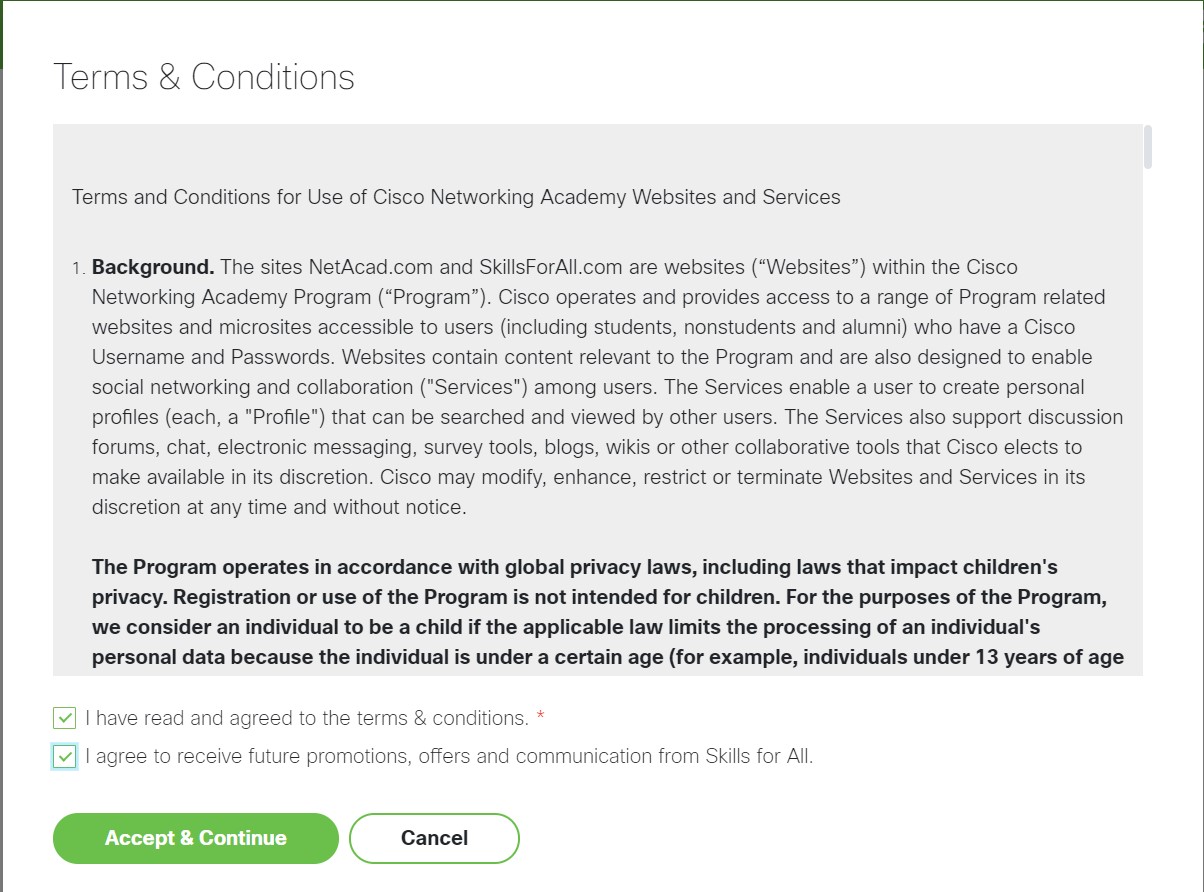 Once you are logged in you will be able to access the resources provided for the Course.
This document can be utilized to read about the Cisco Packet Tracer and to download it or you can simply Click Here to get on this page after successfully creating your Skill For All account.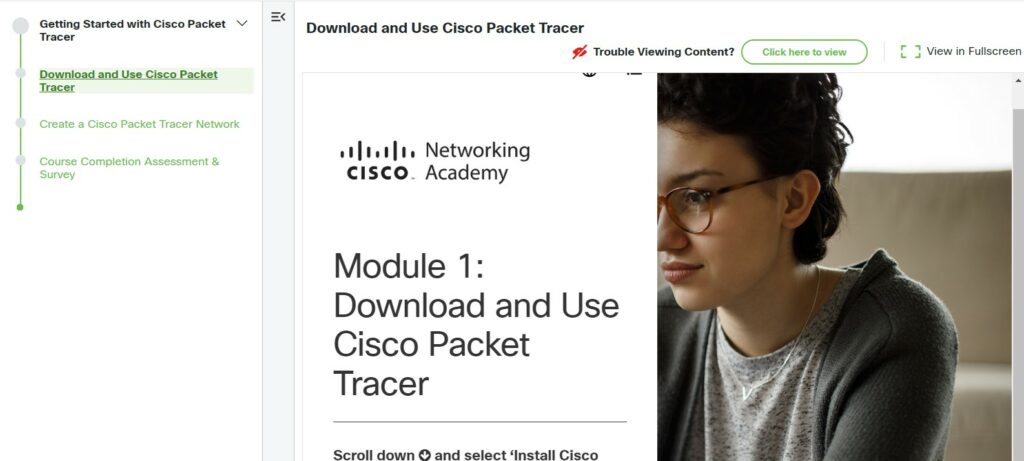 Once you are on the resources page, follow the steps mentioned to get started with the Packet Tracer Tool.

Choose the option according to your device specification and download the Cisco packet tracer.
Cisco Packet Tracer Install
After the download is complete open the setup and install the Cisco Packet tracer on your device. After opening the Packet Tracer, you'll see a window shown below.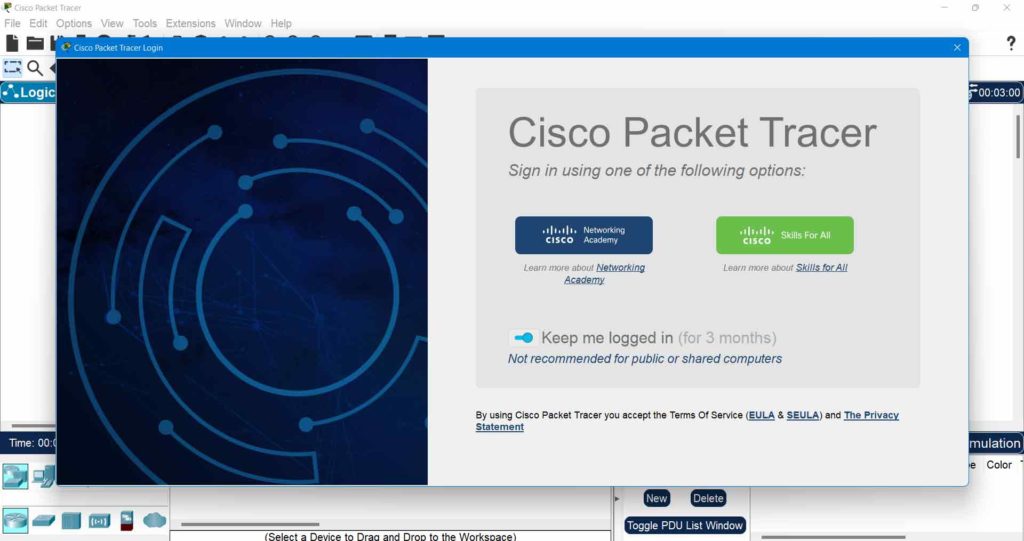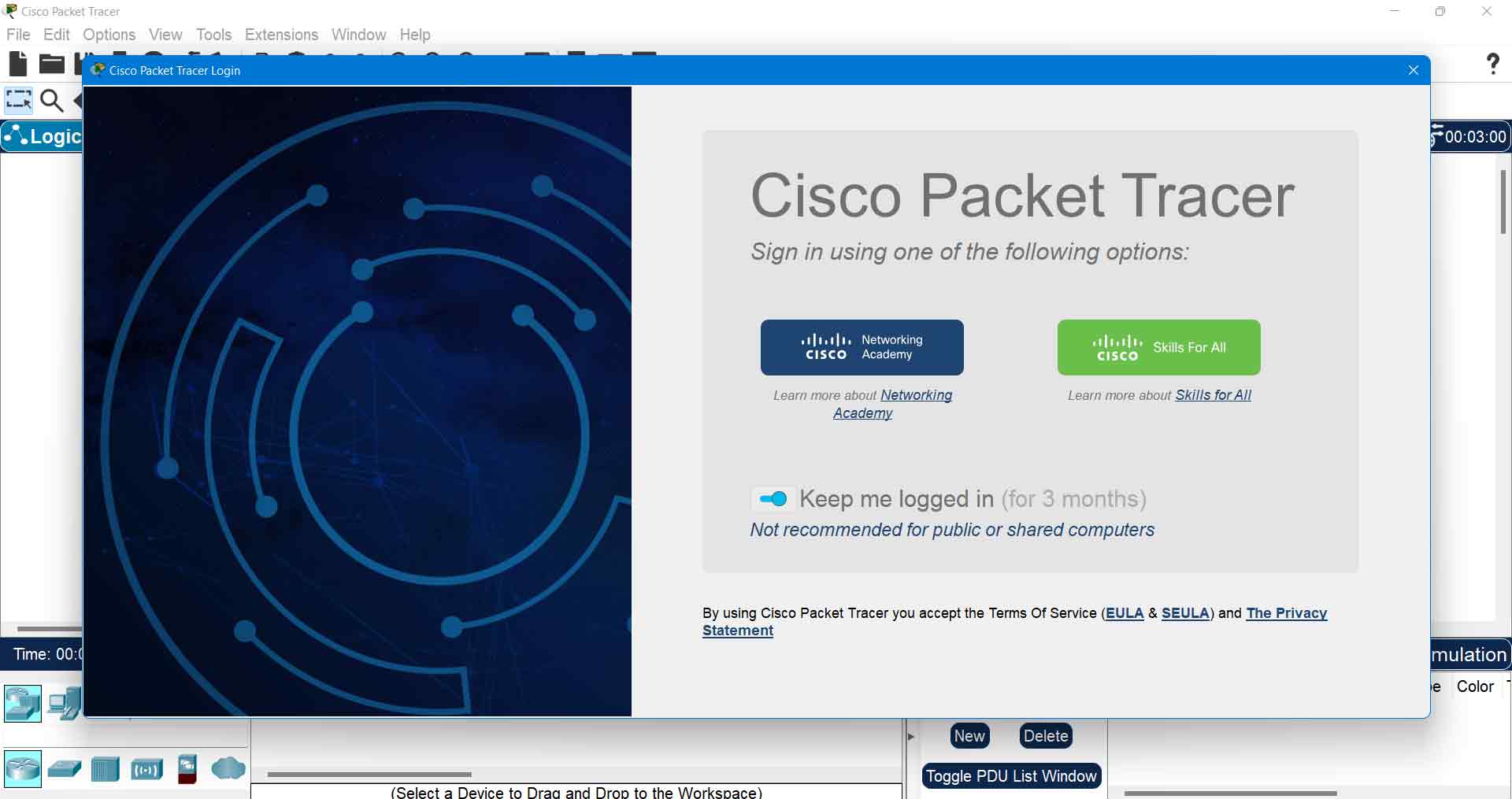 Click on Cisco Networking Academy and log in to your account to get started with the Cisco packet tracer.
Watch how to install Cisco Packet Tracer here: https://www.youtube.com/watch?v=IoC6HAv2y0E&t=127s
How to Use Cisco Packet Tracer?
Before we jump into the steps on how to use Cisco Packet Tracer, here are some of the key features that you can use to get the best out of this amazing simulator.
Is Cisco Packet Tracer Free?
As of now January 2023, this software is free to use. You can use it for your lifetime without worrying about anything like a subscription fee.
You can use unlimited devices available in the packet tracer to practice networking labs.
It supports the majority of networking protocols…. And many more.
This was all about the Cisco Packet tracer's introduction and installation. Now we will look into our first and very basic practical on Cisco Packet Tracer and learn how to use it.
Step 1 – Open Packet Tracer and go to End Devices Category.


Step 2 – Click on PC and drag it to place it in the workspace. Place two PCs like this.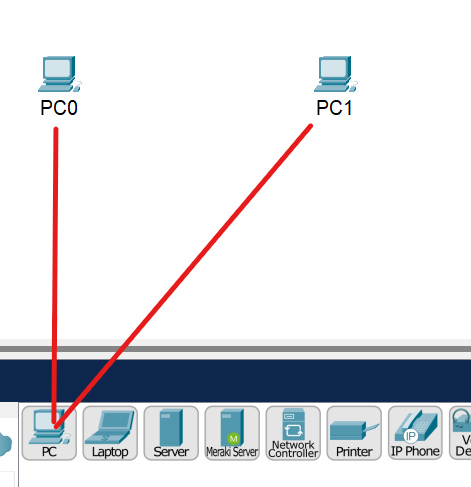 Step 3 – Click on PC 0 and go to the Desktop tab.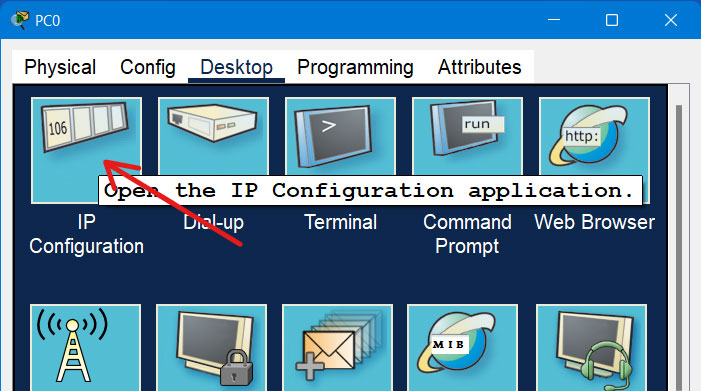 Step 4 – Click on IP Configuration and configure IP address: 192.168.10.1 as shown below.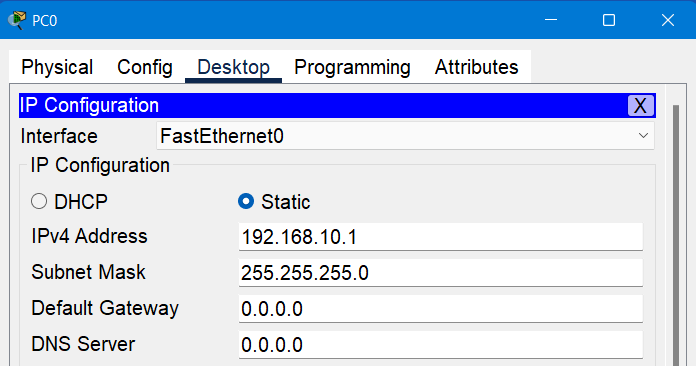 Step 5 – Configure the IP address – 192.168.10.2 on PC 1
Step 6 – Go to Connections Category and select "Automatically Choose Connection type"


Step 7 – Click on PC0 and connect the cable to PC1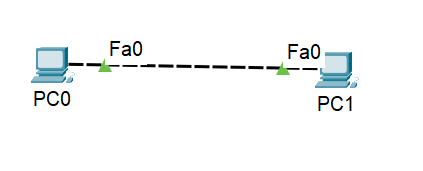 Now, these two PCs are connected, and in order to check the connectivity, you can follow the steps below:
Step 8 – Click on Add Simple PDU option.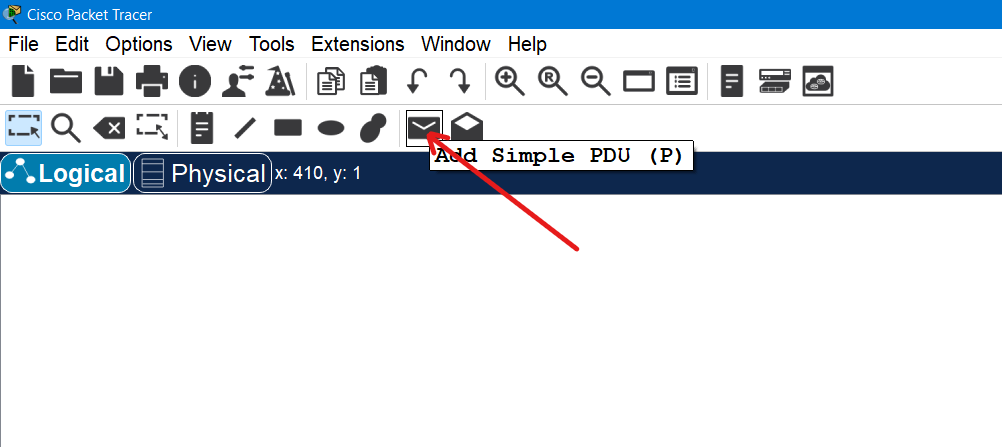 Click on PC0, and you will see a message appearing on PC0 as shown below; now click on PC1 to make the communication between devices.

You can check the action status in the PDU list window on the bottom right side.

If you see the "Last Status" successful, then congratulations, you just did your first packet tracer practical.
You may also like – Network Troubleshooting Tools
Features of Cisco Packet Tracer
Some of the key features of Packet Tracer are:
E-learning
Visualizing Networks
Real-time and simulation mode
Compatible on various platforms
Support to all languages
Most networking protocols are supported
Environment is interactive
Can be used on unlimited devices
These are the key features of the Cisco Packet Tracer.
Benefits of Cisco Packet Tracer
Here are some of the major benefits of using the Cisco Packet Tracer:
Provides a secure and virtual environment for network testing:
Cisco Packet Tracer offers a simulated network environment where networking professionals can experiment with several network topologies, protocols, and configurations without any risk of damaging the original physical equipment or the entire network.
Minimizes the requirements for physical hardware:
As Packet Tracer simulates network equipment and connections so, for the users/learners/networking professionals, there is no need to buy or rent any expensive physical network equipment.
Quick, efficient network configuration and troubleshooting are possible:
Users can configure network devices and simulate network traffic with the Packet Tracer to test and troubleshoot network configurations which help the users to save time and resources and also lower the risk of network downtime.
Developing the essential networking skills and knowledge is easier:
Users can easily gain hands-on experience with networking concepts and technologies by using Packet Tracer. Developing essential networking skills and knowledge will be beneficial for building a career in IT and Networking.
Allows the creation and sharing of network designs and scenarios easily:
Users can create and share network designs and scenarios with others by using Packet Tracer. It can be useful for collaborative projects, training, and education.
What is Cisco Packet Tracer used for?
It is basically used for helping students learn the principles of networking with hands-on experience so that they can develop skills related to Cisco technologies.
If you find this helpful and are interested in learning more about configuring the Cisco Router, you must check our blog.
Some of the uses of Cisco Packet Tracer are listed below:
Preparing for Cisco Certifications
Cisco Packet Tracer is a vital tool for Network learners as it helps them to prepare for the networking exams such as CCNA (Cisco Certified Network Associate). In networking, practical are a must, so having lab practice and in a virtual environment is important.
The CCNA is an entry-level certification in the networking domain. It makes sure that every student understands the fundamental networking technologies along with having strong, up-to-date knowledge as per the requirements of modern industry.
With the help of Packet Tracer, learners can design the network technology with different topology elements like routers, switches, cable connections, etc. Having hands-on expertise to create and maintain a small to medium-sized network is essential for passing these Cisco exams.
While designing a network, a Network Administrator uses Packet Tracer to test and check "What if" scenarios which helps them design an error-free Network. They can also create a topology guide with it, and it is preferred because it allows multiple editing on the existing network with earring anything or starting from scratch.
Using Cisco Packet Tracer, networking professionals, mainly network administrators, can test the network modifications before implementing it on the existing network. The users can check and test new topologies by updating the network on Packet Tracer to ensure that it is working in order. And once the testing is done and finalized without any flaws, these topologies are updated in the existing networks.
These are some of the uses of one of the most used tools in networking, i.e., Cisco Packet Tracer.
Frequently Asked Questions
Q1 – What is Cisco Packet Tracer used for?
Cisco Packet Tracer is a network simulation and visualization tool. While Packet Tracer creates a virtual network environment, it does not simulate an entire operating system or function as a standalone virtual machine. Instead, it focuses on simulating network devices and their interactions, allowing users to design, configure, and troubleshoot network topologies without the need for physical networking equipment.
Q2 – What is the latest Packet Tracer version?
The latest version of Cisco Packet Tracer is 8.2 which was released in summer 2023. It is now available to download on Netacad website.
Q3 – Is Packet Tracer a virtual machine?
No, Cisco Packet Tracer is not a virtual machine. It is a network simulation tool that allows users to create and configure virtual network topologies. While it simulates network devices and their interactions, it does not simulate an entire operating system or function as a standalone virtual machine. Packet Tracer focuses on network-level simulation and does not provide the full functionality of a virtual machine environment.
Q4 – What are the limitations of Cisco Packet Tracer?
Limitations of the Cisco Packet Tracer are:
It simulates only virtual devices.
One can only use it with an active Cisco Academy account.
It uses proprietary source code.
Only Cisco routers and switches are included.
Integration of virtual devices created on Packet Tracers with real physical devices is not possible.
Conclusion
In this blog, we have covered all the aspects of Packet Tracer, starting from what Packet Tracer is, how to download and install it, how to use it, its features, and benefits. Hope this help you to discover Packet Tracer more closely.
In conclusion, Cisco Packet Tracer is a networking tool simulation tool that allows users to perform network experiments, configuration, implementation, and troubleshooting with several topologies without damaging the existing network.