Cisco CCNP DevNet Certification | Its Cost, Validity, and Scope
Last Updated :
March 13, 2023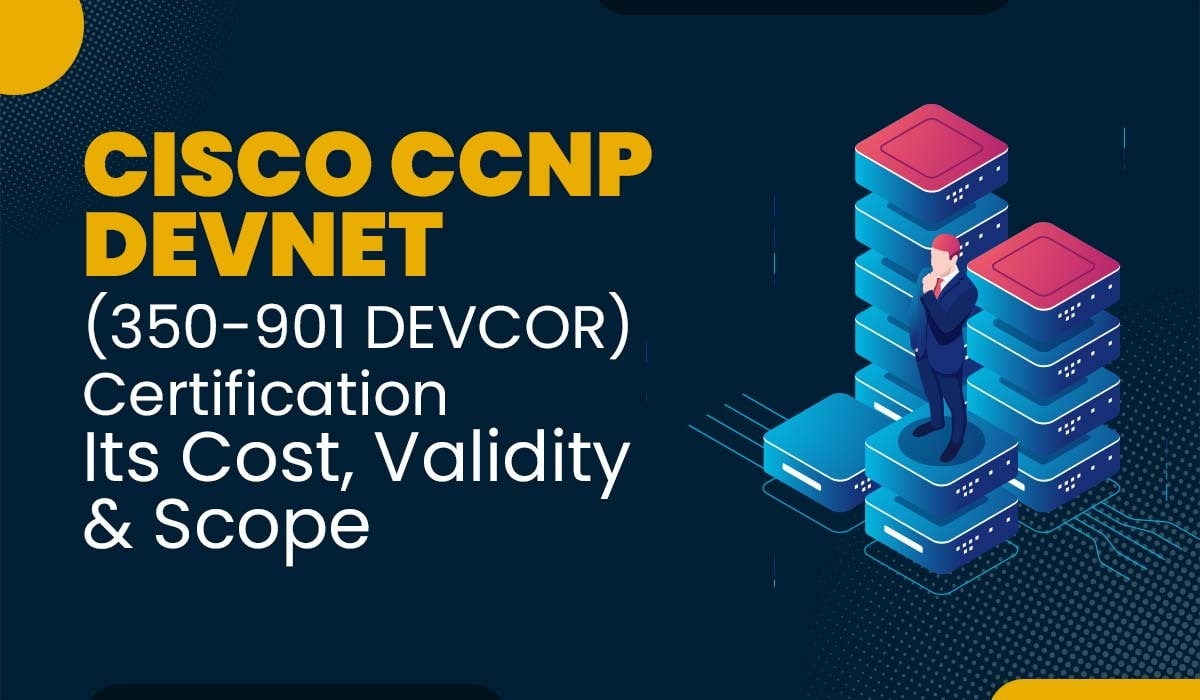 Introduction
Cisco offers its professional-level certification in seven different tracks with a unique core examination and multiple concentration exams focusing on varied areas of Networking, Software Development, Application Design, Automation, and Programmability. Among them, Cisco DevNet is the most recent addition to the list of certification tracks offered, consisting of CCNP DEVNET Certification (350-901 DEVCOR) as its core exam and eight various concentration exams, I.e.
300-910 DEVOPS
300-915 DEVIOT
300-920 DEVWBX
DevNet Enterprise, 300-435 ENAUTO
DevNet Collaboration, 300-835 CLAUTO
DevNet Data Center, 300-635 DCAUTO
DevNet Security, 300-735 SAUTO
DevNet Service Provider, 300-535 SPAUTO
Why must one take Cisco CCNP DevNet Certification Training and Exam?
To validate ones' emerging skills required for becoming a software professional today, software developers, DevOps engineers, automation specialists, and other software professionals are taking Cisco CCNP DevNet Certification training and exam.
Passing any of the CCNP DevNet Certification exams, you get awarded with individual Cisco DevNet Specialist credentials, which is enough to prove your skills in developing and maintaining applications built on Cisco platforms.
Benefits of Cisco CCNP DevNet Certification
Clearing the DEVCOR 350-901 certification gives you foundational skills and a more profound focus in strategic technology areas.
Both Network Automation Engineer and Software developers could benefit from this certification training and prepare themselves for professional-level job roles in designing and writing applications that use Cisco platforms as a base.
Cisco Certified DevNet Professionals are taken as professionals shaping the future of technology by mastering the art of writing code and designing applications over Cisco platforms.
Passing each Cisco Certified DevNet Professional exam gives you a Cisco Certified Specialist badge to link to your social media, so your achievements get recognized along the way.
How to become a Cisco Certified DevNet Professional? 
To become a CCNP DevNet, you must pass two Cisco DevNet Certification exams,
The Core Examination – DEVCOR 350-901
It is the compulsory examination you have to take to become a Cisco Certified DevNet Professional. Passing this certification, you verify your software development and design skills, including using APIs, Cisco platforms, application deployment and security, and infrastructure and automation.
Cisco DevNet, 350-901 DEVCOR Exam Details,
Cisco DEVCOR exam duration: 120 minutes
Exam number: 350-901
Exam language: English
Level of Certification: Professional
Recommended Training: Developing Applications using Cisco Core Platforms and APIs
Exam Cost: 400 USD + Tax (Varies from Country-to-Country)
The DEVCOR Certification is valid for two year
2. The Concentration Examination:
Out of 8 suitable exam options focusing on emerging and industry-specific topics such as enterprise automation, collaboration automation, Data Center automation, service provider automation, security automation, DevOps automation, IoT, and Cloud, you can choose one and become CCNP DevNet.
Prerequisites for Cisco CCNP DevNet Training and Certification
Cisco distinguishes no formal eligibility criteria to take their core and the concentration exam. Still, it's recommended to have CCNA 200-301 and DevNet Associate DEVASC 200-901 knowledge before jumping into the professional-level training.
PyNet Labs provides Cisco Certified DevNet Associate (DEVASC) certification training along with Python for Network Engineers (Network Automation), where you learn Python from scratch.
Also, you can learn CCNA for free with PyNet Labs. Just subscribe to our YouTube Channel and have instructor-led free CCNA online training. Check out our CCNA for free Playlist.
Why choose PyNet Labs for DEVCOR training?
If you are a fresher with foundational networking skills, you must join PyNet Labs for your associate and professional-level DevNet training. We have customized the official Cisco DEVASC curriculum adding Python for Cisco Network Engineer (Network Automation) in it, so the interested candidates out of the software development field could proceed with the DevNet training.
The significant benefits of taking DEVCOR training from PyNet Labs are,
Training from expert trainer having 10+ years of industrial experience.
Online lab access for a total of 80 Hours Lab
We follow Cisco's course outline for DEVCOR training.
Training recordings are available for every class. (Lifetime access)
Learn real-time network automation during the training
Study materials and PPTs for free.
Doubt solving sessions after class in a private telegram group.
The training certificate from PyNet Labs has a code to validate your training.
Join PyNet Labs and learn DEVNET technologies now to become a Cisco Certified DevNet Professional.
For online DEVCOR training at PyNet Labs, we are announcing the dates of the recent batches. Check our batch schedule.
Also, early registrations in this course will avail fabulous discounts like,
CCNA Training Recordings for Free if the candidate enrolls for the CCNP Training.
The fee for DEVCOR training has been reduced to Rs. 21,000 with special offers for groups and UPI transactions.
So, what are you waiting for? Register Today!!
To register, you can write us at [email protected] or call us on +91 9821215002. Interested candidates in India or International students can connect with us on WhatsApp, Telegram, Viber, Signal over the same number provided.
Frequently Asked Questions
Q1 – What is CCNP DevNet?
CCNP DevNet, or Cisco Certified Network Professional DevNet, is a professional-level certification program offered by Cisco Systems. It is part of Cisco's DevNet track, which focuses on network automation, programmability, and software development skills. The CCNP DevNet certification is designed for network professionals who want to enhance their knowledge and skills in software development and automation in the context of network infrastructure.
Q2 – Is a DevNet better than a CCNA?
Yes, DevNet is better than a CCNA as it is a more advanced course and is more in demand currently. As a matter of fact, if we compare all the prospects; you will find that having DevNet knowledge provides much more opportunities than just CCNA.
Q3 – Is DevNet in demand?
Yes, DevNet is in high demand nowadays and will be for the upcoming years as it is considered the future of networking industry. The networking industry is swiftly moving towards network automation, hence the demand of DevNet is increasing day by day.
Q4 – What does DevNet stand for?
DevNet stands for Development + Networking. DevNet was launched by Cisco in 2020 to narrow the gap between Developers and Network Engineers.
Conclusion
In conclusion, the CCNP DevNet certification offers a valuable pathway for professionals seeking to enhance their skills and expertise in the field of network automation and software development. This certification not only validates one's knowledge and proficiency in developing and managing applications and infrastructure using Cisco technologies, but also demonstrates their ability to adapt to the evolving demands of the digital landscape.
Obtaining the CCNP DevNet certification signifies a commitment to staying at the forefront of technological advancements and understanding the intersection of networking and programming. It equips individuals with the necessary skills to design, develop, and deploy innovative solutions that drive business growth and operational efficiency.