CCNP ENCOR (350-401) Syllabus and Exam Guide
Last Updated :
March 17, 2023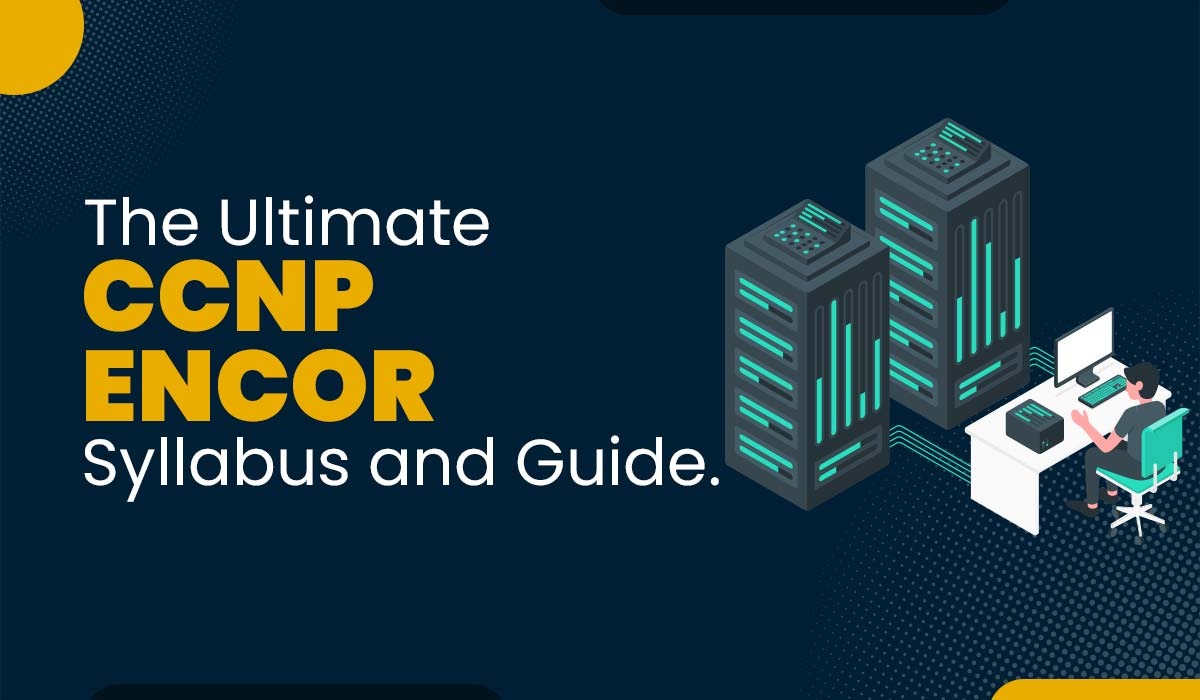 Introduction
Software and networking are becoming more interconnected. Technological breakthroughs enable the linking of applications and enterprises that link everything – people, devices, equipment, and applications. To make the most of these technologies, today's networking professionals require a wider set of abilities and a more in-depth knowledge of important technological areas. This is where CCNP Enterprise comes into action. The core exam for CCNP Enterprise is CCNP ENCOR. To do well on the CCNP ENCOR (350-401) exam, familiarity with the updated CCNP ENCOR Syllabus is essential. Network engineers may take the CCNP ENCOR training course to further their careers and pass the CCNP ENCOR certification test.
This blog mainly concentrates on what is CCNP ENCOR, i.e., CCNP ENCOR basic understanding and CCNP ENCOR syllabus in detail.
What is CCNP ENCOR (350-401)?
In the world of networking, CCNP ENCOR stands for Cisco Certified Network Professional Enterprise Core. Cisco's core certification test for CCNP Enterprise is the ENCOR 350-401. For those pursuing the CCNP Enterprise certification, this is the Core test that must be passed. The CCNP ENCOR certification verifies that you have the expertise to design, implement, and test networking solutions for enterprise-level networking.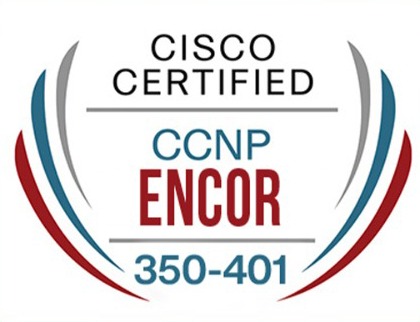 Networking concepts, including network design, automation, virtualization, security, and assurance, will all be tested. It's made for IT workers who wish to go up the corporate ladder and expand their knowledge in enterprise-level networking.
CCNP ENCOR Syllabus
The Cisco CCNP ENCOR syllabus covers the following topics-
Architecture
Virtualization
Infrastructure
Network Assurance
Security
Automation
Subtopics inside each major subject will test your expertise in specialized areas of enterprise networking. The following is an overview of the CCNP ENCOR syllabus:
Section
Weight
Objective
Architecture
15%
1. Design principles in an enterprise network
· Tier 2, Tier 3, and capacity planning for fabrics
· Strategies like redundancy, FHRP, and SSO.

2. WLAN deployment
· Wireless deployment models
· WLAN design's location services
· Client density

3. Cisco SD-WAN solution
· SD-WAN control
· SD-WAN solutions and Limitations

4. Cisco SD-Access solution and design
· Traditional campus interoperating with SD-Access
· SD-Access control

5. Wired and wireless QoS
· QoS policy
· QoS components

6. Differentiate software and hardware switching mechanisms
· FIB vs. RIB
· Process and CEF
· MAC address table and TCAM
Virtualization
10%
1. Device virtualization
· Virtual switching
· Type 1 & 2 hypervisor
· Virtual machine

2. Data path virtualization technologies
· VRF
· IPsec and GRE tunneling

3. Network virtualization
· VXLAN
· LISP
Infrastructure
30%
1. Layer 2
· Troubleshoot 802.1q protocols
· Troubleshoot EtherChannels
· Spanning Tree Protocols

2. Layer 3
· Compare EIGRP and OSPF (Path selection, metrics, load balancing, vector vs. linked state)
· Configure simple OSPF environments including summarization
· Explore eBGP
· Policy-based routing

3. Wireless
· Layer 1 concepts like RSSI
· Antenna types and AP modes
· Access point discovery
· Layer 2 and Layer 3 roaming
· Wireless connectivity issues and troubleshooting WLAN configuration
· Wireless segmentation

4. IP Services
· NAT/PAT
· Hop redundancy protocols like VRRP
· Network Time Protocol (NTP)
· Multicast protocols like IGMP v2/v3
Network Assurance
10%
1. Diagnose network problems
2. Configure NetFlow and Flexible NetFlow
3. Configure SPAN/RSPAN/ERSPAN
4. Configure IPSLA
5. Cisco DNA Center workflows
6. Configure NETCONF and RESTCONF
Security
20%
1. Device Access Control
· Authentication and authorization using AAA
· Lines and password protection

2. Infrastructure security features
· CoPP
· ACLs

3. REST API security

4. Wireless security features
· WebAuth
· EAPOL
· PSK
· 802.1x

5. Network security design components
· Threat Defense
· Network access control with 802.1X, WebAuth, and MAB
· Endpoint security
· TrustSec, MACsec
· Next-generation firewall
Automation
15%
1. Basic Python components and scripts
2. Build a valid JSON-encoded file
3. high-level principles and benefits of a data modeling language
4. benefits of a data modeling language
5. APIs for Cisco DNA Center and vManage
6. Interpret REST API response codes and results in payload using Cisco DNA Center and RESTCONF
7. Construct an EEM applet
8. Compare agent vs. agentless orchestration tools like Ansible, Chef, and many more.
Note: The following are potential exam topics for the 350-401 ENCOR certification. The content may be updated at any moment to reflect new developments in technology that are relevant to Cisco's products.
There is a lot of confusion regarding the ENCOR exam and the newly CCNP ENCOR syllabus. Below we have explained some of the major questions that will further assist you in understanding the CCNP ENCOR exam.
You can also check out – Latest Cisco Certification Updates
Cisco 350-401 Exam Overview
| | |
| --- | --- |
| Exam Name | ENCOR (Implementing and Operating Cisco Enterprise Network Core Technologies) |
| Exam Number | 350-401 |
| Exam Price | USD 400 + Taxes |
| Exam Duration | 120 Minutes |
| Passing Score | 750-850 out of 1000 |
| Number of Questions | 90-110 |
| Recommended Training | CCNP ENCOR (350-401) Training |
Is the CCNP ENCOR exam hard?
Yes, CCNP ENCOR exam is considered to be a hard exam. During the ENCOR (350-401) exam, you'll have 120 minutes to demonstrate your proficiency in applying what you've learned about essential enterprise networking technologies. The complexity of the exam might change based on how well you know the concepts. The CCNP ENCOR exam may be relatively easy for someone with a thorough understanding of the test subjects and enough practical experience.
Taking practice tests and consulting online training platforms like PyNet Labs will help you learn where you need to focus and gain confidence in your abilities. Lastly, remember to take it easy on the day of the exam. Feeling anxious is normal, but keeping calm and concentrating on the concepts learned are essential in getting through the CCNP ENCOR exam.
Jobs after CCNP ENCOR 350 –401
Here are some jobs that one can get with their knowledge and skills after CCNP ENCOR 350-401 Certification training –
Network Engineer
Network Administrator
Cloud Network Engineer
Project Manager
IT Manager
Technical Support Engineer
Systems Engineer
Network Analyst and many more
The list of jobs you can get after CCNP ENCOR is endless. These are some of the most common jobs that are available.
The average salary of CCNP ENCOR
A professional with CCNP ENCOR training may earn a range of salaries based on factors such as job role, region, industry, and years of experience. Still, the average pay after the CCNP ENCOR course is approximately 8 LPA. Nevertheless, depending on the abovementioned parameters, the pay scale might range from 6 LPA to 10 LPA.
Here is a list of salaries after CCNP ENCOR in various countries –
United States of America: USD 80,000 to 115,000
United Kingdom: £45,000 to £60,000
Japan: ¥6,000,000 to ¥9,000,000
Germany: €40,000 to €60,000
Canada: CAD 50,000 to 80,000
Can I take ENCOR without CCNA?
As such, there is no prerequisite to go for CCNP ENCOR Certification. However, If you wish to get CCNP ENCOR training, you must first do CCNA training because CCNA training will assist in learning the fundamental networking concepts. As a result, it is recommended that CCNA training must be completed first, followed by CCNP ENCOR.
Another scenario is that if someone wants to pursue ENCOR certification, they do not have first to pursue CCNA certification. It is entirely up to you whether or not to pursue CCNA certification.
You can also click on this link to get more insights on the topic – CCNA vs CCNP
Who should take CCNP ENCOR training?
CCNP ENCOR training is designed for experienced network engineers and those just starting in the networking field. This course is open to anybody interested in network automation, security, or virtualization.
In today's complex networking environment, having the abilities we've discussed is very necessary. Also, it is advantageous for a person who wants to improve their networking skills with time and wants to get higher job roles that pay more.
Frequently Asked Questions
Q1 – Is CCNP Encor difficult?
Yes, CCNP ENCOR is considered among one of the most difficult exams in the IT sector. however, with rigorous training and comprehensive palling, it can be cleared.
Q2 – What is Encor in CCNP?
ENCOR in CCNP stands for Implementing and Operating Cisco Enterprise Network Core Technologies. It is a professional level certification by Cisco that focuses on testing your knowledge and skills in enterprise networking technologies.
Q3 – What type of exam is CCNP Encor?
CCNP ENCOR is a MCQ type exam that consists of around 90 to 120 questions and has a duration of 120 minutes.
Q4 – How many hours is CCNP Encor?
The CCNP ENCOR Training doesn't have a fixed duration. It depends on various factors such as the training program or course provider, the mode of training (in-person or online), the pace at which the material is covered, and the individual's prior knowledge and learning speed. Typically, it takes at least 40 hours training + 60 hours self study to prepare for CCNP ENCOR Exam.
Conclusion
Anyone who is thinking of giving the CCNP ENCOR exam should have a thorough understanding of "What is CCNP ENCOR." Cisco CCNP ENCOR training and certification assist in enhancing knowledge and skills in enterprise networking technologies. Also, following the updated CCNP ENCOR syllabus will assist a lot in clearing the exam.
CCNP ENCOR training from PyNet Labs provides you with the expertise to set up, debug, and manage wired and wireless networks in a business setting. The primary purpose of ENCOR training is to offer students the practical knowledge they need to install basic enterprise network technologies such as dual-stack (IPv4 and IPv6) architecture, virtualization, automation, and infrastructure.
You can also check out this blog-