CCNA Course Fees and Certification Cost in India
Last Updated :
April 12, 2023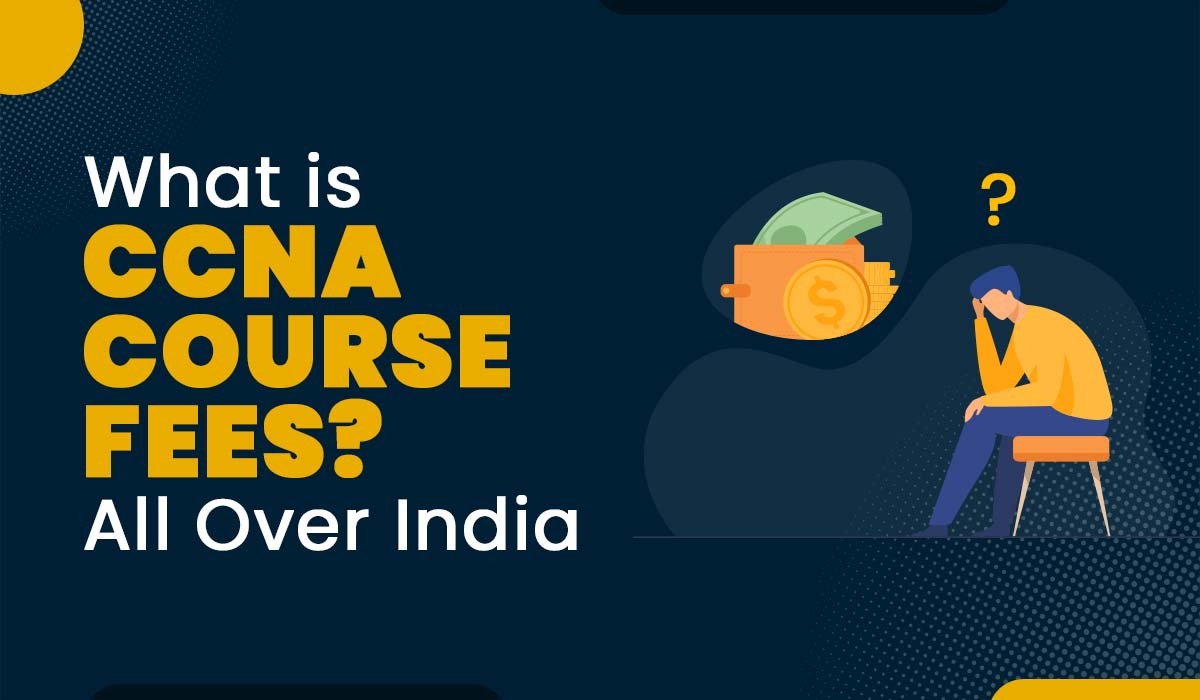 Introduction
Are you looking to start your networking journey with CCNA Training but are unsure how much it might cost you. This blog will provide all the information you need to compare CCNA Course fees in major cities of India.
All businesses have gone digital because it allows quicker and more effective communication, collaboration, and data exchange across various devices and users. When it comes to the digital transformation of enterprises, computer networking is essential to offer security, dependability, and scalability. The world has genuinely become a digital hub, and the most important thing we can do to profit from it is to update ourselves.
You may have heard of CCNA or Cisco Certified Network Associate certification if you are considering a career in networking but do you really know what is a CCNA Course. Let's learn that first before moving to learn the CCNA Course fees in various parts of India.
What is CCNA Course?
A CCNA course is a training program that prepares you for the Cisco Certified Network Associate (CCNA) certification exam and also acts as a gateway for more advanced Cisco courses. It gives IT aspirants the opportunity to learn Cisco technologies and covers topics such as network fundamentals, security fundamentals, network access, IP services, automation, and programmability.
The CCNA course aims to help you learn the networking fundamentals, which are often required in networking-related IT jobs. One can also improve their chances of landing high-paying job roles such as network engineer, network specialist, network administrator, and many others in the IT industry by taking the CCNA course.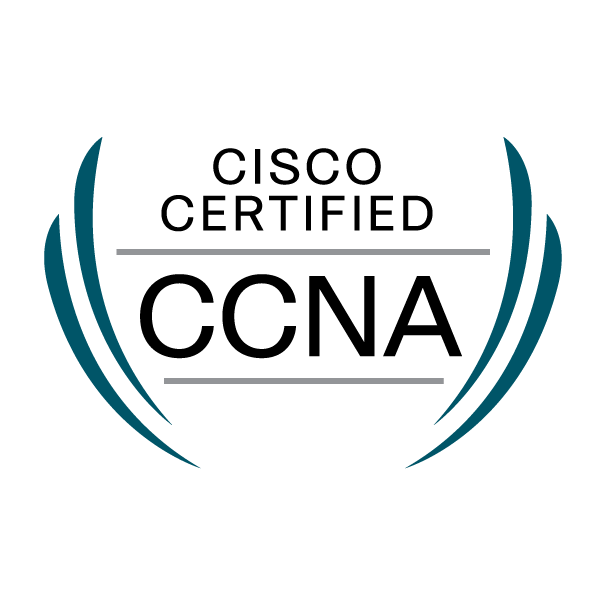 CCNA Eligibility Criteria
One should focus on the eligibility criteria before choosing the CCNA course. Some of these are:
The minimum age is thirteen years old.
Students from any stream (Arts, commerce, or science) can enroll in the CCNA course.
It does not require any entrance exam for the CCNA course.
If you are under 18, you can still enroll for the course; a parent's consent is required.
These are some eligibility criteria one must consider before enrolling in a CCNA course. CCNA doesn't have any prerequisites and can be applied by students who belong to technical as well as non-technical backgrounds.
CCNA course duration
Course duration for CCNA can vary from vendor to vendor. Generally, the CCNA course can be completed in 4 to 6 weeks depending on which batch type you choose, i.e., weekdays or weekends, and also what kind of training you select, i.e., Instructor-Led Training or One-on-One Training.
Moving on to the detailed information of the many kinds of CCNA courses offered in India and the CCNA course fees in India. This will assist students in deciding on the method of training they have to choose in order to select one that is both knowledge-oriented and pocket-friendly. While many vendors provide CCNA training, choosing the most suitable one is of utmost importance. So, Let's Begin!
You may also like – Scope of CCNA
Modes of CCNA Course
You have various options to select from when it comes to CCNA training based on learning preferences, budget, and availability. The following are some of the most popular kinds of CCNA courses:
Online CCNA course
Online CCNA training refers to the modern method of delivering learning content through digital platforms, such as websites, mobile applications, or video conferencing tools. This mode allows for greater accessibility, convenience, scalability, and personalization of the learning experience.
If we talk about the CCNA Course fees online, there are many online platforms that provide CCNA training, and it will cost you around Rs 8,000 to Rs 12,000. Here is the answer to your question, Can you learn CCNA Online?
Classroom CCNA Course
Classroom training refers to the conventional method of conducting face-to-face sessions in a physical classroom. This mode allows for direct interaction between the trainer and the learners and among the learners themselves. It also allows the teacher to keep an eye on the students and give feedback in real time. Classroom training courses are often more costly than digital ones.
Now that we have discussed the modes of CCNA Course delivery, let's delve into CCNA Course fees.
CCNA Course Fees
Let us now discuss the CCNA course fee in different Indian cities –
CCNA course fees in Delhi
The research indicates that the average CCNA course fees in Delhi is between Rs. 10,000 and Rs. 20,000. Some training providers may include lab access in the stated pricing range, while others may charge more. It's always best to check with specific training institutes in Delhi for the most up-to-date and accurate information on CCNA course fees.
CCNA course fees in Gurgaon
CCNA course fees in Gurgaon might vary from Rs 8000 to Rs 12,000. They provide training labs where students may improve their skills while supervised by instructors who may or may not have extensive experience in the field. So, thorough research is much needed before making your decision.
CCNA course fees in Mumbai
You can find a lot of online platforms that provide CCNA training in Mumbai, so the CCNA course fees in Mumbai range between Rs 8000 to Rs 16,000. Some training providers offer placement assistance and, for that reason, may charge you more. Hence, perform extensive research before putting your faith in such training providers.
CCNA course fees in Bangalore
Bangalore is the IT hub of India. Aspiring students can now benefit from CCNA training as the CCNA course fees in Bangalore range from Rs 8000 to Rs 15000. As there are a variety of training institutes that offers CCNA training in Bangalore, competition drives down costs while raising training standards.
CCNA course fees in Chennai
CCNA course in Chennai may cost you between Rs 9000 to Rs 12000. Many platforms provide resume-building assistance within the price range of training. Always choose training from an institute that is Cisco accredited, as their course outlines are made within the Cisco technologies context.
CCNA course fees in Pune
The average fees for a CCNA course in Pune is around Rs 7000 to Rs 11000. Several companies promise employment after finishing CCNA training, which is one of the numerous advantages a student may get. CCNA training includes expert trainers and hands-on lab experience. Some focus on theory but always go for the ones who focus more on the practical part.
PyNet Labs' Online CCNA Course Fees
PyNet Labs offers the best in class, expert-led online CCNA Training course. This training program is designed to equip students with the knowledge and skills needed to excel in the field of networking. With expert instructors, engaging course materials, and hands-on labs, PyNet Labs' online CCNA training provides a dynamic and interactive learning experience. The Official Training Fees for CCNA is INR 10000, however one can definitely ask for an Extra Discount using our special Code – PYNETCCNA10.
Factors Affecting CCNA Course Fees
We have discussed the course fees for CCNA all around India above. Still, there are several factors that affect the CCNA course fee in India. These factors are –
Type of course: Online CCNA courses are generally cheaper than classroom training courses or private group training courses.
Provider of course: Some CCNA course providers may charge more than others depending on their reputation, quality, experience, and accreditation. You can choose from Cisco authorized partners or independent providers.
Location of course: The pricing of CCNA courses may differ across areas or countries. Depending on where you reside or where you wish to attend the course, you may discover cheaper or more costly choices.
Duration of course: The overall cost of the course may be affected by the duration of the course. Depending on the CCNA curriculum, timetable, and pace, the CCNA course can be shorter or longer depending on course providers.
CCNA Certification Cost in India
Don't get confused with the CCNA training fee and CCNA certification fees. Under CCNA training, you will get the knowledge that can be used to clear the CCNA exam. We have already discussed the fees for the CCNA course. The official CCNA Certification Cost is USD 300 + Applicable Taxes. So, the CCNA Certification cost in India is USD 354 i.e. ~ INR 29,000 including taxes.
You may also like – CCNA vs CCNP
Frequently Asked Questions
Question – How much does the CCNA exam cost?
Answer – The CCNA exam is a certification exam for network professionals who want to demonstrate their skills and knowledge in Cisco technologies. The exam cost varies depending on the location and currency. According to Cisco, the current exam cost is $300 + taxes (vary from country to country).
Question – Is 3 months enough for CCNA?
Answer – It totally depends on person to person. If someone is starting their career in the networking field and has no experience, it will take around 5-6 months, and if someone has been working in the field for a few years now, they can probably pass in less than 3 months.
Question – Is CCNA useful in India?
Answer – Yes, CCNA is useful for anyone who is just starting a career in the networking field, irrespective of country. With the help of the CCNA course, candidates can apply for job roles such as network engineer, network administrator, or network analyst in various sectors.
Question – Is CCNA exam hard?
Answer – Whether the CCNA exam is hard or not depends on the level of preparation before the exam. The CCNA exam is challenging but not impossible to crack. With little guidance and hard work, one can clear the CCNA exam quickly. It assesses your knowledge and skills in security fundamentals, networking fundamentals, IP services, network access, IP connectivity, automation, and programmability.
Conclusion
CCNA course fees and Certification exam cost are of utmost importance, as it prevents some aspiring students from furthering their education and expanding their skill set. While selecting a CCNA training program, it's important to search for one that gives you both classroom instruction and hands-on experience in the lab. A person will be prepared for a job in the real world after putting in time and effort in lab practice.
Several training providers promise to encourage learning with industry professionals. Still, it is your responsibility as a learner to verify that the trainers you learn from have the appropriate certifications and experience. Hence, it's important to know exactly what you're getting for your CCNA training cost.