11 Reasons to Join PyNet Labs' SD-WAN (ENSDWI 300-415) Course Training
Last Updated :
September 13, 2021

Software-Defined Wide Area Network (SD-WAN Training) allows enterprises and Data Centers to have a faster implementation of policy and configuration changes with cost-efficiency, making them in-demand technology. To have increased business productivity, agility, and reduced costs for IT, Enterprises today are using Cisco SD-WAN (formerly Viptela) technology and looking for candidates with skills to offer their enterprise Cisco SD-WAN solutions.
So, in the year 2020, the technology giant Cisco brought ENSDWI 350-415 as one of its concentration exams, passing which the aspiring candidates could validate their enterprise SD-WAN solution skills with a Cisco Certified Specialist – Enterprise SD-WAN Implementation certification.
Table of Content
Passing the ENSDWI certification exam takes the "Implementing Cisco SD-WAN Solutions (SDWAN300) v1.0" course training. Several Cisco learning partners offer certification course training that includes 40-50 hours of Lab Access, Training on locked topology, Lab guide, and study material.
But is this enough? No, it isn't!
1. It would be best if you had more hours of lab access to learning how to design, deploy, configure, and manage Cisco® Software-Defined WAN (SD-WAN) solution in a large-scale live network.
2. It would help if you had open topology to practice deployment and replacement of edge devices, placement of controllers, and more to the desired Network.
3. Experienced trainer monitoring your training and skills enhancement.
4. And a motivating training environment that could add up your learning curve.
Well, the good part is, PyNet Labs offers more than this so you could get your training goals fulfilled. In this article, we have listed 11 reasons why one should take SD-WAN training from PyNet Labs. So, let's get started.
11 Reasons to Join PyNet Labs' SD-WAN (ENSDWI 300-415) Course Training
In this blog, we have discussed in detail why one must join PyNet Labs' Cisco SD-WAN training among other Cisco certification course training providers available in the market.
1. Online Instructor-led training by Experienced Professional:
During SDWAN course training by PyNet Labs, the aspiring candidates are guided by Industry specialist trainer Mr. Abhijit Bakale who covers all the SD-WAN curriculum from basic to advanced-level listed Cisco blueprint. He holds 8+ years of training experience with a particular interest in Network Automation, DevNet, SD-WAN, Routing, and Switching. To date, he has delivered over 12,000+ hours of training and has trained over 1500+ individual & corporate employees.
He holds 6+ Cisco associate-level and specialist certifications and has a student base ranging from Global Offshore Clients, Defense Institutions, Int. Govt. Organizations, Universities, Air Traffic controllers, and Networking Professionals from around the globe.
2. Unlimited Lab Access:
PyNet labs offer unlimited hours of lab access to its students than any other Cisco SD-WAN course institutes. Where other institutes provide only 30-40 hours of lab access, PyNet labs believe in-depth learning requires unlimited practice so students could learn by implementing labs on their own again and again.
That's why PyNet Labs provides 45 hours of Theoretical training including unlimited hours of lab access. Our students can practice labs during their regular 3 hours of weekday or 4 hours of weekend theoretical classes along with anytime lab availability. So, no matter from which time zone or country you belong, you can practice whenever it's suitable for you.
3. SD-WAN training on Open Topology:
Candidates joining PyNet Labs for SD-WAN training will get to work on open topology and design their SD-WAN fabric. We do not lock you up in predesigned topologies, so you could be free to add devices, configure them and implement practicals on your own.
Here is the topology used during SD-WAN training at PyNet Labs depicting five WAN Edge sites, each directly connected to a private MPLS transport and a public Internet transport. The cloud-based SD-WAN controllers (one vSmart controller, one vBond controller, along with the vManage server) are reachable directly through Internet transport. In addition, the topology also includes an ASAv.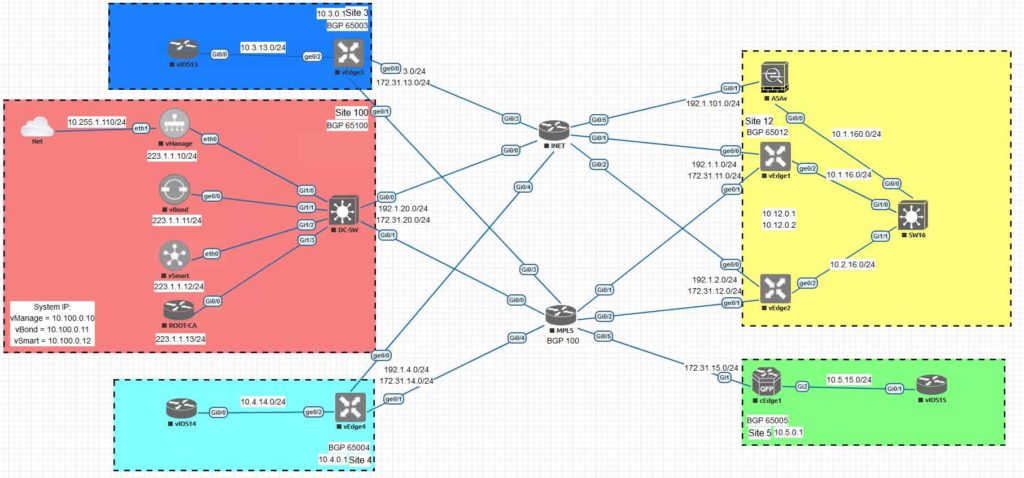 4. Configure a Network from Scratch:
Regular additional hours of lab access allow candidates to practice lab scenarios attentively. Also, they have the freedom to configure any network from scratch. So, be it designing controllers, managing switches, or configuring edge routers, they will be working on each plane under the guidance of their trainer.
5. On-Spot Doubt Clearance in Virtual Live Training:
Since the training mode is online, candidates are offered adequate time to take notes and implement labs independently during the training session. Doing so, they face doubts which are taken care of by our trainer. He will guide you on-spot to proceed further with your training and practice the lab scenarios again and again once the class is over during your additional lab access hours.
6. Lifetime Access to Training Recordings:
Cisco SD-WAN course aspirants at PyNet Labs will have the freedom to access training videos/recordings as they prefer throughout their life. So, whatever you learn in the daily classes each day, you will have them in the form of recordings to learn and practice whenever you need.
Also, even when you miss your class any day, you don't have to attend any backup classes; all you need to do is go through the training video and reach our trainer if you have any doubts about it.
7. Doubt Solving after class in a Private Telegram Group:
PyNet Labs' private telegram group is for students with aspiring minds with zeal to learn and grow. Here in this group, you can discuss your doubts, queries with fellow students and get recent updates on our Cisco courses training, study materials daily.
Direct/Instant help from the trainer is also available; all you have to do is join and raise your concern and let yourself as well as others have a chance to gain/share knowledge. To join the training group, click here.
8. Flexible Timing:
One of the most required benefits of all is flexible timing for lab access. When you enroll with PyNet Labs for SD-WAN (ENSDWI 300-415) course on Weekdays/Weekend training, you will get unlimited Lab access daily during the class and after the class.
Doesn't matter which country you are from or what timeslot you prefer, you have the freedom to access our labs whenever you want at your desired time slot.
9. Low Strength batches to Focus on each Student Individually:
Since each SD-WAN Lab requires a minimum of 64 GB RAM and 8-10 Core processors, we only take 10-15 students in each batch as we have only two servers of 384 GB RAM dedicated for the SD-WAN Training. By this, we can maintain a high quality of training, and our trainer could focus on each student's skill's growth. He also continuously monitors each candidate's grasping skills and leads the training in such a way that it's easier for everyone to learn, understand and reach their training goals.
10. Official Books/Study Materials will be Provided:
At PyNet Labs, we emphasize theoretical and practical training, so a lab guide, PPT, and study material are provided to students taking the course training.
Also, the essential skill required for SD-WAN training is:
A. Advance understanding of enterprise WAN design
B. Knowledge of routing protocol operation, interior, and exterior.
C. Sound knowledge of Transport Layer Security (TLS) and IP Security (IPsec).
So, anyone with no such skills can learn CCNA for free from PyNet Labs.
11. A Golden Opportunity to Learn with Professionals:
As you know, the number of students joining PyNet Labs' SD-WAN course training varies from 10-to 15; most of them come from huge IT brands like Wipro, AT&T, and more. They have decent job roles like Network Engineer, IT Consultant/Manager, Network Architect, System Integrator/Administrator, and 8+ years of working experience.
Complete training with these skilled professionals is a treat to learn and grow as you get a chance to learn and get inspired from them every minute.
Conclusion:
We hope now you can understand why 40-50 hours of Lab Access, Training on locked topology, Lab guide, and study material are not enough for Cisco ENSDWI course training.
And why settle for less when you can have 3x training benefits from PyNet Labs at an affordable price in comparison to other training institutes. After completing your training, PyNet Labs offers you a training certificate that comes with a unique certificate number that validates your training. You can also checkout a detailed guide on Cisco SD-WAN Certification.
You can also Check out other blogs on SD-WAN Technology -
Difference between SD-WAN and traditional WAN